Mischief. A Flame Point Siamese
by Barb Carr
(NJ)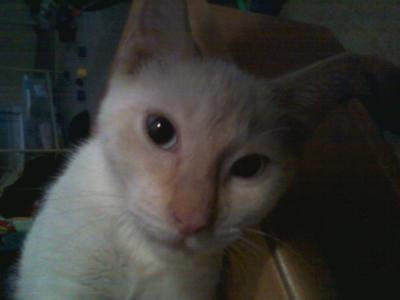 Mischief
I went looking around for a kitten for my family and I found a white kitten for free. The kitten in the pic I saw was sleeping on his back.

All I saw was white fur and pink nose and paws.

Thinking it was just a plain cat my son and I drove 30 minutes to get him. When we got there I was surprised to see the orange on him.

We took him home and got a real good look. His face was shaped like a Siamese! At this time I never heard of a Flame Point Siamese, so I thought he might be a cross breed.

I got curious and found this site. Wow! What a discovery! He is so good to my two year old son and can't get petted enough.

I must say I am a lucky owner of a wonderful cat!


Reply from Caroline:
We've had quite a number of Flame Point Siamese photos sent in over the years - the orange gene that helps to create the Flame Point coloring must be a strong one. Mischief is a wonderful name for a Siamese cat!
More about Flame Points and the related colors

***************


Enjoy this? Don't miss out -
sign up for our free newsletter,
Meezer Musings

Our monthly stroll through items of interest,
news and stories, photos, tips, and our
Meezer of the Month.


***************


Like us? Please share us with
your Siamese cat-loving friends


---
Home  |  Sitemap  |  Resources  |  Privacy Policy  |  Disclaimer  |  About Us  |  Contact Us
Information provided on this website is not intended to replace professional advice. If you have any concerns at all about your cat's health, please consult a veterinarian.
Copyright © 2009-2016 Caroline Haines, Life with Siamese Cats. All rights reserved.
---