Meezer Musings
January 2013


Welcome to the first Meezer Musings of 2013! I hope you and the cats in your lives all enjoyed a fun, peaceful and safe festive season, wherever you celebrated it.


The north wind doth blow

We've had snow this month. Lots of it! 
We live in a reasonably safe area for cats, so Bandit's generally allowed outdoors at certain times during the day (never at night), but I don't let him out in very cold weather so he's been inside a lot more than usual.

And boy, have we heard about it!  LOUDLY.
There's nothing quite like having a bored Meezer round the house, so we've had to make time for lots of chases, games, cuddles, grooming and other Siamese 'entertainments'.
Outdoor cats generally get more mental and physical stimulation than cats kept indoors, so if you have an 'indoors only' cat (and indoors is, ultimately, the safest place for a cat) do make sure they get plenty of exercise and fun to keep them healthy and sane.


---

What's new on the site?

If you haven't been here in a while, do check out these latest submissions from some of our visitors.
Krista in Ohio sent us these pictures of her blue-eyed chocolate point Siamese, Baby Blue, wondering whether he was in fact a chocolate point, or even whether he was actually Siamese, given that he came from a black and white mother.
And back in December, Karen, in Clearwater, Florida, sent in her story about how she found her lilac lynx point Siamese, Taboo (who was advertised as a chocolate point Snowshoe!)
We also heard from a breeder in Milan, Italy - La Corte del Siam.

And in Daintipawz - Our Cattery Story, owners Sharon and Kevin Baldwin tell us how they started up their cattery (well, it was that or a two-week holiday in Menorca!)


---

Meezer of the month


Our Meezer of the month (no prizes, just applause and lots of love for this little sweetheart) is Zoe from Seattle.


Her owner, Lori, wrote this charming story about her shy, nervous (not so much!) seal point, who's used up quite a few of her nine lives!

First, she was thrown away in a cardboard box in a parking lot.

Then she was rescued from a high-kill shelter.

Finally, she ended up at the Humane Society, where Lori found her and gave her her 'forever' home.



---

From our mailbox. Cats behaving badly

Well, perhaps not so much badly, as showing a change in their normal behavior. We had a couple of questions about this in January.

Cat 1
One of our visitors contacted us about her rescued Siamese who was behaving aggressively towards another of her cats - clawing and biting; she has five cats in all, of varying ages.
Cat 2

Another reader emailed to ask about a change in behavior of their one-year-old Siamese, who'd recently become more and more nervous - scared and easily startled, but not showing any change in behavior towards the other cat in the household (a calico).

What's happening here?
Cat 1

In this first instance, the owner had one cat at the time the Siamese was rescued, and subsequently rescued three more cats, to a total of five in all. It's possible that the Siamese, being a rescue and perhaps insecure because of that, became even more unsure of her position as other cats were added to the household.
Cats have a definite hierarchy - and while some cats are quite happy at the bottom of the 'pecking order', others most definitely aren't, and some cats, including Siamese, are happier as single pets.

Cat 2

This was a bit of a puzzle, as the behavior of the Siamese in this instance hadn't changed towards the other cat, nothing had changed in the house, and the owner was unaware of anything traumatic having happened to the cat.

What can you do?
Cat 1
In situations like these, there are a few things you can try. First, keeping the cats apart in separate rooms, having plenty of litter trays in different areas of the house, and feeding the cats separately may help to calm things down.
Second, you could try a product like Feliway, a behavior modifying spray
that helps cats feel calm in stressful situations. It works by imitating the pheromones a cat puts out in areas where it feels safe and secure.
Third, if things don't get better, you may have to rehome the 'problem' cat. This sounds drastic and I'm sure no-one would really want to do this, but sometimes, finding a safe, loving home where a cat can be the 'only cat' is the kindest thing to do for all concerned.

Cat 2
After emails back and forth, it turned out that the owner and his wife had been under pressure and going through a rather stressful time outside their home.
The cat had clearly picked up on their stress levels and reacted to them, because once the situation was resolved the cat returned to his normal, happy self - no other action required!

If you've ever wondered why your cat behaves as he does, or what really makes him tick, you might like
The Secret Life of Your Cat: Unlock the Mysteries of Your Pet's Behavior
or
Cat Confidential
, both by Vicky Halls, a cat counsellor who's helped hundreds of owners (and their cats) live happier, less stressful lives.
---

And while on the subject of books ...

Back in November I was delighted to come across a couple of books in the 'Cat Who' series, by Lilian Jackson Braun, in a charity (thrift) store.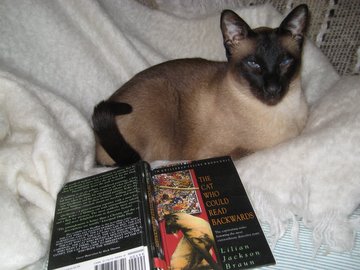 I didn't have time to read them just then, but I've always enjoyed these whimsical tales of Siamese cat detectives KoKo and Yum Yum and their owner, Qwill (Jim Qwilleran, spelled with a 'w', because of his Danish father...)
I've never read the entire set and these were two I'd missed out on, so this month I've been enjoying renewing my acquaintance with Qwill and the cats.
The ones I found were The Cat Who Sang for the Birds
and The Cat Who Robbed a Bank
, which are both full of the weird and wonderful cast of characters that fill Lilian Jackson Braun's books.
These two are from the middle of the series when Lilian Jackson Braun was at her best - her later novels, written in her 80s and 90s (she died in 2011 at the age of 97), perhaps lack some of the 'bite' of the earlier ones, but they're all fun!


---

Siamese cat shows: dates for your diary

Below you'll find a selection of cat shows coming up in Australia, the States and the UK. If you're involved in organizing, or showing your cats at, a show that isn't listed, please let me know and I'll include it in the next newsletter.


Australia / New Zealand

17 February
Feline Assoc. of South Australia

Seacliff Youth Centre
32 Yacca Road
Seacliff
(Southern Adelaide)



17 March
Siamese Cat Club of SA

Clovelly Park Primary School
1 Renown Place
Clovelly Park
(Southern Adelaide)

---

Canada / USA
16/17 February
Himalayan Cat Fanciers (CFF)

IBEW Meeting Hall
48 Airport Road
Concord, NH



11 May
North Pacific Siamese Fanciers (CFA)

Issaquah Community Center
301 Rainier Blvd
Issaquah, WA



23 February
Malibu Cat Club (CFA)

Glendale Civic Auditorium
1401 N. Verdugo Road
Glendale, CA  91208



25/26 May
Siamese Alliance of America (CFA)

Lebanon Valley Expo Center
80 Rocherty Road
Lebanon, PA


---

UK
16 February
Seal Point Siamese Cat Club /
Siamese Cat Soc. of British Empire

Bugbrooke Sports/Community Centre
Camp Close
Bugbrooke
Northampton NN7 3RW



13 April
Northern Siamese Cat Society

Coronation Hall
Milby, Boroughbridge
York YO51 9BL



6 April
Red Point & Tortie Point Siamese Cat Club

Wendover Memorial Hall
Wharf Road
Wendover
Bucks HP22 6HF



11 May
Siamese Cat Society of Scotland

Caird Hall
City Square
Dundee, DD1 3BB


---

Our growing Facebook community!

Woohoo! We're heading towards 1600 'Likes' on our Facebook page, and it's always lovely to see those of you who participate over there.
Many thanks to everyone who's already 'Liked' us!

If you haven't done so, you can hop on over and 'Like' us if you want to follow along and receive our Facebook updates - but for those of you who aren't avid 'Facebookers' we completely understand that, too.


---

Like to stay and browse awhile? You might enjoy:


***************

Or go to:

Top of Newsletter - January 2013
Life with Siamese Cats Home Page

---
If you enjoy our work, why not
sign up for our newsletter,
Meezer Musings?

An opportunity to share my reflections on life with
Siamese cats, stories in the news, photos, tips, goodies,
and our Meezer of the Month!

---
Like us? Please share us with
your Siamese cat-loving friends


---

Home  .  Sitemap  .  Privacy Policy  .  Affiliate Disclosure  .  Resources  .  About  .  Contact
Information provided on this website is not intended to replace professional advice. If you have any concerns at all about your cat's health, please consult a vet.
Copyright © 2009-2019 Caroline Haines, Life with Siamese Cats. All rights reserved.


---