Meezer Musings
February 2013


Welcome to February's Meezer Musings! I hope you've all had a good month - the past four weeks seem to have flown by here.
I'm absolutely in awe of everyone who volunteers to help, clean cages, foster cats, drive and deliver and in any way smooth the adoption process to get Siamese cats in Rescue Centers out to new, hopefully forever, homes.
And Siamese Rescue has been very much on my mind this month, as you'll see from a lot of what follows.


---

USA Rescue closure

There's a page on this site listing all the Siamese Rescue Centers I know about. A couple of weeks ago I was contacted by Siamese Rescue Metro in Pennsylvania asking me to remove my link to them as they'd been forced to close.
Whether through lack of funds, foster homes, volunteer assistance or for some other reason, they didn't say.
But in these financially-tough times, increasing numbers of Siamese cats and other pets seem to be ending up in shelters, or worse, on the streets, and the closure of any specialist Siamese rescue center is upsetting to say the least.


Hot on the heels of that message

... I received this one, from the Washington County SPCA in Oklahoma.


"Thursday and Friday this week I spent full days working a hoarding case.
Thank the Lord above - there are a number of GOOD things about this.
1. The cats are all healthy (FIV/FeLV negative, parasite free, clean noses, etc)
2. All are flame, red, tortie, lilac, blue or lynx Siamese (many polydactyls)
3. AMAZINGLY they are all loving as can be...
We took in over 50.
We are a small shelter and getting hit with 50+ is devastating. I am dedicated to finding all of these babies homes!"



Fifty cats! That's a whole lot of cats to take in and feed, microchip, spay or neuter and get other medical attention for.
A number of the cats have already been re-homed, so there's a happy ending for those ones - but there are pictures of the ones who haven't here on the WCSPCA's page, so if you (or anyone you know) is in Oklahoma and think you can help in any way at all by rescuing, volunteering, donating, or adopting, I know they'd be very glad of your support.


Good news for some

Because my own cat came from the Siamese Cat Club Welfare Trust in the UK I tend to pop in to their website every so often to have a look at the cats passing through their hands.
A pair of seven-year-old Chocolate Points who were rehomed by the SCCWT six years ago were returned this month. Originally rescued from a very difficult situation, it took them a while to get comfortable and having their lives disrupted again must have been very unsettling.

Happily, there's a note on their details to say that they've been reserved, so with any luck they'll soon be on their way to their truly forever 'forever home'.
Update: Since I wrote this, their details have been removed from the site, so it seems they are indeed now settling in to their new household.


And more happy endings

The affiliation of rescue centers that is Siamese Rescue (California, Colorado, Texas and Virginia) recently re-homed its 20,000th Siamese cat.
And a look at their website shows the number today (Feb 28, 2013) standing at 20,133.
That's a lot of new homes. Huge congratulations, everyone!


---

Meezer of the month

Dottie (the best Christmas gift ever) has settled in well with her 'brothers and sisters' (six dogs and five cats, all rescues), loves wrestling and Diesel the chihuahua, and has a stripy tail not visible in the pictures, so she's probably a Lynx Point.


---

What else is new here?

Siamazing Siamese Cats is the latest breeder to write their own page here and join our 'Featured Breeders' in the UK.

(I just love this picture of all their cats and kittens snuggled up together, don't you?)
And we have some other new images on the site, too.
Very much still in keeping with our rescue theme, our Blue and Lilac Point pages now have pictures of Mia and Gizmo, Blue and Lilac Points belonging to one of our readers, Sarah. They came from the Siamese Cat Club Welfare Trust, just like my own boy Bandit.

Sarah's parents were also kind enough to let us use this lovely picture of their Seal and Chocolate Points, Bailey and Safire - a great way to see the difference between the two!

Seal and Chocolate, Blue and Lilac!
(With thanks to Sarah and Andy Bales, and June and David Bloodworth)


Mia and Gizmo in more relaxed mood!
(With thanks to Sarah Bales)


---

Doreen Tovey's writing genes live on

Doreen Tovey was an author who wrote gentle, loving and funny books about the Siamese cats and other animals in her life, and long-time visitors to this site will know that we have something of a 'Doreen Tovey Appreciation Society' going on.

A cousin of Doreen's, Caz Greenham first contacted us a couple of years ago to tell us about her family connection to Doreen, and we had many comments from readers about how much they loved Doreen's books.

Caz was in the process of writing a book herself, with a quirky seagull for a hero and I was delighted when Caz came back to tell us that the book is now in print.
The Adventures of Eric Seagull, Storyteller is a children's book, the first of a series and Caz is now hard at work on the sequels.
Congratulations Caz - Doreen would be so proud of you - it's clear that quirky animal stories very much run in the family!


---

Siamese cat shows: dates for your diary

Below you'll find a selection of cat shows coming up in Australia, the States and the UK.
As always, if you're involved in organizing or showing at a show that isn't listed here, please let me have the details and I'll include it in the next newsletter.


Australia / New Zealand

17 March
Siamese Cat Club of SA

Clovelly Park Primary School
1 Renown Place
Clovelly Park
(Southern Adelaide)


5 October (NSWCFA)
Blue Point Siamese Society


Tel: 9628 3077

6 April
Siamese Cat Society of NSW

Tel: 4579 7180
---

Canada / USA
11 May
North Pacific Siamese Fanciers (CFA)

Issaquah Community Center
301 Rainier Blvd
Issaquah, WA



25/26 May
Siamese Alliance of America (CFA)

Lebanon Valley Expo Center
80 Rocherty Road
Lebanon, PA


---

UK
6 April
Red Point & Tortie Point Siamese Cat Club (50th Anniversary)

Wendover Memorial Hall
Wharf Road, Wendover
Bucks HP22 6HF



11 May
Siamese Cat Society of Scotland

Caird Hall, City Square
Dundee, DD1 3BB






15 June
Siamese Cat Association /
Oriental Cat Association

Stantonbury Campus Leisure Centre Milton Keynes, Bucks, MK14 6BN

13 April
Northern Siamese & Oriental
Cat Society

Coronation Hall
Milby, Boroughbridge
York YO51 9BL



25 May
Balinese Cat Society /
Caramel & Apricot Federation /
Tonkinese Society /
Tabby Pointed Siamese Cat Society


Bracknell Leisure Centre
Bagshot Road
Bracknell, Berks, RG12 9SE



20 July
Balinese & Siamese Cat Club

Samuel Cody Specialist Sports College
Ballantyne Road, Farnborough Hampshire, GU14 8SS
---

From our Facebook page

Well! We grew to 1600 'Likes' on our Facebook page this month. Many thanks to everyone who follows us, it's always lovely to see your photos and comments popping up on the page.

If you'd like to join in, hop on over and 'Like' us to follow along and receive our Facebook updates.
Below is just one of the great photos shared this month. Talk about squeezing your 'slave' out of their own bed!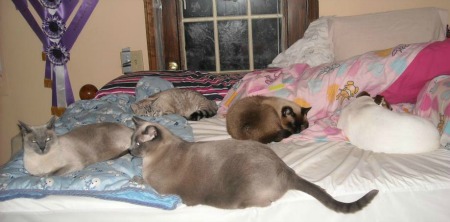 Spot the dog!
(With thanks to Barbe Bartlett)


Have a wonderful month, everyone. For those of us in the Northern Hemisphere, the days are getting longer and (ever-so-slightly) warmer; for those in the South and particularly in Australia, you may be looking forward to some cooler weather!
Next time around we're going to talk about the wonderful world of Siamese cat behavior.


---

Like to stay and browse awhile? You might enjoy:


***************

Or go to:

Top of Newsletter - February 2013
Life with Siamese Cats Home Page


---

If you've enjoyed this newsletter

Please share it with anyone else you think might be interested! They can also sign up to be notified when it comes out by using the form just below.

---
If you enjoy our work, why not
sign up for our newsletter,
Meezer Musings?

An opportunity to share my reflections on life with
Siamese cats, stories in the news, photos, tips, goodies,
and our Meezer of the Month!

---
Like us? Please share us with
your Siamese cat-loving friends


---

Home  .  Sitemap  .  Privacy Policy  .  Affiliate Disclosure  .  Resources  .  About  .  Contact
Information provided on this website is not intended to replace professional advice. If you have any concerns at all about your cat's health, please consult a vet.
Copyright © 2009-2019 Caroline Haines, Life with Siamese Cats. All rights reserved.


---