Meezer Musings
March 2013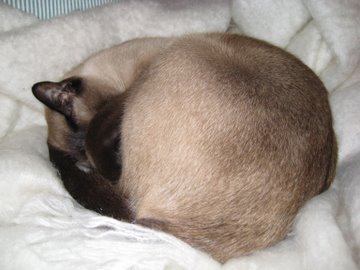 Welcome to the March edition of Meezer Musings!
Here in the UK we're still in the grip of winter - many parts of the country have had snow in the last week, and it's coming down in flurries outside as I'm writing this.
Bandit doesn't like the cold; he avoids 'that white stuff' - it bites his feet and it bites his face.
Instead, he spends much of his time in the warmest places he can find, curled up in a ball with his paws wrapped around his nose.


Which brings us neatly to ...

the topic of this month's newsletter, which is all about Meezer behaviour.

A photo from our Facebook page sparked lots of Likes and comments about how other people's Meezers did the exact same thing.
The subject?
A pair of Meezer eyes peering out from under a blanket.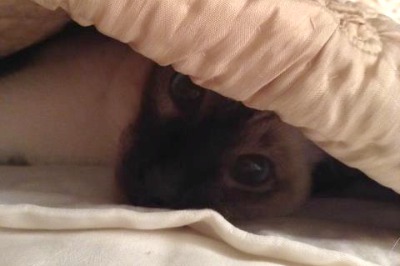 Where's Willow?
(With thanks to Susan Sacks)


Most nights, Bandit sleeps on (no, in!) our bed
I happened to comment that while Bandit starts the night on his own blanket at the foot of the bed, he'll very often sneak his way under the covers as soon as we're asleep.

He'll cuddle up to me in a friendly 'lets-all-keep-warm-together' kind of a way, then he takes over my space, and then he leaves me dangling over the edge.

Well ... many of you took the time to stop and comment that your cats did the exact same thing, with some expressing surprise that this was so common!
So if your Siamese cat insists on sleeping under the blankets with you, it's quite normal - one benefit of living with a Siamese cat is that you don't need a hot water bottle!


Cats with attitude

 I've written elsewhere about the different ways that Siamese cats behave and about some of their personality traits.
And we've had stories (so many stories!) from you about all the different things your cats do.
We've had movie-watching cats, high-fiving cats, tail-chasing cats, shoulder-riding cats, hunting cats, dog-chasing cats, cats that solve problems, cats who turn on lights and drink from straws, spider-killing cats, communicating cats, retrieving cats, lots of Siamese cats who think they're dogs, and even a cat who broke into a cop car!

And cats that love to play with Q-Tips and hair ties and strings of beads, raccoon tails and guinea pigs and dogs, cats that drop their toys into their food or water bowls.
For a list of all the pages about all the cats and the different things they do, go to this page and scroll to the bottom - you'll find all the links there.
Perfect entertainment for your next coffee break!


Alice and her friend Quiz the Guinea Pig, from Tamara in Vancouver, Canada

Alice Chooses What She Eats (and it's not Quiz, in case you were wondering!)


---

Meezer of the Month
In keeping with our theme for March (and also appropriately for those of us with snow still around us) our 'Meezer of the Month' (whose story was actually sent in to us last year) is ... Snowy!
Snowy, according to his owner Ronel who lives in South Africa, very appropriately thinks he's Mufasa the Lion King and "sleeps like a human, eats like a little pig, plays catch like a dog and attacks his toys like a crocodile".
He also has multiple personalities, is an aerial artiste and has blessed all those around him with the full force of his very typical Meezer personality!



---

Siamese cat shows: dates for your diary

Below you'll find a selection of cat shows coming up in Australia, the States and the UK - April's shows are in blue so you don't miss them.
As always, if you're involved in organizing or showing at a show that isn't listed here, please let me have the details and I'll include it in the next newsletter.


Australia / New Zealand

6 April
Siamese Cat Society of NSW

For more details contact: 4579 7180



27 October (NSWCFA)
Siamese & Shorthair Cat Club

For more details contact: 4872 2233

5 October (NSWCFA)
Blue Point Siamese Society


For more details contact: 9628 3077
---

Canada / USA
11 May
North Pacific Siamese Fanciers (CFA)

Issaquah Community Center
301 Rainier Blvd
Issaquah, WA



25/26 May
Siamese Alliance of America (CFA)

Lebanon Valley Expo Center
80 Rocherty Road
Lebanon, PA


---

UK
6 April
Red Point & Tortie Point Siamese Cat Club (50th Anniversary)

Wendover Memorial Hall
Wharf Road, Wendover
Bucks HP22 6HF



11 May
Siamese Cat Society of Scotland

Caird Hall, City Square
Dundee, DD1 3BB






15 June
Siamese Cat Association /
Oriental Cat Association

Stantonbury Campus Leisure Centre Milton Keynes, Bucks, MK14 6BN

13 April
Northern Siamese & Oriental
Cat Society

Coronation Hall
Milby, Boroughbridge
York YO51 9BL



25 May
Balinese Cat Society /
Caramel & Apricot Federation /
Tonkinese Society /
Tabby Pointed Siamese Cat Society


Bracknell Leisure Centre
Bagshot Road
Bracknell, Berks, RG12 9SE



20 July
Balinese & Siamese Cat Club

Samuel Cody Specialist Sports College
Ballantyne Road, Farnborough Hampshire, GU14 8SS
---

From our Facebook page

Thanks so much to those of you who follow us on Facebook; we're now over 1700 strong and it's always lovely to see your photos and comments popping up on the page.

If you'd like to join in, hop on over and 'Like' us to follow along and receive our Facebook updates.
We'll finish with one of the great photos shared with us this month; this is Benny with his favourite Ikea rat (don't you just love the expression on that rat's face? And Benny's?)


Benny and friend
(With thanks to Leanne Stables)


Hope you all have a wonderful month, wherever you are in the world.


---

Staying to browse? You might also enjoy:


***************

Or go to:

Top of Newsletter - March 2013

Life with Siamese Cats Home Page


---

If you've enjoyed Meezer Musings

Pass it along to your Meezer-loving friends!
We'd love you to share this with anyone else who'd be interested, and they can sign up for it themselves by using the form below.

---
If you enjoy our work, why not
sign up for our newsletter,
Meezer Musings?

An opportunity to share my reflections on life with
Siamese cats, stories in the news, photos, tips, goodies,
and our Meezer of the Month!

---
Like us? Please share us with
your Siamese cat-loving friends


---

Home  .  Sitemap  .  Privacy Policy  .  Affiliate Disclosure  .  Resources  .  About  .  Contact
Information provided on this website is not intended to replace professional advice. If you have any concerns at all about your cat's health, please consult a vet.
Copyright © 2009-2019 Caroline Haines, Life with Siamese Cats. All rights reserved.


---