Meezer Musings
April 2013

Welcome to the April edition of Meezer Musings!
April is Bandit's both least-liked and most-liked month, bringing with it the annual visit to the vet for his health check and vaccinations (ssssss!), and warmer weather with a chance to explore the garden and his surroundings (mmrrrr!)
This is one of my favourite photos, taken of him the year he arrived with us, five years ago this month.


One of Bandit's favourite things - exploring the garden
(There were no birds in the nesting box at the time,
and it's since been moved to a higher, safer wall!)


Settling in ...

When we adopted Bandit we were told that he was a dominant cat and would probably do best as an 'only'. I've often wondered whether he would in fact get along well with another Siamese cat in the house.
Several questions have come in this month about settling in kittens or cats to a household where there are already cats in residence, so I thought we'd take a look at three rather different scenarios.


... kittens with kittens

One of our Facebook readers, Mica, asked about settling in her kittens. Serafina has been with her for two months, and the yet-to-be-named 'NoName' has just arrived. At first they fought, hissing and pawing at each other with the wilder Serafina pouncing on the more mellow new arrival - the intruder, in her eyes.
A couple of days later, though, Mica let us know that the kittens were sleeping together, cuddling each other and purring, with just the occasional play fight.
Kittens, it seems, settle quickly. They don't bring any 'baggage' with them.

(Mica kindly gave us a photo of NoName for our Blue Point Siamese page, which you can see here.)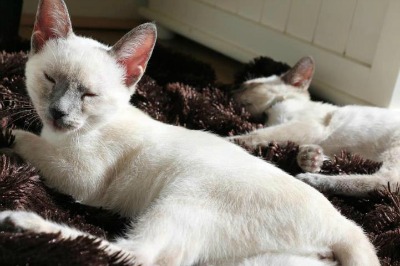 Serafina and 'NoName'
photo: © Mica Fi


... cats with humans

Another reader, Sarah, posted a comment on one of our pages to say that while her rescued cat CoCo had settled down well with and already loved another Chocolate Point she'd bought, CoCo was terrified of her.
It can be so difficult with older rescues. They do come with baggage. It's possible that Sarah reminds CoCo of someone who mistreated her in the past.
It can take time and a lot of patience to win a cat's trust, but a healthy dose of indifference can help. Cats don't always like being fussed over and sometimes (with the best of intentions) we can try too hard.
I suggested to Sarah that she tries ignoring CoCo (apart from providing for her basic needs) without trying to play with her or pet her, but just to keep on talking gently to her, and wait for her to come round in her own time.
(Sarah's doing well, as she's already got CoCo eating bologna out of her hands ...)


... cats with cats

Another of our Facebookers, Darlene, told us about her new boy Luke.
Abandoned as a kitten, his owner moved and left him on the street to fend for himself. Two years later he turned up on a doorstep, beaten up, skinny, with a claw sticking out of his head. The family who found him took him in, fed him and had him neutered.
Darlene took Luke as a companion to her existing Siamese, Caesar - who lost his best buddy, Lynx Point JJ, in January. Caesar and JJ were inseparable.
When Luke arrived, Caesar was delighted and tried very hard to make friends. Newcomer Luke responded by beating him up, giving Caesar an injury that required veterinary treatment.
Darlene was at her wit's end, wanting to protect both of them, and was even thinking of giving Luke away to a home where he could be the only cat. But Luke absolutely loves Darlene! So she's giving it time ... and things are settling down gradually, with Luke seeming calmer and the fur flying less often.


Meezer of the Month
So we've chosen Luke (seen here fast asleep, happily cuddling his toy, which looks rather like a weasel to me!) as our Meezer of the Month, and let's hope that with time, love and patience, one day he'll be snuggling up to Caesar this way too.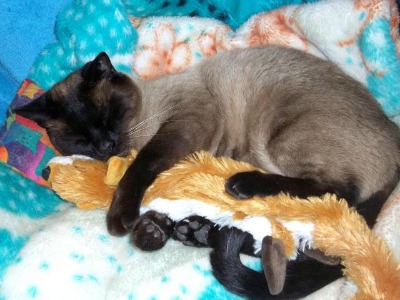 Happy dreams, Luke!
photo: with thanks to and © Darlene Konduc


If you're having problems ...

It's useful to follow these steps if you're introducing a new cat into an existing cat household. Take your time with each step, starting each new step several days apart.

Keep the new cat separate. Keep it confined to one room of the house with everything it needs (food, water, litter tray, toys, warm bed). It will feel safe, and your existing cat won't feel threatened.
Exchange smells. Rubbing your new cat with your existing cat's blanket and vice versa, or getting them to sleep on each other's blankets, will help both cats get used to each other's smells while they're still separated.
Swap territories. Once your new cat's more-or-less settled, confine your existing cat into one room (preferably not the room you've allocated as the 'safe house' for the new cat). Then allow the new cat out to explore the rest of the house, making sure all doors and windows are closed and keeping an eye on it so that it doesn't get accidentally lost! This will help distribute the new cat's smell around the house.
Feed them together (but apart). Feed your new cat in its 'safe room' with the bowl near the door, but the door closed. Then feed your existing cat outside the closed door. They will be able to smell but not see each other.
Introduce them. Once you've completed the above (preferably all the steps and in the right order!) allow your cats to come together, but don't leave them unsupervised until you're sure they don't fight.

Invest in a calming pheromone spray. Sarah told me that her vet had recommended one that cost $40! I generally recommend Feliway, which Amazon sell for around $20. (Amazon aren't always the cheapest for everything, but this time they certainly are.)

I use the spray, as the plug-ins can be more expensive, but they're equally effective and easy to use.


---

What else is new around here?

A warm welcome to breeders..

who both have new pages here.
Apologies to anyone who's sent in a story and not had it added yet - there are a few waiting to be published, but I haven't had as much time as I would have liked to work on the site this month. They'll be going up over the next few weeks!


---

Siamese cat shows: dates for your diary

Below you'll find a selection of cat shows coming up in Australia, the States and the UK - upcoming shows are in blue so you don't miss them.
As always, if you're involved in organizing or showing at a show that isn't listed here, please let me have the details and I'll include it in the next newsletter.


Australia / New Zealand

5 October (NSWCFA)
Blue Point Siamese Society
For more details contact: 9628 3077



27 October (NSWCFA)
Siamese & Shorthair Cat Club
For more details contact: 4872 2233


---

USA
11 May
North Pacific Siamese Fanciers (CFA)
Issaquah Community Center
301 Rainier Blvd
Issaquah, WA



25/26 May
Siamese Alliance of America (CFA)
Lebanon Valley Expo Center
80 Rocherty Road
Lebanon, PA


---

UK
11 May
Siamese Cat Society of Scotland

Caird Hall, City Square
Dundee, DD1 3BB






25 May - Combined Show for the:
- Balinese Cat Society
- Caramel & Apricot Federation
- Tonkinese Society
- Tabby Pointed Siamese Cat Society


Bracknell Leisure Centre
Bagshot Road, Bracknell,
Berks, RG12 9SE


15 June
Siamese Cat Association /
Oriental Cat Association

Stantonbury Campus Leisure Centre,
Milton Keynes, Bucks, MK14 6BN



20 July
Balinese & Siamese Cat Club

Samuel Cody Specialist Sports College
Ballantyne Road, Farnborough Hampshire, GU14 8SS


---

Our growing Facebook page

One hundred extra people have 'Liked' us since last month! We're now over 1800 strong. Thanks to everyone who follows us, posts and comments over there, it's always lovely to see you on the page.

If you'd like to join in, visit Facebook to 'Like' us and receive our Facebook updates.
And finally ...

Have a great month! Wishing you a very happy May with the Meezers in your life!


---

Staying to browse? You might also enjoy:


***************

Or go to:

Top of Newsletter - April 2013

Life with Siamese Cats Home Page


---

If you've enjoyed Meezer Musings

Please share it with your Meezer-loving friends!
We'd love you to forward this to anyone else who'd be interested, and they can sign up for it themselves by using the form below.

---
If you enjoy our work, why not
sign up for our newsletter,
Meezer Musings?

An opportunity to share my reflections on life with
Siamese cats, stories in the news, photos, tips, goodies,
and our Meezer of the Month!

---
Like us? Please share us with
your Siamese cat-loving friends


---

Home  .  Sitemap  .  Privacy Policy  .  Affiliate Disclosure  .  Resources  .  About  .  Contact
Information provided on this website is not intended to replace professional advice. If you have any concerns at all about your cat's health, please consult a vet.
Copyright © 2009-2019 Caroline Haines, Life with Siamese Cats. All rights reserved.


---