Meezer Musings
May 2013

Welcome to the May edition of Meezer Musings!
The other day we had what I can only describe as a 'Doreen Tovey moment' - the sort of incident that Doreen Tovey describes so beautifully in her books about Siamese cats and other animals, that seems to happen quite frequently when you have a Siamese cat in the house.

It was like this ...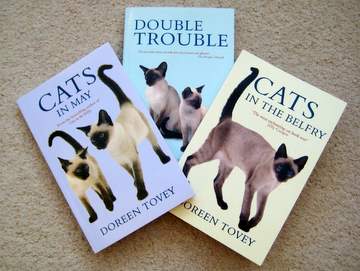 We'd been out all day last Saturday. I was tired and went to bed around 11 p.m. and so did Bandit, although strangely he didn't curl up in his usual place on his hot water bottle at the foot of the bed, choosing instead to crawl under the covers with me.
He curled up in a ball in the crook of my knees, something he likes to do when he's cold. At around 1 a.m. my husband came to bed. The lights were all off and Bandit and I were, by that time, in a deep and dreamless sleep.
This happy state of affairs didn't last long as a loud, indignant yell from my husband alerted us to the fact that his side of the bed was soaking wet and it was "all the fault of that bl**dy cat".
Well! I shot out of bed to take a look, and sure enough my husband's side of the bed was absolutely wet through.
Bandit was looking at both of us as if we were completely mad, and protesting loudly that He Was Innocent and it was So Not His Fault and Why Would He Choose To Pee Where He Slept?

I was inclined to believe him as although he has at times chosen to pee in some strange places other than his litter trays, our bed (which he regards very firmly as his bed, too) is not one of them.
But then where had the water come from?
A short investigation revealed the culprit as the hot water bottle I'd lovingly filled for Bandit before going out earlier in the day. The seal round the stopper had leaked and the shawl wrapped around the bottle was completely waterlogged. No wonder Bandit had taken refuge inside the bed!
Being tired and keen to get to sleep myself, I hadn't refilled the bottle before going to bed, and therefore hadn't noticed that it was leaking.

The escaping water had seeped down through the shawl, the duvet, a blanket, two sheets, a mattress protector and finally, into the mattress - my husband's side of the bed was, as he rightly said, soaking wet, whereas my side (haha!) was perfectly all right.

Half an hour of mattress-turning, sheet-changing, and the use of some old duvets and blankets turned the bed into something near-habitable again, but by that time, of course, we were all wide awake. It was nearing dawn by the time we finally drifted off to sleep again.

The following day was breezy and sunny and everything had a chance to dry out - but the offending hot water bottle has now been firmly assigned to the dustbin!


---

What else is new here?

You may remember that last month's newsletter featured amongst others the story of Luke the Seal Point rescued by Darlene, who was having difficulty settling Luke in with her Chocolate Point Siamese, Caesar.
In a stroke of luck, a hero was found in John, whose own Siamese cat had recently died of kidney failure. John was very happy to give an 'only-cat' home to Luke - somewhere he could finally feel safe.
We now have a new page here telling Luke's full story in his own words (as translated by Darlene!) It's called From Rags to Riches. Do pop over and read it!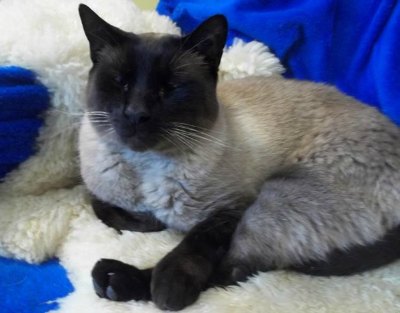 Luke


---

Other updates

If you're a follower of our Facebook page you'll know that we post a 'Saturday Story' every week, chosen from the many sent in by you.
Among recent 'Saturday Stories' we've posted Lucy's memorial to Daisy, which has now been updated with a picture of Lily and Rose, the lively kittens following in Daisy's pawsteps.
And we featured Susan's story of Safira, the kitten she found and adopted in a Portuguese beach bar, which has also now been updated with some recent pictures of Safira, who's blossomed into a Seal Point beauty!

| | |
| --- | --- |
| Safira then | Safira now |
---

Meezer(s) of the Month
Our Meezers of the Month (two this time) are Solomon and Reuben, owned by Daniel Crone from Liverpool in England, who says they're the best cats he's ever had and he loves them to bits.
Great pic and beautiful cats, Daniel, thank you!


Solomon and Reuben


---

Siamese cat shows: dates for your diary

Below you'll find a selection of cat shows coming up in Australia, the States and the UK - upcoming shows are in blue so you don't miss them.
As always, if you're involved in organizing or showing at a show that isn't listed here, please let me have the details and I'll include it in the next newsletter.


Australia / New Zealand

5 October (NSWCFA)
Blue Point Siamese Society
For more details contact: 9628 3077



27 October (NSWCFA)
Siamese & Shorthair Cat Club
For more details contact: 4872 2233


---

USA
25/26 May
Siamese Alliance of America (CFA)
Lebanon Valley Expo Center
80 Rocherty Road
Lebanon, PA


---

UK
25 May - Combined Show for the:
- Balinese Cat Society
- Caramel & Apricot Federation
- Tonkinese Society
- Tabby Pointed Siamese Cat Society


Bracknell Leisure Centre
Bagshot Road, Bracknell,
Berks, RG12 9SE


15 June
Siamese Cat Association /
Oriental Cat Association

Stantonbury Campus Leisure Centre,
Milton Keynes, Bucks, MK14 6BN



20 July
Balinese & Siamese Cat Club

Samuel Cody Specialist Sports College
Ballantyne Road, Farnborough Hampshire, GU14 8SS


---

More Likes on our Facebook page!

Another hundred people have 'Liked' us since last month; we're now over 1900, heading towards 2000!
Welcome to those of you who are new, and thanks to everyone who follows us, posts and comments over there, it's always lovely to see you on the page.

If you'd like to join in, visit Facebook to 'Like' us and receive our Facebook updates.
Let's finish with this great pair of images from over there. Does your cat chew cardboard?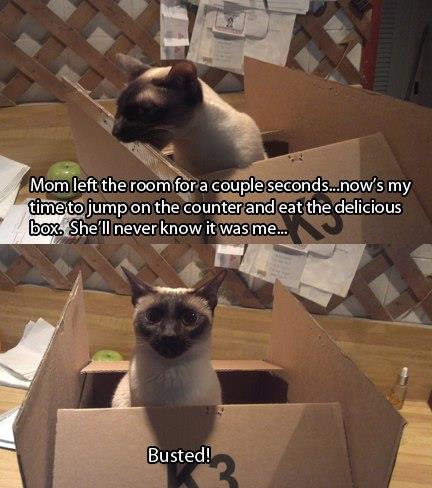 Lucy
(with thanks to Rosalyn Kowalski Santella)


And finally ...

We'd like to wish you a very happy month with the Meezers in your life - and no leaking hot water bottles ...

Caroline and Bandit


---

Staying to browse? You might also enjoy:


***************

Or go to:

Life with Siamese Cats Home Page


---

If you've enjoyed Meezer Musings ...

Please tell others about it and share it with your Meezer-loving friends!
We'd love you to forward this to anyone else who'd be interested. They can then sign up for it themselves using the form below.

---
If you enjoy our work, why not
sign up for our newsletter,
Meezer Musings?

An opportunity to share my reflections on life with
Siamese cats, stories in the news, photos, tips, goodies,
and our Meezer of the Month!

---
Like us? Please share us with
your Siamese cat-loving friends


---

Home  .  Sitemap  .  Privacy Policy  .  Affiliate Disclosure  .  Resources  .  About  .  Contact
Information provided on this website is not intended to replace professional advice. If you have any concerns at all about your cat's health, please consult a vet.
Copyright © 2009-2019 Caroline Haines, Life with Siamese Cats. All rights reserved.


---