Meezer Musings
June 2013

Welcome to the June edition of Meezer Musings, which is a little early this month, as I'm going to be away this week and wanted to get this out.

A couple of nights ago we watched (yes, Bandit too) an interesting BBC documentary tracking the lives and movements of 50 domestic cats in one small UK village.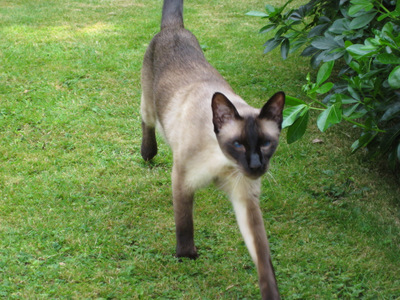 Pussycat, pussycat, where have you been?


Following in their footsteps

The cats were fitted with GPS tracking collars (and in some cases 'cat-cams' which gave a cat's eye view of their movements) and followed over a period of one week to see how they lived.

Here in the UK it's much more common than in some other countries to allow cats outdoors, but it surprised even me that so many cats were allowed out at night.
Bandit, while an outdoor cat during the day, is firmly locked in after dark.
I've always wondered where and how far he goes during the day though, and the documentary revealed a lot about the cats' movements.
One cat travelled up to two miles in his wanderings, while others stuck firmly to the area around their houses, with the average journey being around 100-200 metres (yards).


Variety's the spice of life

Some cats went out to defend their territories, some went hunting and some went visiting, with one cat routinely letting himself through someone else's cat flap and helping himself to the resident cat's food - providing himself, the commentator said, with a little variety to his diet!
(This doesn't really surprise me, as letting himself into someone else's house through their catflap was how Bandit came to be in a Rescue.)

Cats, it appears, have specific ranges and territories and appear to 'timeshare' their territories with other cats, so that when one cat's in a particular area, others will leave well alone. Of the fifty cats in the study, only around ten were ever out of doors at the same time.
There didn't appear to be any Siamese cats in the study, so perhaps we Meezer-owners are a little more careful about letting our cats out.
But one of the conclusions of the study won't come as a surprise at all to us Siamese cat owners - the fact that cats are very good at getting their own way and training their humans to understand their every wish.

Meezers or not, it appears that the cats are very much in charge ...

Bandit happens to be lying on the table next to my laptop as I write this, giving me THAT LOOK that says "surely it must be lunch time now"!


What's new this month?

New on the site this month we have:

Our Meezer of the Month
Really they all deserve to be chosen as Meezers of the Month!
But we've chosen Abby's story and memorial to the love of her life, her 17-year-old Flame Point, Rascalbear.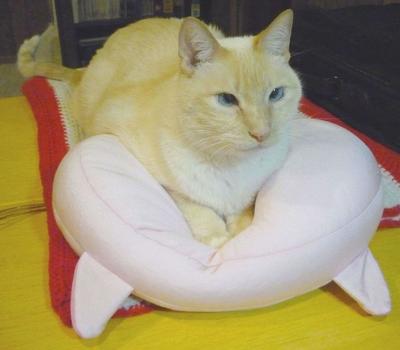 Rascalbear


---

Siamese cat shows: dates for your diary

Below you'll find a selection of cat shows in Australia, the States and the UK - imminent shows are in blue. As always, if you're involved with a show that isn't listed here, please let me have the details and I'll be happy to include it.


Australia / New Zealand

22 September
Siamese Cat Club of South Australia

All Breeds Championship Cat Show
St. Paul's College
792 Grand Junction Road
Gilles Plains
Adelaide, South Australia


5 October (NSWCFA)
Blue Point Siamese Society
For more details contact: 9628 3077



27 October (NSWCFA)
Siamese & Shorthair Cat Club
For more details contact: 4872 2233


---

UK
July 20th
Balinese & Siamese Cat Club

Samuel Cody Specialist Sports College
Ballantyne Road, Farnborough Hampshire, GU14 8SS


---

USA
August 31-September 1
National Siamese Cat Club

Sweden Recreation Center
4927 Lake Road South
Brockport, NY 14420


---

From our Facebook page

A question on our Facebook page about whether to neuter male kittens, and if so, at what age, sparked a lively discussion. (You can find it here).
The general consensus was that neutering should be carried out between four and five months old or earlier as long as the testicles have descended, and definitely before six months. The younger the cat, the easier the healing and the quicker the recovery - some commented that their vets followed a minumum weight rule of 2-3 lbs.
And finally ...

Katie Wickert Perez shared her picture of Dusty and commented ...
"I found my baby Dusty looking out at me last night sitting next to the coffee pot. I am sure he was up to something but I thwarted his attempts."


Dusty (with thanks to Katie Wickert Perez)


We'd like to wish you a very happy month with the Meezers in your life - whatever they may be plotting ...


Caroline and Bandit


---

Staying to browse? You might also enjoy:


***************

Or go to:

Life with Siamese Cats Home Page


---

If you've enjoyed our Meezer Musings ...

Feel free to share it with your Siamese-loving friends. We'd love you to forward this to anyone else who might be interested, and they can always sign up for it themselves by using the form just below.

---
If you enjoy our work, why not
sign up for our newsletter,
Meezer Musings?

An opportunity to share my reflections on life with
Siamese cats, stories in the news, photos, tips, goodies,
and our Meezer of the Month!

---
Like us? Please share us with
your Siamese cat-loving friends


---

Home  .  Sitemap  .  Privacy Policy  .  Affiliate Disclosure  .  Resources  .  About  .  Contact
Information provided on this website is not intended to replace professional advice. If you have any concerns at all about your cat's health, please consult a vet.
Copyright © 2009-2019 Caroline Haines, Life with Siamese Cats. All rights reserved.


---