Meezer Musings
July 2013

Welcome to July's Meezer Musings! Here in Britain it feels as if we've gone straight from a cold wet winter right into a summer heatwave. This has meant some changes to our day-to-day living, as the windows are open at all times - no aircon here.
Because of this, Bandit has been confined to the kitchen area at night - it's cool there and has high windows he can't escape from.

He's not too happy about this arrangement, as he normally sleeps on our bed, and of course, being Siamese, has voiced his dissatisfaction rather loudly!
We feel though that it's more important to keep him safe, and all of us cool. Which leads me to ...

Cool for cats?


Keeping your cat cool and out of trouble in hot weather is important.

If you're in the Southern hemisphere, you'll be heading into winter now, but for those of us in the North, summer is starting to bring sweltering temperatures.


Cats enjoy warm weather and are fairly heat-tolerant but like any other warm-blooded pet, can suffer from heatstroke and dehydration when temperatures soar.

With that in mind, here are ten tips for keeping your cat cool, healthy and happy in the summer months.



photo: © iStockphoto | Debbi Smirnoff

Supply fresh, cold water. This is important at all times, but in hot weather water evaporates very quickly. Check bowls twice daily - clean them out and fill them up! Some cats like ice cubes added to their water - but some don't! If you decide to experiment, always provide a choice of iced and non-iced water.
Feed wet food. Some cats don't drink enough water, a problem in hot weather. If you usually feed dry foods, consider switching to wet meals, and adding water. Bandit loves licking the gravy off his food, and I've found that adding water to make extra gravy is a sneaky way of getting more fluid into him.

Provide shade and airflow. Indoors (and outdoors, if your cat's allowed out), make sure there's a cool, quiet shady area they can retreat to. Keep curtains closed or shades drawn when the sun's on the windows. Rooms with ceiling fans, to provide airflow, are helpful too.

Make 'cool spots'. Bandit loves lying on our cool, tiled kitchen floor when it's hot. Some cats choose to curl up in sinks, showers or baths, and laying wet towels down in these areas can help. You can create cool spaces by placing ice packs in cotton pillowcases in places where you cat likes to lie, or filling hot water bottles with ice cold water and placing them in cardboard boxes for your cat to find and use if they need to.

Avoid too much play. Exercise generates heat, so keep play to a minimum in hot weather.
Groom cats daily. In long-haired cats, matted fur can trap heat. Fur with no tangles will allow air to flow freely through the coat. Daily brushing for all cats removes excess fur, helping them keep cool.
Check outside buildings. Inspect sheds, greenhouses, and summerhouses before closing them up. Cats often creep in for shade, but will dehydrate very quickly in a hot enclosed space without water. (This is a subject very close to my heart - a friend lost her cat in exactly this way.)
Avoid parked cars. Never leave your cat in a parked car. On trips to the vet or if you're taking your cat on holiday, make sure the cat's in a secure cat carrier, use air-conditioning if you have it, open the windows if you need to park, and stay with the cat to keep an eye on it.

Check for dehydration.

Pinch the skin at the back of your cat's neck. It should spring back immediately. If it doesn't, chances are they're dehydrated.

Dehydration can be serious - seek veterinary advice.

Watch for signs of heatstroke.

Panting,

drooling, vomiting, listlessness or lethargy, dilated pupils and a rapid heartbeat
are all signs of heatstroke. If you notice any of these, take your cat to the vet immediately. You can help to cool your cat down on the way by sponging their heads and coats with cold, damp, towels.


What's new?

Meezer of the Month
Our Meezer of the Month for July is Fitzwilliam Darcy Horatio Growltiger Howland.

More commonly known as Mr. Darcy, he loved everyone and everything, and amongst other things, enjoyed playing with ferrets and puppies!


This lovely memorial to her boy was sent in by Julie Howland, who must miss him dreadfully.

---

Siamese cat shows: dates for your diary

Below you'll find a selection of cat shows in Australia, the States and the UK - imminent shows are in blue. As always, if you're involved with a show that isn't listed here, please let me have the details and I'll be happy to include it.


Australia / New Zealand

22 September
Siamese Cat Club of South Australia

All Breeds Championship Cat Show
St. Paul's College
792 Grand Junction Road
Gilles Plains
Adelaide, South Australia


5 October (NSWCFA)
Blue Point Siamese Society
For more details contact: 9628 3077



27 October (NSWCFA)
Siamese & Shorthair Cat Club
For more details contact: 4872 2233


---
July 20th
Balinese & Siamese Cat Club

Samuel Cody Specialist Sports College
Ballantyne Road, Farnborough Hampshire, GU14 8SS



August 31-September 1
National Siamese Cat Club

Sweden Recreation Center
4927 Lake Road South
Brockport, NY 14420


---

From our Facebook page

I couldn't resist this photo of one of our Facebook visitors (although I hope all our visitors don't react this way when visiting our page!)
I'm happy to say that we've now got over 2000 fans. A big thank you to everyone who's 'Liked' us - and if you do like us, do please share us with your friends.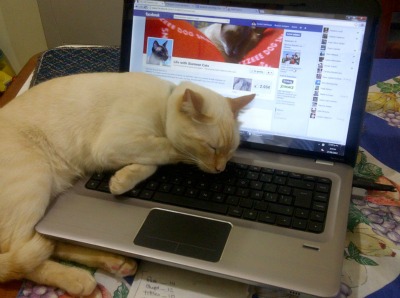 With thanks to Javier Santiago Borghi


And finally ...

Wherever you may be, whether North or South, we hope you stay cool in the heat.


Caroline and Bandit


---

Staying to browse? More cat care tips:


***************

Or go to:

Life with Siamese Cats Home Page


---

If you've enjoyed our Meezer Musings ...

Feel free to share it with your Siamese-loving friends. We'd love you to forward this to anyone else who might be interested, and they can always sign up for it themselves by using the form just below.

---
If you enjoy our work, why not
sign up for our newsletter,
Meezer Musings?

An opportunity to share my reflections on life with
Siamese cats, stories in the news, photos, tips, goodies,
and our Meezer of the Month!

---
Like us? Please share us with
your Siamese cat-loving friends


---

Home  .  Sitemap  .  Privacy Policy  .  Affiliate Disclosure  .  Resources  .  About  .  Contact
Information provided on this website is not intended to replace professional advice. If you have any concerns at all about your cat's health, please consult a vet.
Copyright © 2009-2019 Caroline Haines, Life with Siamese Cats. All rights reserved.


---