Meezer Musings
August 2013

Welcome to the August edition of Meezer Musings! Which this month is all about cat poop. (Or poo, depending on where you live.)

Bandit has not always been, shall we say, the cleanest of cats. He has a tendency to squat right in the corner of his litter tray, and consequently misses the edge occasionally. At other times we've discovered little piles of 'gifts' when he's avoided his litter trays altogether.
Because of this I've always been curious about training cats to use human toilets, so a photo posted on our Facebook page this month immediately caught my eye.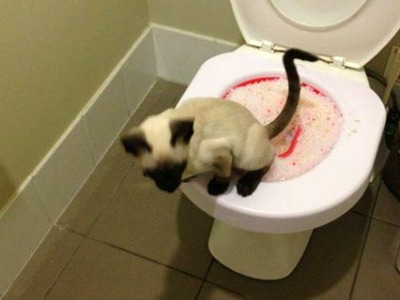 Miss Frankee T - toilet training
With thanks to Christine Lock


This sparked a discussion about training cats to use human toilets and how successful it could be, and whether older cats could be trained, and what to do in multi-cat households, and whether it was safe or not.

Some people said they'd trained their cats using a system called the Litter Kwitter, others that their cats had trained themselves (presumably through observation of their humans?)

The Litter Kwitter's literature says that you can train a cat using their system at any age, and you may well still be able to train a young cat, but I personally feel that it's unlikely you'll be able to train an older cat - old habits die hard.
Still, it's an interesting idea, and there are various systems out there.

If you're curious about trying this for yourself, you can read more about the Litter Kwitter here
. While I was investigating this, I also found another slightly cheaper system, the CitiKitty
, which seems to do much the same thing, although some reviews said that this was less sturdy than the Litter Kwitter. There's even a guide book on toilet training your cat
!
Sadly, it seems that no-one's ever been able to train their cat to flush, though ...


When you can't afford the vet bills ...

We received a plea for help from one of our readers who couldn't afford the vet bills for her Seal Point Siamese, who was in a serious 'life or death' situation.

No-one wants their cat to suffer or go without necessary treatment through lack of money. So if this ever happens to you or anyone you know, here are a few ideas.
In the USA, the Humane Society of the United States has a comprehensive list of places providing financial assistance to pet owners in need - these include listings by state, so you can easily find the resources closest to you.
And CareCredit, a credit card that allows you to pay for both human and pet health care through staged payments, might also be an option.
In the UK, the animal charity the PDSA might be a place to start.
If you know of any similar resources where you live, please send me a message to let me know about them, and I'll add them to our list.


What else is new?

Since last time, we've met Lux, a Chocolate Point domestic long hair mix, with a beautiful little face and sparkling blue eyes, who was adopted as a kitten from a shelter in Tucson. Lux was smart enough to pick out her owner, Hannah, for herself!


And we also met Snow, a Snowshoe kitty, who was found abandoned at only two weeks old.

Named Snow because she was pure white then, her owner Marie had to bottle-feed her and potty her (I told you there was a poop theme going on here) every two hours.

Now three, Snow grew up to be the most loving cat in the world, is every bit as playful as she was as a kitten, and just as talkative!


Lux


Snow

Meezer of the Month
As the end of August's traditionally the time when folks with kids return home from their vacation, and folks without kids head off on theirs, I couldn't resist this photo of Princess Bluebelle, posted on our Facebook page, who's got that "if you're going away, I'm going too" look on her perfect Blue Point face.

Princess Bluebelle had a pretty tough start in life, and needed a liver shunt and a series of operations as a kitten. Things were touch-and-go for a while, but she did well and grew up into this beauty, who very much deserves to be our 'Meezer of the Month'.


With thanks to Princess Bluebelle's owner, Carolyn, for the photo


---

Siamese cat shows: dates for your diary

Below you'll find a selection of cat shows in Australia, Ireland, the United States and the UK. As always, if you're involved with a show that isn't listed here, please let me have the details and I'll be happy to include it.


Australia

22 September
Siamese Cat Club of South Australia
All Breeds Championship Cat Show
St. Paul's College
792 Grand Junction Road
Gilles Plains
Adelaide, South Australia


5 October (NSWCFA)
Blue Point Siamese Society
For more details contact: 9628 3077



27 October (NSWCFA)
Siamese & Shorthair Cat Club
For more details contact: 4872 2233


---

Ireland
20 October
Siamese and All Breed Cat Club of Ireland 60th Anniversary Show
The Maldron Hotel
Tallaght, Dublin 24
For more details contact:
Mrs. Veronica Brooks - 087 741 3710


---
5 October
Siamese Cat Club AND
Tabby Point Siamese & Progressive Breeders Cat Club
Melbourn Village College
The Moor, Melbourn
Hertfordshire, SG8 6EF



7th December
Trans Pennine Oriental and Siamese Cat Club
Stockport Masonic Guildhall
169-171 Wellington Road South
Stockport SK1 3UA



2 November
Ulster Siamese & All Breeds Cat Club
Aurora Aquatic and Leisure Complex
3 Valentine Road, Bangor
Co.Down, BT20 4TH


---

USA
August 31-September 1
National Siamese Cat Club
Sweden Recreation Center
4927 Lake Road South
Brockport, NY 14420


---
And finally ...

As the weather hots up in Australia and cools down for most of the rest of us, take care of your kitties and see you again soon!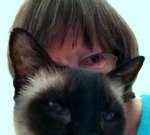 Caroline and Bandit


---

Staying to browse? You might also like:


***************

Or go to:

Top of Newsletter - August 2013

Life with Siamese Cats Home Page


---

If you've enjoyed our Meezer Musings ...

... please share this with your Siamese-loving friends! We'd love you to forward this to anyone else who might be interested. They can sign up for it themselves by using the form just below.

---
If you enjoy our work, why not
sign up for our newsletter,
Meezer Musings?

An opportunity to share my reflections on life with
Siamese cats, stories in the news, photos, tips, goodies,
and our Meezer of the Month!

---
Like us? Please share us with
your Siamese cat-loving friends


---

Home  .  Sitemap  .  Privacy Policy  .  Affiliate Disclosure  .  Resources  .  About  .  Contact
Information provided on this website is not intended to replace professional advice. If you have any concerns at all about your cat's health, please consult a vet.
Copyright © 2009-2019 Caroline Haines, Life with Siamese Cats. All rights reserved.


---