Meezer Musings
September 2013


Plain old Siamese weirdness?

Welcome to September's Meezer Musings!
Which is inspired, this month, by a comment made in passing on our Facebook page - "just plain old Siamese weirdness".
I've often wondered whether Siamese cats are, indeed, weird or whether that was just my opinion and that Siamese cats as a whole were perhaps not that different to other cats - or whether there was a whole tribe of Siamese cats out there who were as weird and strange as mine can sometimes be.
And now, thanks to our ever-increasing Facebook community, I'm pretty sure that there is a whole tribe of Siamese cats out there who are just as weird and strange as mine is.

Any of these sound familiar to you?


Toys in food or water bowls

"I've had cats before Mai Tai but he's just so different. He likes to store his favorite toys in his food dish. He actually will put them away after playing before he lays down. It still shocks me. He usually has four in his bowl. If he doesn't have four then I have to locate the missing ones."
Allison

"Caesar drowns his (toy) mice in the waterbowl."
Darlene

"This morning I found a piece of wet, blue chalk in her bowl. I found the princess lounging on her scratching platform displaying a mouth full of bright blue teeth!"
Carolyn


Mai Tai - photo thanks to Allison Grace

Covering up food

"Spartacus has taken to covering his food with a rug or blanket"
Darlene


Hanging out on top of doors

"Mousse loves to hang out on top of the door - ready to pounce on unsuspecting passers-by!"
Jody

"His nightly ritual is to race around the house and then jump on my door. Sometimes he misses but manages to hang on and climb to the top"
Allison

"Sammi ... would lay on top of my curtains and pounce on anyone passing by"
June

"Olly's a bugger for hanging on top of doors, scares me in case he falls, but I'm relieved to know he's not the only one."
Rebecca


Mousse - photo thanks to Jody Murphy

Obsessed with boxes

Yusuf - photo thanks to Melanie Aclan Arguelles


"Yusuf tries desperately to fit himself in my son's shoe box, not realizing how big he has become"
Melanie

"A new box is the most wonderful thing since tuna flakes!"
Debi






Think they're Chihuahuas?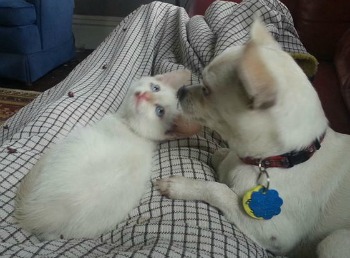 Photo thanks to Joyce Roling

This picture, posted by Joyce Roling, reminded me of Skippyjon Jones
.
Skippyjon Jones is a fictional Siamese kitten who thinks he's a Chihuahua. Written and illustrated by Judy Schachner, who owns Siamese cats herself and who also wrote the delightful The Grannyman
about an elderly Siamese cat, Skippyjon Jones is a Siamese kitten who's always getting into trouble with his Mama.
He's a big dreamer who thinks of himself as 'El Skippito Bandito', the fearless leader of a ruffian band of Mexican Chihuahuas, Los Chimichangos, with whom he has great adventures.
The books are written for 3-5 year-olds, but are fun for Siamese-loving kids of any age (well, I love them!) so do check them out if you don't already know them - the illustrations are wonderful.
If you'd like to know more about Judy Schachner, there's a lovely video clip of her on this page talking about her cats, her illustrations, and how Skippyjon Jones came about.


---

What else is new?

| | |
| --- | --- |
| I've been busy with other projects this month, so haven't been able to add as much to the website as I would have liked, but do take a look at Boo's story. Rescued by his owner Robin as a kitten after falling into a tub of motor oil, Boo thrived and is now, in Robin's words, a 'goofball and a cuddler'. | |
---

Meezer of the Month
And just to prove that our Siamese cats enjoy all kinds of activities, our Meezer of the Month is yachting buddy Ming, posted to our Facebook page by Mandy Mckerl (thanks Mandy!)

Ming clearly enjoys the nautical life (as many Siamese cats do - both James Mason and Vivien Leigh owned Siamese cats that often traveled by sea).

Ming is seen here at his lookout post - wearing a safety harness, of course!



---

And finally ...

Doreen Tovey once described a fellow Siamese cat owner as "looking rather harassed ... her hat over one eye in the normal way of Siamese owners".
So it seems it's not just us whose cats are weird - perhaps Siamese cats have always been like that.

Wishing you a happy month with your Meezers, whatever they get up to, and however weird and strange they may be! We love them anyway, don't we?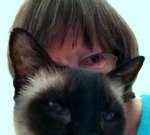 Caroline

---

Staying to browse? You might also like:


***************

Or go to:

Top of Newsletter - September 2013

Life with Siamese Cats Home Page


---

If you've enjoyed our Meezer Musings ...

... please share this with your Siamese-loving friends! We'd love you to forward this to anyone else who might be interested. They can sign up for it themselves by using the form just below.

---
If you enjoy our work, why not
sign up for our newsletter,
Meezer Musings?

An opportunity to share my reflections on life with
Siamese cats, stories in the news, photos, tips, goodies,
and our Meezer of the Month!

---
Like us? Please share us with
your Siamese cat-loving friends


---

Home  .  Sitemap  .  Privacy Policy  .  Affiliate Disclosure  .  Resources  .  About  .  Contact
Information provided on this website is not intended to replace professional advice. If you have any concerns at all about your cat's health, please consult a vet.
Copyright © 2009-2019 Caroline Haines, Life with Siamese Cats. All rights reserved.


---