Meezer Musings
November 2013


November already?

Where did the year go? It seems like only yesterday that I sent out our very first newsletter in January. And here we are, eleven months later, heading into holiday season.

So, on the eve of Thanksgiving in the United States, we'd like to wish a very happy Thanksgiving to our American readers, and happy holidays to everyone who'll be celebrating, no matter what holiday, over the coming weeks.



Home for the holidays
Thanksgiving, Christmas, and other holiday family gatherings generally involve a certain amount of traveling as well as more food in the house than usual!

With this in mind, here are ten holiday tips for you and your Meezers:

If you are traveling, make sure your cats are securely held in cosy, well-ventilated cat carriers - preferably lined with newspaper in case of accidents, and with a favorite blanket in the bottom for them to snuggle into. 
If you're driving, cat carriers should be wedged firmly in so that they don't move if you have to brake suddenly or corner sharply.
Feed your cat a few hours before leaving home - hopefully this will give them enough time to use their litter trays before leaving the house to allow for an event-free journey!

Don't forget to take any supplies you think you'll need with you. This includes special foods, treats, food and water bowls, litter box and litter, toys and any other special favorites.

You'll also need to pack any essential medication, pills or ointments.
If your cat get stressed while traveling, talk to him gently from time to time so that he knows you're there. If possible, place the cat carrier where he can see you, too.

When you arrive at your destination, put out food and water bowls and the litter tray in a secure, closed room and then let your cat out and feed him, then leave him in peace for a while to let him get accustomed to his new surroundings.
If you're going somewhere you've never been before, it's a good idea to investigate the local veterinary practices and make a note of their telephone numbers in case of emergency.

At holiday times, there's always a temptation to treat your cats to some of your human food. A little morsel of roast turkey is fine, but don't overdo it. And remember that a lot of ingredients (like onions and garlic) are poisonous to cats.

Holidays also tend to include larger gatherings than your cat may be used to, so make sure he has somewhere quiet, safe and peaceful to retreat to when necessary.


---

Meezer of the Month
Our Meezer of the Month this month is Lexi, a Seal Tortie Point rescued stray, who was a Christmas gift last year for one of our readers, Janet. 

Janet, who isn't well, wrote to say that Lexi is an angel and the best gift she has ever received, as she stays by her side 24/7 and looks out for her and is a great comfort.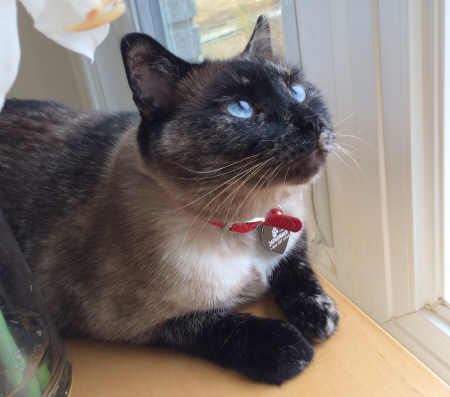 Lexi
(With thanks to Janet Penilo)


---

Siamese cat shows: dates for your diary

Below you'll find our selection of cat shows around the world. As always, if you're involved with a show that isn't listed here, please let me have the details and I'll be happy to include it.


UK
7th December
Trans Pennine Oriental and Siamese Cat Club
Stockport Masonic Guildhall
169-171 Wellington Road South
Stockport SK1 3UA



15th February 2014
Seal Point Siamese Cat Club
Siamese Cat Society of the British Empire
Bugbrooke Sports & Community Centre, Camp Close, Bugbrooke, Northampton NN7 3RW

29th March 2014
Red Point & Tortie Point Siamese Cat Club
Wendover Memorial Hall, Wharf Road, Wendover, Bucks. HP22 6HF

12th April 2014
Northern Siamese & Oriental Cat Society
Coronation Hall, Milby, Boroughbridge, York. YO51 9BL
---

Thank you!

In a year which has seen our newsletter subscribers grow from 200 to 600, and our Facebook followers to almost 2500 (we're not quite there yet, so if you like us, Like us!), we'd like to thank YOU for being here!


And finally ...

We'll be taking a break in December so there won't be a newsletter next month - we'll be back, refreshed and revitalized (we hope!) in January.

In the meantime, we hope you all have a wonderful, peaceful and fun holiday season, wherever you are in the world.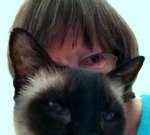 Caroline and Bandit


---

Staying to browse? You might also like:


***************

Or go to:

Life with Siamese Cats Home Page


---

If you've enjoyed our Meezer Musings ...

... please share this with your Siamese-loving friends! We'd love you to forward this to anyone else who might be interested. They can sign up for it themselves by using the form just below.

---
If you enjoy our work, why not
sign up for our newsletter,
Meezer Musings?

An opportunity to share my reflections on life with
Siamese cats, stories in the news, photos, tips, goodies,
and our Meezer of the Month!

---
Like us? Please share us with
your Siamese cat-loving friends


---

Home  .  Sitemap  .  Privacy Policy  .  Affiliate Disclosure  .  Resources  .  About  .  Contact
Information provided on this website is not intended to replace professional advice. If you have any concerns at all about your cat's health, please consult a vet.
Copyright © 2009-2019 Caroline Haines, Life with Siamese Cats. All rights reserved.


---