Meezer Musings
January 2014


Welcome to the very first Meezer Musings of 2014 and a very happy New Year! I hope you and the cats in your lives all enjoyed a fun, peaceful and safe festive season however and wherever you celebrated it.
And a very special welcome if you've joined us in the last couple of months - there's no newsletter in December as it's always busy with holiday preparations.
And speaking of the festive season ...


Christmas gifts - here's one we loved
Bandit was lucky enough to be given a luxury cat scratcher for Christmas. If you haven't come across the Scratch Lounge, they're like a very sturdy cardboard box with three robust and reversible scratching surfaces made from corrugated cardboard.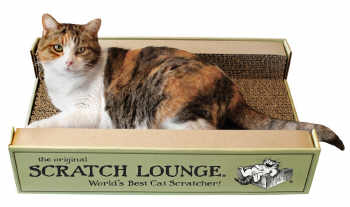 No sooner had we brought it home from the friends who gave it to us than Bandit pounced on it - he got right in there! It probably helped that it came with a packet of dried catnip to sprinkle over it ...

It's a great product, well-made and sturdy - the surfaces are reversible so you can turn them round once they're worn, and you can even buy replaceable pads.
We liked it so much we thought you'd like to know about it too - it has great reviews from people saying how much their cats also loved it, and that it had saved many a piece of furniture from destruction!

Sold on Amazon as The Original Scratch Lounge - The World's Best Cat Scratcher
, these make a great gift for any cat-owner, or indeed, for any cat.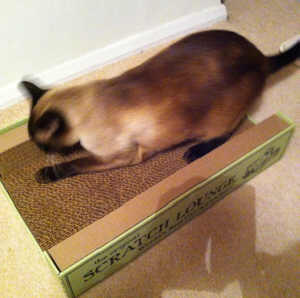 Bandit gets to grips with his new Scratch Lounge!


Siamese health spot - gum disease

One of our Facebook visitors posted a question recently about Siamese dental health.

"She had her 6 month check up today and the vet has advised that she has severe gum disease. Our poor baby has to have two or maybe more teeth out. The vet was shocked how quickly it has come on, although not surprised because of her breed. I had no idea this was common in Siamese and am feeling kinda like a bad mom".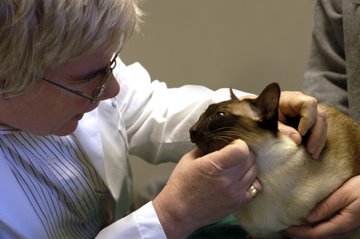 Having your cat's teeth checked regularly helps to avoid dental problems


No-one needs to feel like a bad mom, but teeth and gum problems (gingivitis and periodontal disease) are sadly quite common in Siamese cats, and particularly in the Wedgehead or Modern type, perhaps because of the shape of their jaws. It can affect all types of Siamese cats though, so it's best to be vigilant.

If caught early enough, regular dental cleaning by a vet or pet dentist will help keep the problem under control. A dry food diet (or the inclusion of at least some dry food) helps too, as crunching on the kibble removes plaque from the teeth.

If the problem is more advanced the affected teeth will need to be removed, as left untreated diseased gums can lead to heart disease and even death.

Domestic cats do, in fact, do very well without teeth as they don't need them to hunt, and they have strong jaw bones which are able to crunch even dry food without too many problems (although in older cats a wet diet is sometimes recommended.)
Lots of our Facebook followers have had this problem in their cats and came along to comment (many thanks to you if you were one of them.)

You can read the full discussion on Facebook here, but in summary:
Teeth and gum problems are common in Siamese cats
Regular six-monthly or annual veterinary check-ups will help to keep an eye on any dental, as well as other health, issues

Your cat may need to have its teeth cleaned annually
It's sometimes necessary to have affected teeth extracted

A peek behind the scenes ...

We've been busy working behind the scenes on the website here, starting a series of changes and improvements which are due to happen gradually over the next year or so.
If you're reading this on a PC or large screen, you won't notice anything different just yet. But if you're using a smartphone, you'll see that we now have a mobile-friendly version of the site, with pages fitting neatly and legibly into your phone screen.
This is ongoing work, but our most popular pages have now been converted and the rest will be completed soon.

We're also doing some work on the pages you made. These are being moved around to make them more accessible and easier to find.
Because of this, the Submissions page is closed at the moment and consequently there's no 'Meezer of the Month' this month, but this feature will return to the site and the newsletter in the Spring.


And finally ...

Posted by Christine Lock on our Facebook page, who could resist this gorgeous blue eye?


(With thanks to Christine Lock)


---
For those of us in the frozen or wet north, let's hope that Spring will soon be here! (If you're in the Southern hemisphere where it's still summer, you may not feel ready for a season change just yet ... )

But wherever you are in the world, have a great month,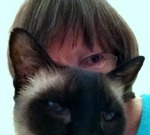 Caroline and Bandit
---

Siamese cat shows 2014: dates for your diary
Below you'll find details of cat shows coming up in the next couple of months in Australia, the States and the UK.

If you're organizing or showing your cats at a show that isn't listed, please let me know and I'll include it next month.


Australia

17 February
Feline Assoc. of South Australia
All Breeds Summer Show
Uley Road Hall, Elizabeth Downs
For info tel: 0401 354 052


16 March
Siamese Cat Club of SA

Clovelly Park Primary School
1 Renown Place, Clovelly Park
(Southern Adelaide)
For info tel: 0409 671 768
---

USA
15/16 February
Himalayan Cat Fanciers (CFF)
Courtyard by Marriott
Grappone Conference Center
70 Constitution Avenue,
Concord, NH 03301


22 February
Malibu Cat Club (CFA)
Glendale Civic Center
1401 N. Verdugo Road
Glendale, CA  91208

---

UK
15 February
Seal Point Siamese Cat Club |
Siamese Cat Society of the British Empire
Bugbrooke Sports/Community Centre
Camp Close, Bugbrooke
Northampton NN7 3RW


29 March
Red Point & Tortie Point Siamese Cat Club

Wendover Memorial Hall
Wharf Road, Wendover
Bucks HP22 6HF

---

Like to stay and browse awhile? You might enjoy:

---
If you're enjoying your visit, why not
sign up for our newsletter,
Meezer Musings?

Reflections on all aspects of life with Siamese cats, from stories in the news to cat care tips, books, photos, and other goodies!

---
Like us? Please share us with
your Siamese cat-loving friends


---

Home  .  Privacy Policy  .  Affiliate Disclosure  .  Sitemap  .  About  .  Contact
Information provided on this website is not intended to replace professional advice. If you have any concerns at all about your cat's health, please consult a vet.
Copyright © 2009-2019 Caroline Haines, Life with Siamese Cats. All rights reserved.


---