Meezer Musings
March 2014

Welcome to our March newsletter!
This month I've been thinking about ill health and end-of-life care for pets, which may seem like unusual and sad topics for a month in which Spring is bursting into life (in the northern hemisphere, anyway) but they're nevertheless important ones to think about for any cat- or pet-owner.
(And there are pictures of kittens, so it's not all bad news.)


Of life, love, and loss

The charming photo below, bursting with life and happiness, was posted on our Facebook page and reminded me strongly of the very first cat I ever owned.
And that sparked a train of thought that led to the main topic for this month.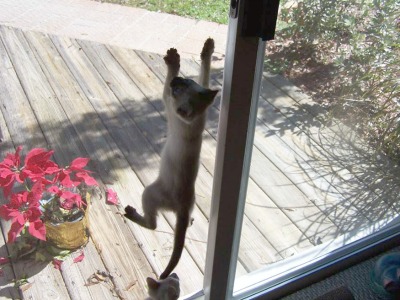 With thanks to Richard Paul Sexton - one of three kittens adopted by his
family shows off her 'Batman' climbing skills!


A long time ago, when I was eleven or twelve, I was given a kitten. It wasn't a Siamese kitten; envious of friends who did have a Siamese kitten, I'd begged my parents for one, but there were none to be had where we lived so they found me a non-pedigree, tortoiseshell kitten instead.
I gave my kitten a special name, but to be honest I now can't remember it because she instantly became known by everyone as Batcat because of her frequent habit of climbing the fly netting.
We lived in North Africa at the time so there were plenty of flies, and Batcat, of course, loved chasing them.
I had few close friends where we lived, so Batcat became a much-loved companion until the day when, playing outside in a small tree she'd climbed, she was stung by a tree scorpion - a sting that was to prove fatal despite everyone's best efforts to save her.
I was inconsolable, and cried for days.

All of which was my first encounter with the love of an animal, and death and loss and the inescapable fact that the creatures we care for will someday leave us.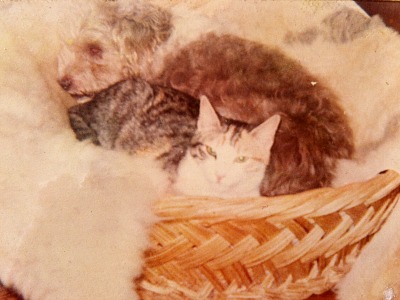 Batcat with our dog, Sandy. Both long gone, but not forgotten


Cats don't live as long as we do

In her book The New Boy, Doreen Tovey, herself no stranger to the loss of cats as she owned many of them in her lifetime, wrote that "the one disservice animals render us is that they don't live as long as we do". 
This means we have to get used to the fact that our animals will probably, at some point in our lives with them, get sick, or old, or die.
We have a tendency not to want to face this possibility. It's sometimes easier to believe that our pets will always be with us and we put off facing the inevitable as long as we possibly can.
However, it makes sense to give some thought to how you're going to care for your animals and handle this distressing time before it happens.


How will you cope when your cat gets old or sick?
Coincidentally, earlier this month I was contacted by one of our readers, Judy, who sent me the story of her rescued Siamese cat Whisky Blue-Eyes.
Whisky and his black-and-white companion, Blighty, came into Judy's life following the illness and death of Lotto, her previous cat. Judy's grief at Lotto's death affected her so deeply that she became ill, necessitating a stay in hospital.
Our love for our pets is so strong, and our grief at their illness and loss often so deep, that we sometimes forget to care for ourselves while caring for them.
Judy's story has a happy end, however, as she tells us about the antics of her two, new, rescued cats. New cats don't replace the ones who've passed on, but bring their own special energy, personality and healing into our lives.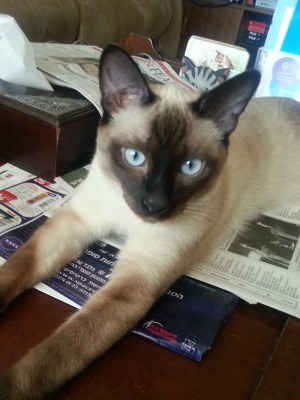 Whisky Blue Eyes - healing his new owner


A helping hand in the process

Here, she became familiar with the 'Five Wishes Directive' that allows patients to decide in advance what type of care and treatment they want towards the end of their lives, guiding their family and doctors to make these choices for them once patients are no longer able to take these decisions for themselves.
Claire extended this idea to pets, and her easy-to-follow Kindle book has us think through in advance what we would like to happen to our pets when they become sick.
This allows us to make rational decisions for the future at a time when our pets are healthy and we're not facing the emotional trauma of potential loss, and provides a framework for our vets and ourselves to follow on how to proceed when things become difficult and stressful.
Promises To My Pet begins with thoughts about daily care and budgeting for everyday items, vet visits, and emergencies, follows through with the comfort of your pet as it ages and what you would like to happen in the case of illness or the need for treatment, and ends with how you would like to handle euthanasia and afterlife issues such as funerals, burial or cremation.

Promises To My Pet
is currently only available in Kindle format on Amazon,
but is well worth a look
if the idea of the book appeals to you.
---

Our Meezer of the Month - unusual behavior from our Facebook page!

Willow and her 'babies' - with thanks to Susan Sacks


Our March Meezer of the Month is Willow, seen above on the left in a yoga pose familiar to all of us!

Willow, who belongs to Susan, a regular visitor to our Facebook page, has the unusual habit (or perhaps not so unusual, as comments from other visitors showed) of bringing her Beanie Babies to dine with her.
At mealtimes, she brings them to her food bowl, positions them with their heads facing towards it, and then after dinner she takes them away again.
Others noted that their cats had similar habits, like dropping their toys in their food or water bowls, but none had quite this same habit of feeding their 'kittens'. What a good momma ...

Last year I dedicated a whole newsletter to the sometimes strange antics that our cats get up to - you can read it again here.


And finally ...

That's all from us for now, but we'll see you at the end of April and meanwhile, have a great month!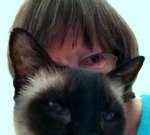 Caroline

---

Siamese cat shows: dates for your diary

Below you'll find a few of the cat shows coming up. If you're involved in organizing, or showing your cats at, a show that isn't listed, please let me know and I'll include it in the next newsletter.

UK

29th March 2014
Red Point & Tortie Point Siamese Cat Club
Wendover Memorial Hall, Wharf Road, Wendover, Bucks. HP22 6HF

12th April 2014
Northern Siamese & Oriental Cat Society
Coronation Hall, Milby, Boroughbridge, York. YO51 9BL
---

Previous newsletters:


***************

Or go to:

Life with Siamese Cats Home Page

---
If you enjoy our work, why not
sign up for our newsletter,
Meezer Musings?

An opportunity to share my reflections on life with
Siamese cats, stories in the news, photos, tips, goodies,
and our Meezer of the Month!

---
Like us? Please share us with
your Siamese cat-loving friends


---

Home  .  Sitemap  .  Privacy Policy  .  Affiliate Disclosure  .  Resources  .  About  .  Contact
Information provided on this website is not intended to replace professional advice. If you have any concerns at all about your cat's health, please consult a vet.
Copyright © 2009-2019 Caroline Haines, Life with Siamese Cats. All rights reserved.


---