Meezer Musings
August 2014

Welcome to August's Meezer Musings!
I usually theme these newsletters around things that have happened during the month. This one is no exception, and concerns the safety of cats in the home. It's a rather subdued Meezer Musings, but an important one.
Earlier in August a reader of our Facebook page contacted me to tell me about the death of one of her cats from lily poisoning.
I've since heard of two other dangers (among many) to cats and kittens that are becoming increasingly widespread.
So in the hope of sparing you the enormous grief of losing a cat through lack of information or awareness, this month's Meezer Musings comes with health warnings.


Lilies. Lovely but lethal


"Please everyone beware of lilies and especially the pollen. This morning my beautiful Zeus died aged 6mths from ingesting some pollen heads from a bouquet of lilies my husband left for me on the dining table while I was out, forgetting about the lethal toxicity to cats kidneys. Rajah is so lost looking for Zeus continually. It is devastating to lose our special boy this way."




If you're a regular visitor to our Facebook page, you'll no doubt have seen the words above, but the warning is worth repeating.

Earlier in August we featured a lovely photo of Australian meezers Rajah and Zeus. A few days later, I heard from their owner Nicolette that six-month-old Zeus was extremely ill and being treated in a veterinary hospital for kidney failure from lily poisoning.
The following day Nicolette contacted me with the message above to say that Zeus had died. She particularly wanted to share the warning with others to spare anyone else her heartbreak.

Lilies, and especially lily pollen, are deadly to cats. The particularly lethal varieties are Easter lilies, Tiger lilies and others that have buds that open up with a stamen and pollen, but all members of the lily family, and all parts of the plant, are toxic if eaten.
Lilies are very often included in mixed bouquets of flowers these days (I've since seen a photo of a Siamese cat sitting next to one) and Nicolette's post clearly struck a chord with many readers who commented that they had no idea how dangerous lilies were to cats.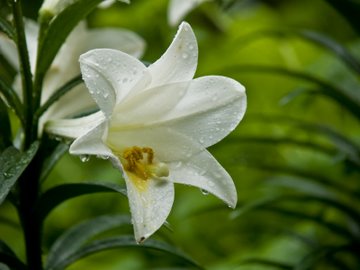 The Easter Lily - just one of many members of the lethal lily family
photo: © iStockphoto | Timothy Epp


In its own small way, the post went viral - it was shared 182 times and seen by over 12,000 people. Hopefully, many more people are now aware of lily toxicity but please help to spread the word by sharing this with other cat owners.

Many, many common flowers and house plants pose dangers to cats if eaten and a full printable list from the ASPCA can be found here. Lilies, however, are among the most deadly.
This post was first featured on our Facebook page on August 7th. You can see it and the resulting comments, here.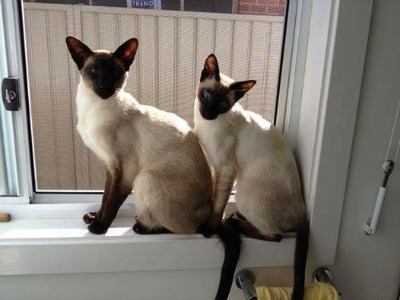 Rajah, with Zeus on the right. Rest in peace, little fella.
Photo with thanks to and copyright © Nicolette Gregory


Lysol - and other 'sols'

Our next health warning relates to liquids containing phenols - the most common ones are probably the disinfectants Lysol, Pine-sol and Dettol, which can burn the mouth and gastric tract and do enormous damage to a cat's nervous system and liver if swallowed. Sadly, some cases are fatal.

I heard about this in connection with a cat that walked past an automatic Lysol anti-bacterial handwash dispenser and got a drop of the soap on his coat. As he groomed himself, he licked it, and became seriously ill.
Happily he survived after receiving urgent veterinary treatment, but it could all have turned out very differently.


Watch out, kittens about

Our final warning is about the hazards of washers and tumble driers. Cats and especially kittens seem to love these and there are some absolute horror stories of kittens being caught in washers or driers without being seen by their owner, who switched the machine on without realising their cat was inside.
Following one of these tragic accidents, Suzanne Le Good, a British artist (and Siamese and Oriental cat-lover and owner) came up with the idea of designing a laminated warning sign to attach to washers and driers as a permanent reminder to check the machines before switching them on.

Image with thanks to and copyright © Suzanne Le Good


The signs are cute, inexpensive and can be ordered on eBay - well worth the money for the peace of mind - and they make a great gift for anyone with a new kitten in the house.
Go there and buy one! Better safe than sorry. And while you're there you might like to check out some of Suzanne's other beautiful Siamese paintings and prints.


---

Meezer of the Month

Our Meezer of the Month is 22-month-old Mr. Leo from Montreal in Canada. He lives with Martine and Peter, who adopted him as a very young kitten. Despite some early setbacks during which he needed 24-hour care (and a lot of love and attention) for ongoing gastro-intestinal problems and severe dehydration, he's grown up beautifully!
In Martine's words:
"The bad days are now behind all of us. He is a happy kitty, playful, affectionate and often a goofy boy. We had to adapt our home for him. So no toilet paper, Kleenex, Scott towels, make up brushes, Q-tips, toothbrushes, shoe laces, purses, panties or socks should be accessible to Mr. Leo. We did learn it the hard way! He also has a good appetite for the destruction of stuffed toys!
We love him so much and we have no regrets for all the nights we had to wake up to feed him. He gives us so much in return."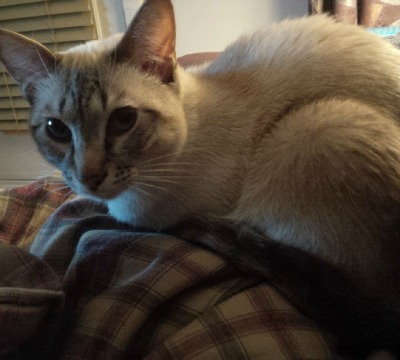 Mr Leo
Photo with thanks to and copyright © Martine Girard


---

And finally ...

As the seasons turn from summer to autumn, or winter to spring, depending on where you are in the world, we hope you have a relaxing and peaceful month.
Take inspiration from the picture below of Lexi, who belongs to one of regular readers. Doesn't she look comfortable? Thanks for the picture, Janet!


Lexi, relaxing in her favourite chair
Photo with thanks to and © Janet Penilo


Have a great month wherever you are!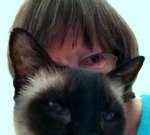 Caroline

---

Staying to browse? You might also like:

---
If you enjoy our work, why not
sign up for our newsletter,
Meezer Musings?

An opportunity to share my reflections on life with
Siamese cats, stories in the news, photos, tips, goodies,
and our Meezer of the Month!

---
Like us? Please share us with
your Siamese cat-loving friends


---

Home  .  Sitemap  .  Privacy Policy  .  Affiliate Disclosure  .  Resources  .  About  .  Contact
Information provided on this website is not intended to replace professional advice. If you have any concerns at all about your cat's health, please consult a vet.
Copyright © 2009-2019 Caroline Haines, Life with Siamese Cats. All rights reserved.


---