Meezer Musings
October 2014

Another month, another Meezer Musings. This will be a short one, but having missed sending one last month (thanks to those who noticed) I did want to get something out in October.

The last couple of months have felt rather like a whirlwind, with two deaths in the family as well as many other unexpected and not necessarily happy events taking up a lot of time and energy, so I haven't been able to do much work on this site but I did want to bring you news of a couple of Siamese book releases that I know you'll enjoy, as well as some topical tips for Halloween (and for our UK folks, Bonfire Night too)  and our very cute Meezer of the Month.
And as we've had a number of people sign up to receive the newsletter over the past few weeks, I also wanted to extend a very warm welcome to you if you're new here.


Topical tips: Halloween and Bonfire Night
Today is Halloween, which for our American friends means lots of trick-or-treating, unexpected visitors, extra noise and sometimes frightening masks and costumes.
All a lot of fun for those taking part, but for our pets it's often a different story.
And here in the UK, this is start of what I call 'firework fortnight' as we head towards Guy Fawkes Night and its associated bonfires and fireworks.
So here are some tips for keeping your cats, dogs, and other animals as calm, safe and happy as possible during this sometimes confusing and very noisy season.
Keep your animals safely indoors.

At Halloween, you'll be opening your front door more often than usual and it's easy to forget to check where your cats are. Keep them shut in a room where they won't be affected by the unusual comings and goings, and particularly, won't be able to run outside without you noticing. 

Find the quietest room.

Create a safe space in the most peaceful room in your house. Put your cat's bed, toys, food, water, litter tray and any other comforts in there and make a hideout for your cat.

Keep the noise down. Close windows and doors and draw curtains or blinds to help limit the noise that comes into the house.
Keep (yourself and your cat) calm. Calming pheromone plug-ins or sprays like Feliway can help keep your cat calm. Spray it around your safe space or anywhere else your cat likes to hide out. Staying calm yourself and not reacting to loud bangs also helps to reassure your cat that nothing is wrong.
And have a very happy and safe time!


The return of 'El Skippito Bandito'

For fans of Skippyjon Jones (and I know there are a lot of you here) Judy Schachner's newest Skippy book has just launched with all the usual fun and wonderful illustrations that Judy's books are known for.
'Snow What' re-tells the story of Snow White and the Seven Dwarves, with a kitty boy twist and plenty of (OK, seven!) chihuahuas. As usual, Judy's gentle humor is much in evidence as Skippy's sisters settle down to listen to Mama Junebug Jones read the story of Snow White with their mugs of hot catnip cocoa and added mousemallows!

There's a bonus CD included, and the book is currently on sale on Amazon at a 40% discount
so well worth buying now, especially if you have a Siamese-loving child in the family. (It'd actually make a wonderful holiday present for kids of all ages, from 4 to 84!)
Click image for more details


Good news for lovers of Doreen Tovey's books too!

Earlier in the year I was contacted by author Philip Lawrence, who was in the process of writing a book inspired by Doreen Tovey's novels about life in the South-West of England with her husband, Siamese cats and other assorted animals.
Philip and his wife live four miles from Doreen Tovey's former cottage in Rowberrow in Somerset so he knows the area well, and the Lawrences have three cats to cause as much havoc in their lives as Doreen's cats did in hers. (What is it about Siamese cats?!)

Click image for more details


'Cats in Charge: A Siamese Saga in the West Country' was published this month in the UK and I haven't had a chance to read it myself (it's on order, but hasn't arrived yet) so I'll review it next month, but if you can't wait for that, UK folks can buy it here!

Cats in Charge is also available to pre-order in the United States with a publication date of November 28th, and again, you can order it from Amazon here
Meezer of the Month

Our October Meezer of the Month is a kitten named Toodles belonging to Anelise Keyster, who very much wanted us to publish Toodles' picture for her.
Here it is - isn't she a darling? And I love her name, too. Thanks Anelise.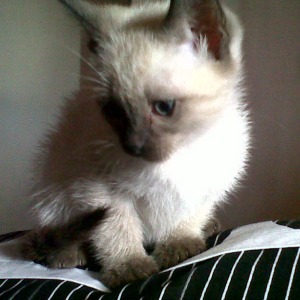 Toodles
Photo with thanks to and copyright © Anelise Keyster


---

And finally ...

Have a very happy Halloween if you're celebrating it tonight, keep your cats and kitties safely indoors and enjoy the fun!
See you next month,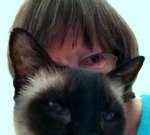 Caroline

---

Staying to browse? You might also like:

---
If you enjoy our work, why not
sign up for our newsletter,
Meezer Musings?

An opportunity to share my reflections on life with
Siamese cats, stories in the news, photos, tips, goodies,
and our Meezer of the Month!

---
Like us? Please share us with
your Siamese cat-loving friends


---

Home  .  Sitemap  .  Privacy Policy  .  Affiliate Disclosure  .  Resources  .  About  .  Contact
Information provided on this website is not intended to replace professional advice. If you have any concerns at all about your cat's health, please consult a vet.
Copyright © 2009-2019 Caroline Haines, Life with Siamese Cats. All rights reserved.


---