Meezer Musings
December 2014


Happy holidays!

I usually send out the final newsletter of the year around the time of American Thanksgiving, towards the end of November, but time ran away with me in November so here's the newsletter now. Just a couple of weeks late!


A question of food

One of the questions I get asked a lot is 'what should I feed my cat?'
And I'm always rather at a loss to answer this, because although I'm a qualified human nutritionist, I'm not a cat nutritionist or even a vet.
You might remember that back in February I promised to do some research into raw feeding. Bandit has had some digestive issues this year which I'll go into in more detail in a future newsletter, but because of these I have been doing a little digging into cat nutrition recently.
I've found the following websites extremely interesting and useful, and if you'd like to improve your own cat's diet and health, you might like to know about them too.

CatInfo.org is written by vet Dr. Lisa Pierson. She's a cat owner herself and a strong advocate of a wet or preferably raw diet. Her site makes for sobering reading, and led me on to the wonderful CatNutrition.org, which has many excellent articles on cat nutrition, cat health, raw feeding and general cat care.
In turn, this led to the discovery of The Feline Nutrition Education Society which I have yet to dig into in detail but which also promises all kinds of useful information.


2014's Meezer Musings

One of our readers wrote to say she hadn't received one of our newsletters (the October one) so just in case you've missed any or would like to go back to any of them, here are the links to the rest of this year's Meezer Musings.

January  |  February  |  March  |  May  |  June  |  July  |  August  |  October

There were no newsletters in April or November.
And a reminder for Gmail users - our newsletters may end up in your 'Promotions' folder. If you want to be sure of seeing every newsletter, drag our email into your Primary folder.


Still looking for a last-minute gift?

If you're still searching for a Christmas present for the cats in your life, this is a reminder of the scratch pad we received last year for Christmas, and that Bandit loved dearly (until he decided to pee on it instead, rendering it suitable for outdoor use only!)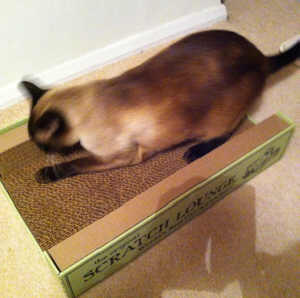 Sold on Amazon as
The Original Scratch Lounge - Worlds Best Cat Scratcher
they're on sale at the moment with a good discount (and come with a pack of catnip included!) so do check them out.
And while it's too late to order these for Christmas now, we recently came across the lovely handmade cat beds pictured below from Kitty Kozy, as seen on their Facebook page here.
At the moment they only ship within the United States, but if they take off we might be able to persuade them to ship to other countries too.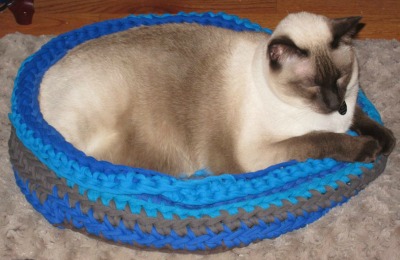 Image copyright © Kitty Kozy


Meezer(s) of the Month

Our Meezers of the Month are Tai-Tai, Ko-Ko and their non-Meezer buddy Tico-Tico (who, sadly, has just crossed the Rainbow Bridge at the goodly age of 19), all rescued in one way or another by Valerie Window, who sent us the story of how they each came to live with her. You can read their full story here.

| | |
| --- | --- |
| Tai-Tai | Tico-Tico |
Ko-Ko
All images with thanks to and copyright © Valerie Window


---

Looking ahead to 2015

I'm hoping that life will quieten down enough next year to allow me to add a lot more to this website. And if you enjoy visiting our Facebook page you'll know that we have a feature on Mondays (appropriately called Meezers on a Monday) when we share the best of your photos throughout the day.

From January, we'll be adding some other regular items as well as sharing useful hints and tips from this website and others from time to time.
So do look out for those. If you're not already following the page and would like to, you can visit it here. Come and join us and if you click the 'Like' button on the page, our posts should show up in your news feed.
I say 'should' because Facebook has changed the way it displays things to its users and is actually showing you less of the things you like! Please remember to like, comment on or share our posts, which will help Facebook to show you more of them.
Here's one of our recent visitors.


Simon
With thanks to and © Wendy Cooke Lang


And finally ...

We'll be back at the end of January.
In the meantime, whether you're celebrating the festive season with barbecues on the beach (for those in the southern half of the planet) or more traditionally with carols, holly, mistletoe, trees and snow (for the rest of us)  - have an enjoyable, safe time and a very happy Christmas (or any other festival you may be celebrating) wherever you're spending it.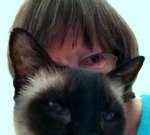 Caroline

---
If you enjoy our work, why not
sign up for our newsletter,
Meezer Musings?

An opportunity to share my reflections on life with
Siamese cats, stories in the news, photos, tips, goodies,
and our Meezer of the Month!

---
Like us? Please share us with
your Siamese cat-loving friends


---

Home  .  Sitemap  .  Privacy Policy  .  Affiliate Disclosure  .  Resources  .  About  .  Contact
Information provided on this website is not intended to replace professional advice. If you have any concerns at all about your cat's health, please consult a vet.
Copyright © 2009-2019 Caroline Haines, Life with Siamese Cats. All rights reserved.


---