Meezer Musings
September 2015


Helping cats in need

Welcome to September's Meezer Musings, which this month is (mostly!) about cats in need.

I've been thinking a lot about rescue this month. Earlier in September one of our regular Facebook page visitors, Sarah, dropped a note onto the page to ask whether I'd seen a story about a twelve-year-old Siamese cat, Kia, who'd been cruelly neglected and starved almost to the point of death by her owner.

When the Ottawa Humane Society found her, Kia was covered in maggots, still alive (but only barely) and beyond help. The only thing the Humane Society could do was to end Kia's suffering by putting her painlessly to sleep.

The owner was charged with "permitting distress and failing to meet the standards of care".

Sarah apologized for bringing this distressing news to our otherwise positive and happy page, but there was no need to apologize.
Although I do aim to keep the Facebook page as fun and inspiring as possible, because there's already so much pain in the world, Sarah's note highlighted the importance of all the groups that work so hard to rescue and re-home cats in need of help and care.


Why do so many Siamese cats end up in rescues and shelters?

I always find it astonishing that so many Siamese and Siamese mix cats end up in shelters or rescues or even just abandoned, but the existence of so many Siamese breed-specific rescues proves that they do.
There's a list of all the Siamese rescue centers I know about on this page. If you're aware of others, please let me know. I'm not affiliated with any of these, but people often ask me about rescues in their particular area so it's useful to keep the list up to date.

I can't help but wonder what it is that causes people to abandon, mistreat, or relinquish cats they must have felt they could love at some point.
Coincidentally, the Siamese Cat Rescue Center of Virginia, which looks after the eastern half of the United States, has recently been running a series on their Facebook page in which they've highlighted their 'down and outs' - Siamese cats looking for new homes, along with the reasons these cats were turned in.
Leaving aside outright cruelty, like the case of Kia above, here are just some of the reasons Siamese cats might end up in shelters:
Owner's death

Divorce
Imprisonment of owner
Illness of owner

Arrival of new baby in the family

Purchase of new 'more exciting' pet

Relocation to accommodation that doesn't allow pets

Allergies
Illness of cat, or conditions that are difficult to manage, like irritable bowel syndrome

Declawing (declawed cats often end up in rescue centers, as declawing often results in behavioral problems)
Biting, nipping or scratching
Abandonment

Hoarding situations
Poor cattery management
As you can see, reasons are many and diverse and these are probably just the tip of the iceberg.


Can you help?

Rescue organizations are very often faced with more requests for help than they can handle, with limits on space, staffing, supplies and finances. If you feel you'd like to help in any way, all rescues are generally grateful for:
Financial donations
Contributions of food, cat litter or other supplies (some rescues have wish lists on Amazon and are always grateful for purchases)

Volunteers to help clean cages, socialize cats, or help with administration

Fosters. Many rescues don't have the facilities to be able to keep all the cats who need shelter - lodging cats in foster care is one way of helping more animals.
Transport. As an example, the Siamese Cat Rescue Center runs an extraordinary 'Meezer Express' network of transporters who help to move cats both into care and then out to new homes.
If you're on the eastern side of the United States, there's a complete list of the sort of things you can do to help on this page.


Do you live in Colorado?

I recently became aware of another very sad situation in which a cattery in Colorado was closed after failing an inspection by the Department of Agriculture. Fifty Siamese cats were taken into care, twenty-seven of which went to the Dumb Friends League in Denver and the other twenty-three to the Humane Society of the Pikes Peak Region in Colorado Springs.
If you're in Colorado and think you can help, either by adopting or perhaps helping by fostering one of these cats, you can read the article, find more details and the contact information for the Dumb Friends league here. 


On to happier things

I think that's enough sadness for this month, so we'll finish up with some happier items, but I hope the paragraphs above may make you pause and spare a thought for all the cats who end up either in high-kill shelters, or if they're lucky, removed to specialist rescues where, even then, they may spend weeks or months in cages.


---

Meezer of the Month

"They turned out to be the mellowest, sweetest, most amazing creatures I have ever come across".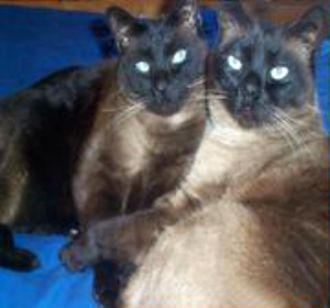 Tiger and Beast
Image with thanks to and copyright © Frank (Florida)

In keeping with our rescue theme, our Meezer of the Month for September is sixteen-year-old Beast, seen here with his companion Tiger (sadly now deceased, although he lived to the ripe old age of twenty!)
Tiger and Beast were adopted many years ago from a small shelter in Alaska, and lived there with their owner Frank before they subsequently moved to Florida together.
Frank says, with some sadness, that he often wonders what circumstances could possibly have made their former owners give the cats up for adoption. It's a question I'm well aware of, as I've never known Bandit's 'back story' either.
Tiger and Beast looked well cared for, and both were neutered. But what was their relationship to each other? Father and son? Companion cats? Nobody knows.

You can read Frank's full story, 'The Saga of Tiger and Beast' here.


---

Fun from Facebook

Our 'Fun from Facebook' spot follows along with the rescue theme, as a very popular photo this month was the one (below left) of kitten Lil' G, peering down from his cat tree perch.
This photo, along with the two on the right, were kindly submitted by Joanna Donley who volunteers for the Silicon Valley Pet Project (SVPP) in Northern California and who has become the "official unofficial" Siamese foster carer.
Joanna told me that three of the six Siamese fosters to date were rescued off the street by Joanna and her husband, while the other three were pulled from the local shelter.
Wishing the SVPP great success in finding loving, 'forever' homes for all the kittens.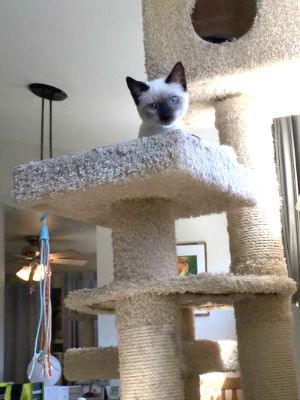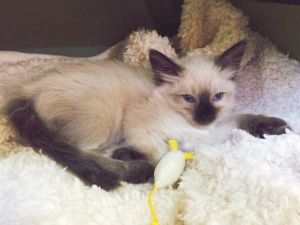 Lil G (left), Alexa (top right) and Siri (bottom right)
All images with thanks to and copyright © Joanna Donley


---

Moon Diamonds
, an update. Now available in print!
In a rescue story of a different kind, you may remember that last month I mentioned the new book by Madeleine Purslow, Moon Diamonds, about the Siamese cats who 'rescue' recently retired actress Monica by bringing joy and comfort into her life.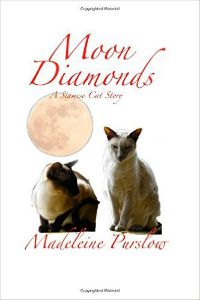 The book came out for Kindle in August. Several people contacted me to ask whether there was also a print version available, and I'm delighted to be able to tell you that there now is.
Which is all very exciting! If you'd like to know more about the book, or buy the print version, you can find out more here
.
---

Tail end ...

That's it from us for September - we seem to be speeding through the year. We'll be back at the end of October when we'll be looking towards the holiday season with some fun ideas for gifts for you and your cat-loving friends - and the Meezers in your life, of course!

Have a great month in the mean time.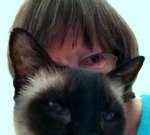 Caroline

---
I occasionally link to books and products I think you might like. If you purchase through one of these links, I receive a small commission. There's no extra cost to you, and I only suggest products that I have enjoyed or that other cat owners have recommended. You can find out more on our Affiliates Disclosure page.

---
If you enjoy our work, why not
sign up for our newsletter,
Meezer Musings?

An opportunity to share my reflections on life with
Siamese cats, stories in the news, photos, tips, goodies,
and our Meezer of the Month!

---
Like us? Please share us with
your Siamese cat-loving friends


---

Home  .  Sitemap  .  Privacy Policy  .  Affiliate Disclosure  .  Resources  .  About  .  Contact
Information provided on this website is not intended to replace professional advice. If you have any concerns at all about your cat's health, please consult a vet.
Copyright © 2009-2019 Caroline Haines, Life with Siamese Cats. All rights reserved.


---