Meezer Musings
March 2017


Welcome to the March edition of Meezer Musings!
This should have been sent out at the end of February but a few little hitches, mainly problems with technology, meant that I couldn't send it out earlier. So here we are at the beginning of March instead.

Following on from January's piece about vets, veterinary treatment and how to pay for it all, this time we're taking a look at when a cat might need to see a vet (apart from any regular check-ups and necessary vaccinations, obviously).
Cats are masters at disguising pain, so how can you tell when something might need investigating, or treatment? The list of signs of pain will help you check your cat's behavior to determine any potential problems, and we also look at 'red flag' situations - times when you must take your cat to the vet as a matter of urgency.
After that, we have a featured artist, AmyLyn Bihrle, who paints the most adorable Siamese cats - you can see some of her lovely designs below - followed by our usual Meezer of the Month and Fun from Facebook features.


Is My Cat In Pain?

I belong to a series of online cat groups and one of the most frequent questions is from people asking for advice or wondering whether or not their cat should be seen by a vet.

A veterinary study published last year in a scientific journal called PLOS One asked a panel of expert cat vets to try and come up with a consensus on how a cat shows pain. Their findings identified twenty-five common signs.
Lameness
Difficulty jumping
Abnormal gait
Reluctance to move
Reaction to being touched (applying light pressure).
Withdrawing or hiding
Lack of grooming
Playing less
Decrease in appetite
Decrease in activity levels
Less rubbing toward people
General mood
Temperament
Hunched-up posture
Shifting of weight
Licking a particular area of the body

Lower head posture
Squinting
Straining to urinate (and in my opinion, defecate, too)

Tail flicking
Changes in feeding behavior*
Hiding away, avoiding bright areas*
Growling*
Groaning*
Closed eyes*

Quite a comprehensive list - and while most of these might indicate low levels of pain, the final five (marked with an asterisk*) were thought to indicate higher pain levels. In particular, look out for changes in feeding behavior, closed eyes, the avoidance of bright areas, growling and groaning.
I think we, as pet people and cat lovers, tend to know our cats' behavior well and will quickly spot any problems or changes, but it's better to be safe than sorry and if you're at all unsure, get your cat checked out by a vet.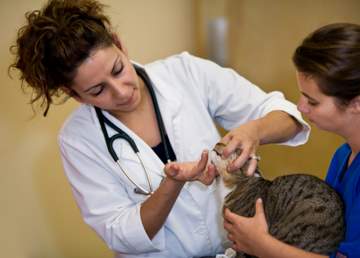 Better safe than sorry
photo: © iStockphoto | Dennis Guyitt


Is It An Emergency?

In addition to the behavioral changes listed above, the ones below are possible emergency situations and are times when you should take your cat to the vet as quickly as possible.

Difficulty breathing
Persistent coughing
Runny or watery eyes or nose
Bleeding/pus from a wound or anywhere else on the body
Repeated vomiting
Repeated diarrhea
Not eating (especially if longer than 24 hours)
Not drinking
Fitting, seizures or repeated twitching
One or both pupils don't respond to light
Unable to stand upright or walk normally
Walking in circles or bumping into things
Increase in drinking and urinating
Trouble urinating, or peeing outside the litter box
Unexpected weight gain or weight loss
Appearance of any unidentified lumps or bumps
Has loose skin or an 'open' coat
Generally looks unwell, uncomfortable, not responsive
If pregnant, difficulty giving birth

Many of us (including me) have a built-in resistance to visiting the vet, whether it's because of distance, cost, mistrust, or concern about what the vet is going to say, but a vet is there to work for you and help your pet, so please don't delay, and if you have any concerns about your vet's knowledge and experience, get a second opinion.


---

Featured Artist - The Wonderful World of AmyLyn Bihrle

Moving on to happier things! On our Facebook page on Valentine's Day I shared a post from Southern California Siamese Rescue featuring one of artist Amylyn Bihrle's delightful and mischievous Siamese cats. It was a popular post and I thought you might like to know a little more about AmyLyn's work.
AmyLyn Bihrle is a Fine Artist and illustrator with a passion for horses; much of her work revolves around them. She lives in New York and also paints highly recognizable Siamese cats. Cute and funny, with their huge ears and big round blue eyes, I'd seen many of the pictures before I ever knew who the artist was. I've always adored them.

Here are two of them. Siamese cats enjoying a lovely bubble bath, and jazzing around on a piano.


Images by kind permission of and copyright © AmyLyn Bihrle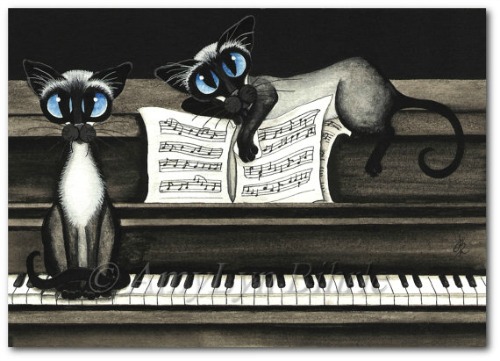 AmyLyn has a wonderful range of paintings and prints of Siamese cats, black cats, horses, rabbits, wildlife and other critters - there are 73 prints in her Siamese collection alone!
You can find and follow her on her Facebook pages, Equine and Fine Art and Cats and Critter Art, and her original paintings and prints can all be ordered through her Etsy shop.
You'll find another of AmyLyn's cats a little further down the page ...


---

Meezer of the Month

Our Meezer of the Month for February is Averi White's Holly (named after Holly Golightly, the heroine of Breakfast at Tiffany's, one of Averi's favorite movies).
Holly was surrendered at an animal shelter by her previous owner before finding her new home with Averi, a first year medical student in San Antonio, Texas.
Image copyright © Averi White
Averi found her first semester of med. school very stressful and the work was overwhelming, so her mom decided to get her a furry friend to keep her company and help her along.
Holly has made the biggest difference to Averi's life; she's much less stressed out now and looks forward to coming home to Holly every day.
Holly is around three years old, and tiny - she has short little legs and weighs in at a mighty six pounds!
 She's very vocal, loves to play ball and watch guests go the bathroom (typical Siamese!) and follows Averi everywhere around the house.
Averi contacted me to ask whether I could help her to identify Holly's breed and coloring. This is never particularly easy using photos on a computer, as different screens display colors differently. But see what you think.


Holly
Image with thanks to and copyright © Averi White


As you can see, with her longish fur Holly looks like a Balinese - a breed that was developed from the naturally occurring long-haired kittens found in some Siamese litters. There are other long-haired breeds that display the pointed coat pattern - Himalayans, Ragdolls and Birmans among them, but their coats are all much thicker than Holly's.

Averi was curious about Holly's coloring, because although she thought Holly was probably a lilac point, Holly didn't really look like any of the pictures of lilac points she'd seen.
This is because, as you can see in the photo below, Holly's mask is mottled (not solid, as a pure lilac point's would be) and has some peach/orange shading. I think it's likely that Holly is carrying the orange (O) gene, and this would make her a lilac tortie point. (You can read more about tortie points here).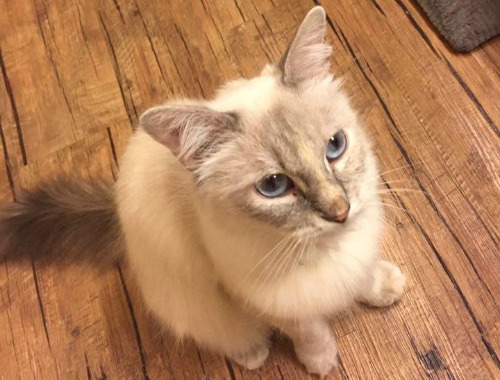 You can see Holly's mottled nose (her paws are similar) in this photo
Image with thanks to and copyright © Averi White


As a rescue cat, Holly's most probably something of a mix and we may never know exactly what her genetic make-up is, but I think she looks most like a lilac tortie point Balinese.

Thanks for sharing Holly with us, Averi!


---

Fun from Facebook

I'm always interested in hearing about other people's experiences with litter boxes and different types of litter so I was amused by this photo from our Facebook page this month.
This is one of William Armstrong's cats, Cappo, exploring his new space-age litter box. In case you've never seen one like this before (and I hadn't) it's an automatic, self-cleaning box - the Litter Robot III Open-Air - available on Amazon, where it has some good reviews. One of our other Facebook readers also said that she had one and liked it.

Some cats don't like enclosed boxes, so I was looking forward to hearing how the cats were getting on with it, and William says that so far all four of his cats are using it without any trouble.
Cappo certainly seems interested in exploring it!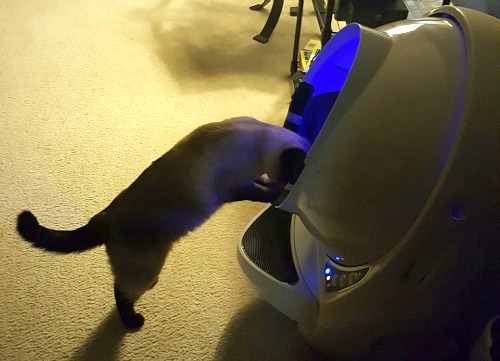 Cappo learning about his new 'toy'
Image with thanks to and copyright © William Armstrong


---

Tail end ...

With St. Patrick's Day (March 17th) just around the corner, there's no better way to finish than with a final picture from AmyLyn Bihrle - this time of one of her cats playing in clover.
The shamrock associated with St. Patrick's Day is, botanically, a three-leaved clover, as many of the ones in this picture are, although the eagle-eyed among you may spot the odd lucky four-leaf clover here as well!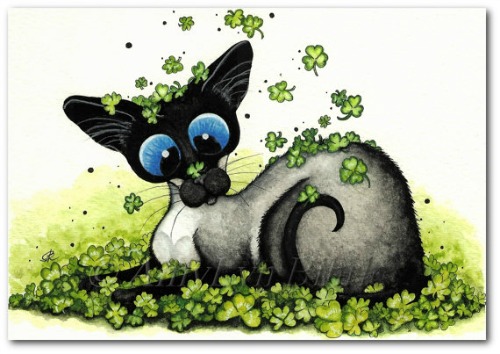 Covered in Clover
Image by kind permission of and copyright © AmyLyn Bihrle


We'll be back again in a month or so. Wishing everyone for whom it's relevant a fun and happy St. Patrick's Day, and to everyone else, a lucky month wherever you are!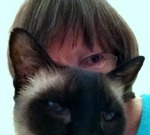 Caroline


---

I occasionally link to products I think you might enjoy. If you purchase through these links, I receive a small commission. There's no extra cost to you, and I only suggest products that I like or that other cat owners have recommended. You can find out more on our Affiliates Disclosure page.


---
If you're enjoying your visit, why not
sign up for our newsletter,
Meezer Musings?

Reflections on all aspects of life with Siamese cats, from stories in the news to cat care tips, books, photos, and other goodies!

---
Like us? Please share us with
your Siamese cat-loving friends


---

Home  .  Privacy Policy  .  Affiliate Disclosure  .  Sitemap  .  About  .  Contact
Information provided on this website is not intended to replace professional advice. If you have any concerns at all about your cat's health, please consult a vet.
Life with Siamese Cats does not sell any personal information from this website.
For further information please see our Privacy Policy.
Copyright © 2009-2020 Caroline Haines, Life with Siamese Cats. All rights reserved.


---