Meezer Musings
November/December 2017

Happy Holidays!


"In Moose County, four hundred miles north of everywhere,
it always starts to snow in November,
and it snows - and snows - and snows."
The Cat Who Knew Shakespeare - Lilian Jackson Braun


Welcome to the last Meezer Musings of 2017!
The quote above is the opening sentence of one of the Siamese 'Cat Who' novels by Lilian Jackson Braun - very relevant just now. And, as it grows colder and darker for many of us, even if we're not as far north as "four hundred miles north of everywhere", we're bringing you a touch of Meezer-related fun, frivolity and sparkle to combat the winter chill as we head into the holiday season.

Gifts, decorations, and a mix of the sad, the sensible and the silly all rolled into one!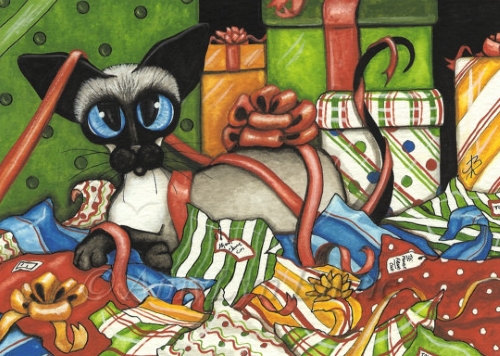 Art Print 'Gift Wrap & Ribbon Fun' by AmyLyn Bihrle
Image with thanks to and copyright © AmyLyn Bihrle on Etsy


Along the way ... if you'd like something as bright and cosy as Christmas itself to read over the holidays we have a book recommendation for you; ask "when is a cushion not really a cushion?" and say a sad but fond farewell to a graceful princess.
We also have ideas for gifts and tree decorations, and topical tips for keeping your cats safe and well throughout the holidays.

The Cat Who ... Appeared on a Bookstall

I always enjoy browsing through second-hand bookstalls to see what treasures they might hold, so you can probably imagine my delight this month to come across two of Lilian Jackson Braun's 'The Cat Who' mystery stories, particularly as they were ones I hadn't already read. It was in one of them that I found this month's opening quote.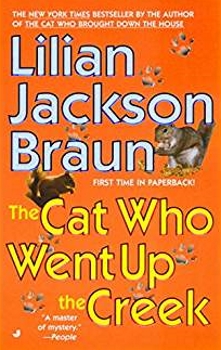 Second-hand bookstall treasures


It's been a while since I read any of the books in the series (there are 29 in total) and I enjoyed re-acquainting myself with Siamese cats Koko and Yum Yum, their owner Jim Qwilleran, and the assorted cast of weird and wonderful characters that appear in the novels.
If you haven't read them, I suggest starting at the beginning with The Cat Who Could Read Backwards and following hero Jim Qwilleran (who always reminds me of Tom Selleck in Magnum P.I.!) from his early days as a past-his-best crime reporter to later years as a millionaire philanthropist. (To find out how this unlikely event occurs, you'll have to read the books - the complete list can be found here.)
Along the way Jim adopts first Koko (full name - Kao K'o-Kung) and then Yum Yum, and it is of course the cats - generally Koko - who solve the crimes!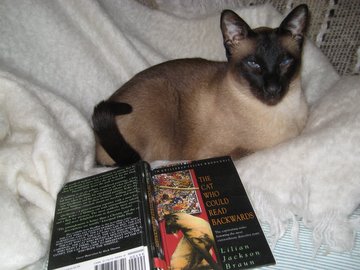 Bandit enjoying The Cat Who Could Read Backwards
Image copyright © Life with Siamese Cats


---

Farewell, Princess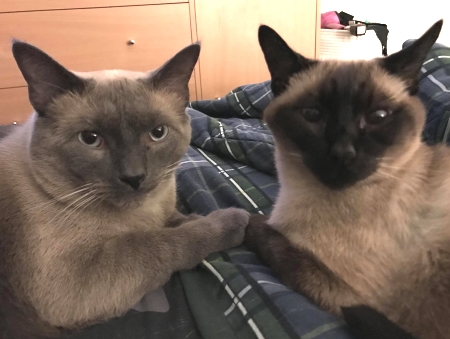 General Han Solo and Princess Leia
Image copyright © John and Erin Broemelkamp

Sad news this month as we say goodbye to John and Erin Broemelkamp's Princess Leia (above right) who graced our Facebook page many times and who crossed the Rainbow Bridge on November 12th, from congestive heart failure.
Princess Leia and her companion Han Solo were our Meezers of the Month in September; at that time Leia had just undergone surgery for a suspected hernia but had been recovering well, so her death was a shock. Our hearts go out to John, Erin and their family as well as their other kitties, especially Han, who will doubtless miss her terribly.
It's hard to lose a much-loved feline family member at any time but especially so around the holiday season, so to all of you who've lost your kitties recently, we send condolences and our thoughts are with you.


---

Christmas Is Coming! Topical Tips

Christmas and other seasonal holidays tend to be times when there are lots of unusual foods, plants and other 'nibble temptations' around the house - and they're not always safe for cats, so here are some reminders to keep your cats protected and happy during all the festivities.


Christmas trees.

1. Make sure your tree is securely fastened! I've even seen photos from folks who hang their trees upside down from the ceiling. While this may be going a little

far, securing your tree by attaching it the wall if necessary, so that it can't topple over, makes good sense. 2. Vacuum up dropped needles frequently to prevent them from being nibbled or causing any other harm.

Christmas lights. 1. Make sure that electrical cables are kept well out of the way, either hidden under rugs or covered with cable protectors. 2. Use circuit breakers. 3. Never leave trees with lights unattended, especially if you have kittens. Kittens have been known to hang themselves by getting tangled up in light cables.
Christmas candles. Don't leave lighted candles unattended or in places where they might accidentally be knocked over and start a fire or injure your pet.
Christmas decorations. Make sure any ornaments or other decorations you buy are non-toxic and don't contain small pieces that could get stuck if your cats try to eat them.

Plants and flowers. Lilies (often present in flower bouquets) are lethal to cats and should be banned from the house. Poinsettia plants, more often around at Christmas, can also be toxic so are best avoided or kept out of reach.

Christmas foods. Chocolate, cake, candies, cookies, nuts, alcohol - none of these are good for cats! Ingredients in other foods - raisins, sultanas, onions and garlic are toxic too so avoid feeding your cats any foods that contain these. If in doubt, cat food is better than human food for cats!
Christmas gifts. Siamese cats love to 'help' you wrap Christmas gifts, but make sure they don't accidentally swallow tape, string, paper or any other wrappings, and tidy up after yourself. Once wrapped, don't leave packages containing foods or treats under the tree - they're sure to be discovered, dismantled, and devoured!
Christmas visitors. If you're expecting visitors, make sure your cats have a calm, safe space they can retreat to, and, as always, make sure they can't escape through open doors.
Vets' opening hours. We sincerely hope you won't need to call the vet, but it's always a good idea to make a note of your regular vet's opening hours as well as the availability of emergency vets over the holidays, just in case.


---

Siamese Cat Christmas Ornaments

At this time of year I love browsing for Christmas tree decorations and I especially love finding Siamese cat-related ones. Here's a little selection of some I've found recently; they make perfect stocking fillers or little gifts for yourself or others.
They're all available either from Amazon or craftmakers' platform Etsy - but hurry - at this time of year they do sell out very quickly!

---

Christmas Gifts and Calendars

Looking for something really different for a Siamese cat lover? How about this clothes hanger? This has to be one of the most unusual (and funniest) items I've found in my search for Christmas gifts, but it's also surprisingly lovely and I have to say that now that I've seen it, I want it!
Imagine a whole wardrobe full of them! It turns out there's a whole menagerie of other cats, dogs, mice and bears to be had as well. You can find the whole range on Amazon, but for the Siamese cat hanger, click the photo or link below for more details.


Siamese cat clothes hanger
Made by Stupell and available on Amazon


There's a further range of Siamese goodies over on our Gifts page, with presents for kids and adults (and cats too, of course) including a sister tile to the one shown below - a cute Siamese cat in a wine bar which is part of the same set as this Siamese cat at the piano.


Siamese cat at the piano - art tile coaster
Made by SchmetzPetz and available from Amazon.


And although next year is almost upon us, it's not too late to order yourself a new calendar for next year - check out our page of Siamese cat calendars for our selection for 2018.


2018 calendar by Suzanne Le Good
One of a selection of Siamese calendars for 2018


---

Fun from Facebook

Spare a thought for Donna Jeanne Sadeghi's very patient older cat Meadow. Peacefully minding his own business on his cat platform one day - and then along came young Meezer Drew, who thinks that Meadow is a wonderfully comfortable place to rest for a while. 
And obviously thinks it's hilariously funny, too. Nice fangs, Drew!
Thanks to Donna for allowing us to share this here.


If It Fits, I Sits!
Image with thanks to and copyright © Donna Jeanne Sadeghi


---

Tail end ...

That's it from us for this month - and as I finish up, there are just the beginnings of small snow flurries outside my window ...
Wherever you are and whatever you're doing for your particular holidays, whether barbecuing on a beach (for our Australian and New Zealand friends) or enjoying a snowy Christmas with roast chestnuts and cosy fires (the rest of us) we hope you have a great time with family, friends, and Meezers! We'll be back in January with a look at the year ahead in 2018.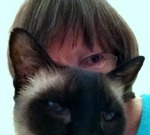 Caroline


---

I occasionally link to products I think you might enjoy. If you purchase through these links, I receive a small commission. There's no extra cost to you, and I only suggest products that I like or that other cat owners have recommended. You can find out more on our Affiliates Disclosure page.


---
If you're enjoying your visit, why not
sign up for our newsletter,
Meezer Musings?

Reflections on all aspects of life with Siamese cats, from stories in the news to cat care tips, books, photos, and other goodies!

---
Like us? Please share us with
your Siamese cat-loving friends


---

Home  .  Privacy Policy  .  Affiliate Disclosure  .  Sitemap  .  About  .  Contact
Information provided on this website is not intended to replace professional advice. If you have any concerns at all about your cat's health, please consult a vet.
Life with Siamese Cats does not sell any personal information from this website.
For further information please see our Privacy Policy.
Copyright © 2009-2020 Caroline Haines, Life with Siamese Cats. All rights reserved.


---