Meezer Musings: November 2018
Winter's On The Way
Where I live in the UK the weather has been mild for November, but the temperature has just taken a sharp turn downwards, with snow forecast for some areas.

Of course, you may already have snow in your corner of the world (like our snugly-hatted Meezer friend from AmyLyn Bihrle, below) but wherever you are, you're probably thinking about Thanksgiving, or Christmas, or other holidays - the food, the gifts, and all those preparations that you haven't started yet ...

There are all kinds of fun things coming up for you - calendars and Christmas tree decorations, gifts and books, topical tips for the holidays ...

But first I'd like to take a little look back to the summer, because I know that some of you are wondering where we've been for the past few months.

A Farewell to Bandit

I'm enormously sad to tell you that we had to say goodbye to Bandit in the summer. He'd been bravely fighting kidney disease for almost two years and although he hated our monthly vet visits, he'd been more or less holding his own despite gradually losing weight from month to month.
I'd had a feeling for some time that he might not make it through the year, but we were able to celebrate the tenth anniversary of his 'Gotcha' day in April and I'd hoped that he'd live long enough to enjoy some warm sunny days. He loved the sun.

I'm pleased to say that he did, and here he is warming himself in the early summer. He was very spoiled, as he wasn't really allowed on the table!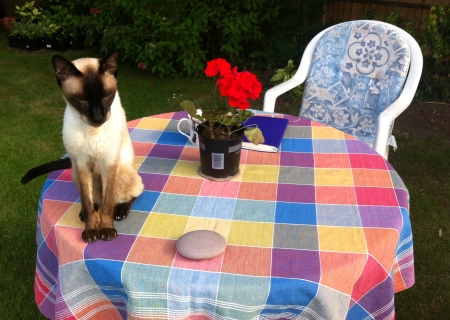 Last summer in the garden - enjoying the summer sun
Sadly he stopped eating some weeks later during some very hot weather that we had here, and despite all our best efforts, and the vet's, he went downhill very quickly. He was clearly no longer enjoying life so we felt it was best to let him go gently and with dignity.

He was the 'face' of Life with Siamese Cats for over ten years, and graced our lives (and those of our friends and neighbors) with his energy, elegance, mischief and sheer Siamese wilfulness. I wouldn't have changed a day of it, and he is very much missed.
Bandit's final weeks taught me a lot, and while I don't want to dwell on them now I have some thoughts to share about them, so I'll write more next year.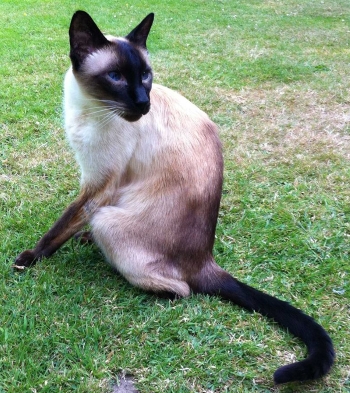 Bandit, 2003-2018. RIP, little fella
Not long after Bandit passed away I became quite ill myself, and it's only in the last couple of weeks that I've felt like writing for the website, or, in fact, doing anything much at all.
So if you've missed us that's what happened, but life is gradually returning to normal and I hope to bring you more regular newsletters next year.
For now, though, on to brighter and happier things!

Of Calendars and Christmas Trees

First things first - have you bought yourself a calendar for 2019 yet?
If not, you need one! Head on over to our Siamese cat calendars page where you'll find a selection of the brightest and best for 2019, including the beautiful one below from artist Suzanne Le Good.

2019 calendar by Suzanne Le Good
Next Up! Tree Decorations

I adore browsing for tree decorations and I particularly love finding Siamese cat-related ones. Here's a small selection; they make perfect stocking fillers or little gifts for yourself or others.
They're all available either from Amazon or craftmakers' platform Etsy - but hurry - at this time of year they sell out very quickly.
Gifts for You and Yours

You'll find a range of Siamese goodies over on our Gifts page, with presents for kids and adults (and cats too, of course) including a sister tile to the one shown below - a cute Siamese cat in a wine bar which is part of the same set as this Siamese cat at the piano.
I've recently updated the page and will continue to keep a look out for items to add, so do pop back and visit it from time to time.

I wrote about this Siamese cat clothes hanger last Christmas and see that it's still available, so how about this for a piece of Siamese memorabilia?
Definitely one of the most unusual items I've come across in my search for Christmas gifts, it's also surprisingly lovely, and I know that at least one of you bought one last year!

Books
I love giving and receiving books and I recently read about the Icelandic tradition of giving books on Christmas Eve. With that in mind, here are some book suggestions for you. Siamese ones, of course ...

A few weeks ago I was contacted by Rhonda Banuelos, the author of a series of picture books for children (Grades 1-2) that were inspired by the Siamese mix cat Rhonda adopted while living in Oahu.

The books (three so far) focus on the importance of friendship, the love of animals, learning about other cultures, and travel.
The first in the series is called The Adventures of Hayley Cat and tells the story of a friendship between Hayley and an amiable dolphin.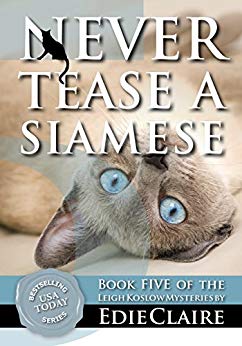 Another Siamese-related book that I came across recently is a mystery novel called 'Never Tease A Siamese' by Edie Claire - also part of a series - eleven books in total.
The Siamese cats in this novel are peripheral to the story, but it's a well-written and very enjoyable mystery - so enjoyable, in fact, that I then bought books 1 and 2 in the series too.
They, however, have nothing at all to do with Siamese cats!

Topical Tips for The Holidays

The holiday period tends to be a time when there are lots of extra-special foods, plants and other 'nibble temptations' around the house, which aren't always very cat friendly. Here are some seasonal reminders to help keep your cats safe and happy during all the festivities.

Tail End ...

I've recently stopped working and now have time to work on this website - and plenty of work to do on it! I have lots of ideas to bring it up to date so, after the holidays, I'll be back in January with a look at the year ahead in 2019.
Meanwhile, to all our American friends, who may be about to start cooking up a storm in preparation for Thanksgiving on Thursday, we wish a happy celebration and a peaceful, joyful and safe weekend.
And wherever you are, and whatever you're doing for your particular holiday celebrations around the world in December, we hope you have a wonderful time with your families, friends, and Meezers.

Caroline

Missed a Meezer Musings? A list of previous newsletters can be found here.


Some of the articles and newsletters on this site may contain links to products I think you may enjoy. If you purchase through these links I receive a small commission, but there's no extra cost to you. Find out more on the Affiliates Disclosure page.


Have You Discovered Our Newsletter?
If not, why not? Subscribe to our email newsletter, Meezer Musings, to stay in touch, be the first to see new information and pages as they come out, and read the things we only talk about in the newsletter.

Learn more about it on our Newsletter Sign-Up page.