Siamese cat names? Ideas at hand!

Trying to find just-the-right Siamese cat names for your new arrival?
Of course you are. Once you've got your Siamese kittens, cats, or rescues nicely settled in, you'll need to find them names.
This can be tricky, particularly with kittens, which might be cute and cuddly balls of fluff now, but who'll look and act quite differently when they grow up.
So when you're looking through all those Siamese cat names for your new little kitten, make sure you choose ones that will be appropriately sophisticated for your grown-up Siamese, too!

Funny, unusual cat names?

Naming cats, as T.S. Eliot once said, is a difficult matter, particularly as he thought that a cat ought to have three different names.
Luckily, you only have to choose one.
T.S. Eliot was, in fact, great at coming up with funny and unusual cat names. In his wonderful poem The Naming of Cats, he mentions Munkustrap, Quaxo, Coricopat, Bombalurina, and Jellylorum, and if you'd like a unique Siamese cat name, you might like to consider making one up, too.
Writers clearly have an eye for unique cat names. Another poet, Robert Southey, called his cat by the longest cat name ever. Nicknamed Rumpel, his cat's full name was ...
"The Most Noble the Archduke Rumpelstiltskin, Marquis Macbum,
Earl Tomemange, Baron Raticide, Waowler and Skaratchi"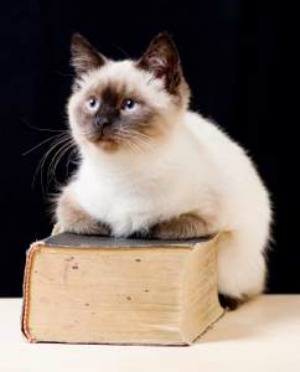 So many Siamese cat names to choose from ...
photo: © iStockphoto | dra_schwartz


Two syllable names are best

Leaving poetry to one side, cats respond best to fairly short names – two syllables are about right. If you want to give your cat a longer official name, give them another nickname that they can learn easily.
Take a look at our list of really cute kitten names for ideas.


If you have two cats

If you have two kittens or cats to name, it's a good idea to choose names that have different vowel sounds, so that the names sound different to your cats when you call them.
To a cat, names like Candy and Dandy would sound very similar, so if, for example, you wanted to call one of your cats Candy (which has 'a' and 'i' sounds in it) think about choosing a name with 'e', 'o' or 'u' sounds in it for your second cat. Like Cocoa, or Jewel.
If you need more suggestions, there are lots of cool names for kittens over at another great cat site, Maine Coon Cat Nation, too.


More ideas for Siamese cat names
We've got loads of ideas for names here, so if you'd like to see a wider choice, why not head on over to 200 Names for Siamese Cats, or our list of Siamese kitten names?
For now, here are some general ideas to get you thinking.


Match your cat's point or coat color

Keep an eye out for names that suit your cat's point or coat color.
Seal Point Siamese tend towards the creamy or coffee-colored. Think Capuccino, Kahlua, Tia Maria, Bailey, Coffee, Caramel, Vanilla.
Chocolate Point Siamese might suit Hershey or Bournville, Cocoa, Mousse, Cinnamon or S'mores.
(S'mores, yummy American treats involving chocolate and marshmallows, was suggested by one of our readers, Melanie, who also has a Lynx Point called Bean - for her vanilla coat and her dark vanilla bean ears and tail.)
More flowery names might be appropriate for Blue and Lilac Points – Bluebell, Lavender, Lilac, or Violet, or other blues from nature, such as Blueberry, or Sapphire.
For a Snowshoe, you might choose Slippers or Socks. Both these names were chosen for Presidential White House cats (although these ones weren't actually Snowshoes!)


Famous Siamese cat names

If you'd like something with character, why not name your cat after a cat in a book or film?
There was Tao, from The Incredible Journey, or DC (Darn Cat), from That Darn Cat, or Pyewacket, after the Siamese cat in Bell Book and Candle.
You might choose Sagwa, after the Chinese Siamese Cat, or Skippy (short for Skippyjon) after the Siamese cat hero in the Skippyjon Jones books.
Or for two kittens, there's Si and Am, from Disney's The Lady and the Tramp, or Koko and Yum Yum from The Cat Who ... book series by Lilian Jackson Braun, about two cat detectives.


Siamese names from Thailand

My aunt, who had a series of Siamese cats, gave each one a Siamese (Thai) royal name, in honour of the Siamese cat's regal history. The first one I can remember was Chula, named after King Chulalongkorn.
And then there was Sirikit, named after the Thai queen.


Character names

Other ideas could include names of Egyptian pharaohs or Greek or Roman gods - Cleopatra, Apollo, Hermes, Mercury.
Or important titles, like King, Prince or Princess, President or Senator.
Sports heroes, political leaders, singers, bands or other public figures can also provide inspiration.


And most important!

If your cat is going to be allowed outside, make sure you choose a name you can call easily that doesn't embarrass you in front of the neighbors!


Still need help?

We've had some great suggestions sent in by our readers - take a look at great cat names for Siamese cats for even more ideas, or browse through the selection of readers' own stories below.

---

You might also enjoy:


***************

Or go to:

Life with Siamese Cats Home Page


***************


Take a look at what other visitors called their cats
For more inspiration, browse through the stories below from some of our visitors about why they gave their cats their special names. Perhaps you'll find a name you'd really like for your cat among them!
Mimosa, Juno, and Miss Maggie
On the way to our wedding one very hot June afternoon, driving through our country lane, we saw three tiny kittens beneath a Mimosa tree. We spent …
Your Names for Siamese Cats
A little batch of Siamese cat names for you to enjoy! Stories that have come in over the past few weeks, telling why some of our readers named their …
Dongwa
Dongwa was a lean, mean, lovin' and fightin' machine in our neighborhood. Our next-door-neighbor actually threw rocks at him to scare him away, because …
Chaos
Our cat is called Chaos because she brought chaos into our lives ... I got her from a friend, she was dirty and so full of flies it was unreal. I stayed …
Bizzy
My sister and boyfriend thought we should name her something Oriental sounding but Bizzy just felt like the right name for her.
Savannah (a flame point Siamese)
Savannah was a rescue, but my word she has all the qualities of a Southern Belle. She really has many of the qualities of Scarlett O'Hara - stubborn, …
Buster Brown (Buster)
When we got our kitten, we had first seen a few pictures of him at the breeder's house. He had a mischievous look about him. Also, my husband and I are …
Supapan and Mongkut
Supapan was my first Siamese. She was a Modern show-quality Seal Lynx Point and White, and had huge, vivid dark blue eyes. She was named after a Thai …
More cat names - Siamese and otherwise
From time to time I get sent a few lines telling why visitors named their cats (Siamese or otherwise) the way they did. These shorter submissions aren't …
Lenny, a cat named after my Dad
I named my cat Lenny after my Dad, whom I lost in 2006. She acts like my Dad in so many ways, it is so cute! It took a lot of searching to find the right …
Penny Lane
I am a HUGE fan of The Beatles and searched through all of the albums for names in songs. I was originally expecting a boy kitten and was, without a doubt, …
Snickerdoodles (a seal tortie Siamese)
I always thought a lot of Siamese kitties had the coloring of Snickerdoodle cookies. Last week I brought home a new seal tortie point Siamese kitten, so …
A tale of three kitties
Three of the cats we've owned have had really interesting name choices. All Siamese, we waited to see what interesting traits each kitten had when we brought …
A Cat Named Poseidon
I have dogs as well as cats, and the two boys are named after Greek gods ... the first was named Zeus (father of the gods) by his first owner, and the …
My cats are named Oreo, Cookie and Krumbs
We already have a black and white cat (named Oreo). So when I got another two kittens, I wanted all the names to go together. Oreo and Cookie are girls …

***************


Enjoy this? Don't miss out -
sign up for our free newsletter,
Meezer Musings

Our monthly stroll through items of interest,
news and stories, photos, tips, and our
Meezer of the Month!


***************


Like us? Please share us with
your Siamese-loving friends


Information provided on this website is not intended to replace professional advice. If you have any concerns about your cat's health, please consult a veterinarian.

Copyright © 2009-2014 Caroline Haines, Life-with-Siamese-Cats.com. All rights reserved.