Siamese cats in your life?
Like to learn more about them?

Welcome!
I've always loved Siamese cats. Elegant, sleek, sociable, mischievous, loyal and intelligent, they combine the grace of panthers, the style of Vogue models, piercing cornflower-blue eyes and a Lassie-like devotion with extraordinary communication skills and, of course, those unforgettable voices.

As you can see, I'm hooked. Once those Meezers* get their claws into your heart they don't let go. (Having stolen your heart, Siamese cats will go on to steal your lunch, too, given half a chance.)

*Meezer. From Siamese ... m-e-e-z-e ... Meezer!

I have my aunt to thank. But that's another story.


Let's talk about you
You're probably here looking for information.
About the different types of Siamese cat, or all the beautiful colors, or the related breeds, or names for your kitten, or how to look after your own cat, or solutions to common cat problems, or fun pictures of cats, or … ?


Looking for answers? You'll find them here
I created this site because, like you, I wanted answers to all these questions, and more!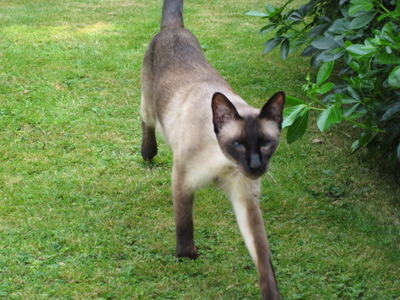 So join me, my Meezer Bandit (that's him just above) and other feline friends as we walk you through all kinds of useful stuff including:


Meezer know-how. Things like ...

Practical cat care
Fun
Toys, games to play with your cat, my favorite pictures, stories and videos featuring the breed, gifts for you and your cat-loving friends.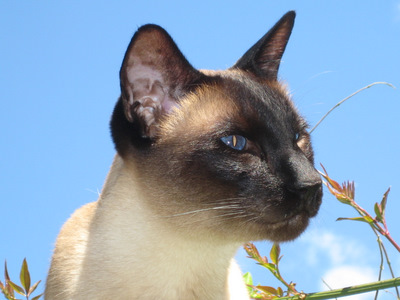 Your own stories and photos
There are various places on the site where you can submit stories about your own cats, and photos of them, too. Siamese Photos and Stories is a good place to start if you'd like share your cat's antics!

You'll find Meezers from the USA, Canada, Mexico, South America, Europe, Russia, North Africa, Australia, New Zealand and Japan ...


... a whole worldwide community of Siamese cats!


Stay in touch
We're a growing community on
Facebook
,too. Click the Like button below to follow along, then pop on over and say hi!
I'm always adding to this site, so if it feels like your kind of place, why not bookmark us and visit again? We'd love to see you!
Links to new and updated pages are always
included on our '
What's New
?' page.
Or, to make sure you
never
miss out on anything,
use the form below to sign up for our newsletter.

Enjoy this? Don't miss out! Sign up for our
free newsletter, Meezer Musings

Goings-on in the Siamese cat world - news, stories, photos,
shows and our Meezer of the Month!
Information provided here is not intended to replace professional advice.
Please consult your veterinarian about any health conditions affecting your cat.

No reproduction without written authorization.
Copyright © 2009-2013 Life-with-Siamese-Cats.com. All rights reserved.