National Siamese Cat Day: April 6th. A Special Day to Celebrate the Meezers in Our Lives
Did you know that Siamese cats have their own special holiday? National Siamese Cat Day takes place annually on April 6th in the USA.

The holiday, which has been celebrated since 2014, was dreamed up by freelance writer and newspaper columnist Jace Shoemaker-Galloway, the 'Queen of Holidays'.
Jace, a former online safety educator, has covered holidays for many different publications and written thousands of 'holiday' articles over the years, so she decided to create some special days of her own for her 'Holidailys' website - motto: "Every Day of the Year Really Is a Holiday".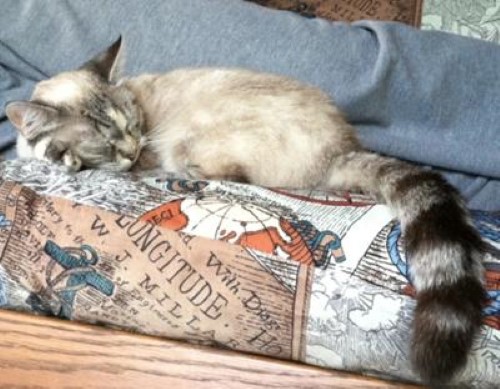 Adopted tortie-lynx point Siamese, Stella. Read her story here.
A Fun Holiday With an Important Message

I'm sure none of us here would argue against a national holiday for our Siamese cats! But this special day comes with a serious message - 'Adopt, Don't Shop'.
(Not that there's anything wrong with buying a Siamese kitten from a reputable breeder - the breed wouldn't survive otherwise).
But Jace's aim in creating National Siamese Cat Day was to encourage people to think about adopting Siamese cats from shelters to save them from being euthanized, as many hundreds of cats are, each year.

And so many Siamese 'mix' cats do seem to end up in rescues and shelters. Cats like Stella, in our opening photo above, whose adopter wasn't even looking for another cat, but:
"... there she was, staring out of her cage from the adoption center at Petsmart. Pale blue eyes blinking sleepily, delicate paws batting through the bars, and sharp little teeth nibbling on my fingers."
Or kittens like flame point Siamese Sierra, who was found hanging around outside a paper products factory and could so easily have ended up in a shelter or otherwise left to starve, had it not been for the care and kindness of her adopter, Janice, whose story had a very happy ending.
"She waits for me at the door when I get home from work and sleeps in between my knees at night. She was the best gift I could have ever been given."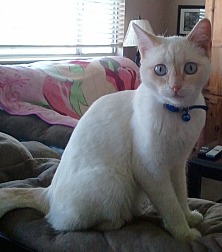 Flame point Sierra. Read her story here.
Or seal point Siamese Zoe, 'the little ball of pure personality' who'd been thrown away in a cardboard box in a parking lot, then rescued from a high-kill shelter before finding her way to the Humane Society and from there to her new owner, Lori.
Zoe, the little ball of pure personality. Read her story here.
So National Siamese Cat Day is a reminder that there are many beautiful cats in need of good homes to be found in shelters as well as in specialist Siamese rescue centers, and it's always worth checking with your local facilities if you're looking for a Siamese-type cat.

Check Your Local Centers
We have a list of specialist Siamese cat rescue centers around the world on this page, but if there's not a specialist Siamese Rescue anywhere near you, find out about other animal shelters and adoption events in your area and give them a try - these include the Humane Society, Petsmart, Petco and other pet food outlets - even garden centers occasionally have adoption events.
One of our young readers, Skylar, found her cat Mo at an adoption event in a Petco, where they'd just received some kittens from the Last Chance Animal Rescue in Virginia. Skylar reminds us that in helping animals, we're helping ourselves, too ...
"We filled out some forms saying that we would provide the best care possible for her. Now Mo is fitting in just fine and whenever I remember that I saved her life I feel good inside."
So yes, wherever possible, adopt, don't shop. You might just find the love of your life.

Other Annual Cat-Related Holidays
In addition to National Siamese Cat Day, you might also like to note these other fun cat-related holiday dates!

January 22
Answer Your Cat's Questions Day

February 17
World Cat Day
March 17
This is of course St Patrick's Day, but it's also St. Gertrude's Day. St. Gertrude was the patron saint of cats, so, two reasons to celebrate!
March 28
Respect Your Cat Day

June 4
Hug Your Cat Day
August 8
International (World) Cat Day
August 17
Black Cat Appreciation Day
September
Happy Cat Month
October 16
National Feral Cat Day

October 29
National Cat Day
December 15
Cat Herders' Day

But For Now ... It's Time to Celebrate!

If you're here because it's April 6th today and you have one or more Siamese cats in your life, go and find them now and give them an extra-special cuddle, their favorite dinner and a treat or two.
Of course, to our Meezers, every day is a cause for celebration, but today is doubly so!

Happy National Siamese Cat Day!



Some of the articles and newsletters on this site may contain links to products I think you may enjoy. If you purchase through these links I receive a small commission, but there's no extra cost to you. Find out more on the Affiliates Disclosure page.


Have You Discovered Our Newsletter?
If not, why not? Subscribe to our email newsletter, Meezer Musings, to stay in touch, be the first to see new information and pages as they come out, and read the things we only talk about in the newsletter.

Learn more about it on our Newsletter Sign-Up page.