The Life with Siamese Cats Blog
This section of Life with Siamese Cats ...
lets you know when new pages appear on the site
tells you when existing pages are updated
shines a spotlight on featured pages you might otherwise miss
showcases photos and stories sent in by our visitors
Nov 26, 2016
My Shadowcat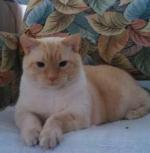 At 11:30 p.m. on Christmas Eve 2013, my daughter heard a tiny meow from behind the trailer lattice. She asked me if we could keep this little cream-colored

***************


If you like what you've seen, why not
sign up for our newsletter,
Meezer Musings?

An opportunity to share my reflections on life with
Siamese cats, stories in the news, photos, tips, goodies,
and our Meezer of the Month!


***************


Like us? Please share us with
your Siamese cat-loving friends


---
Home  |  Sitemap  |  Resources  |  Privacy Policy  |  Disclaimer  |  About Us  |  Contact Us
Information provided on this website is not intended to replace professional advice. If you have any concerns at all about your cat's health, please consult a veterinarian.
Copyright © 2009-2016 Caroline Haines, Life with Siamese Cats. All rights reserved.
---