Siamese Cat Books for Kids
Siamese Cat Books for Kids
Siamese Cat Books for Kids: Children's Books for Siamese Cat Lovers
it's perhaps not surprising that there's a wide variety of Siamese cat books for kids. Siamese cats, with their blue eyes, big ears, and slender bodies are visually appealing, playful cats, much loved by all age groups.

Included in the children's books below are perennial favorites like the Skippyjon Jones books, Sagwa the Chinese Siamese Cat, and Henry the Cross Country Cat, plus others that are perhaps less well known. Many are delightfully illustrated, increasing their appeal to young readers (and, let's be honest, to Siamese cat lovers of all ages!)

The books below are listed, approximately, in order of reading age, from youngest to oldest.

All the books linked to below are available from Amazon, where you can find out more about them. If you buy through these links I may receive a small commission, but there's no extra cost to you.

Sagwa, The Chinese Siamese Cat (Amy Tan)

A delightful, illustrated children's picture book by Amy Tan (author of The Joy Luck Club), Sagwa, The Chinese Siamese Cat tells the fictional story of how Siamese cats got their dark point colors.
The book opens with mama cat Ming Miao telling her little kittens a story about their ancestor, Sagwa of China, who lived a long time ago during the reign of an unkind ruler, the Foolish Magistrate.
Originally, Ming Miao says, all Chinese cats were white cats. Through Sagwa's actions (I've written more about them here) and a series of incidents involving calligraphy pens and pots of black ink, Sagwa manages to dye her face, paws and tail, giving her the distinctive seal point markings that we all know and love.

Sagwa, the Chinese Siamese Cat was inspired by Amy Tan's own cat, Sagwa, and led to a TV series of the same name.
Author: Amy Tan
Illustrator: Gretchen Schields
Reading age: 2-6
Available in: Hardcover, Paperback, Kindle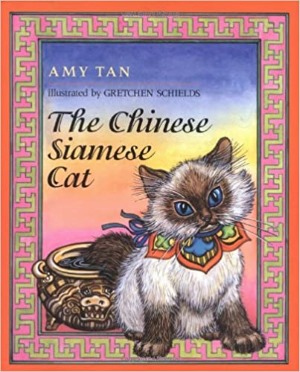 Skippyjon Jones (Judy Schachner)

No page featuring Siamese cat books for kids would be complete without Skippyjon Jones. The hero of a whole series of early reading books, Skippyjon Jones is a Siamese kitten who thinks he's a Chihuahua.
Written and illustrated by author Judy (Judith Byron) Schachner, Skippyjon Jones has imaginary adventures which tend to happen in his closet, or while he's bouncing on his big-boy bed, with a pack of Chihuahuas known as Los Chimichangos.
In his first adventure, in which he plays 'El Skippito Friskito, the Great Sword Fighter', he meets and rescues Los Chimichangos from a fearsome bumblebee who is holding them hostage.
I've written a dedicated Skippyjon Jones page here, while below there's a list of all his adventures, with links to the books on Amazon.
Author and Illustrator: Judith Byron Schachner
Reading age: 3-5
Available in: Hardcover (some with included audio CD), Paperback, Kindle, Audiobook (in some cases).
Books in this series:

Bits & Pieces (Judy Schachner)

Author Judy Schachner's books are very often based on her own cats - the Skippyjon books were based on her kitten Skippy - and Bits & Pieces features her cat Tink (who has a brain the size of a frozen pea!), the kitten who was introduced in The Grannyman and brought up by Judy's elderly cat Simon.
In Bits & Pieces, Tink, now an elderly cat himself, with a kitten of his own to raise, is suffering from a bad case of wanderlust. And then, on the evening of his 20th birthday, he manages to slip out of an open door and escape to the outside world for a night of unforgettable adventure...
Author and Illustrator: Judith Byron Schachner
Reading age: 3-5
Available in: Hardcover, Kindle
Kitty Tales (Ariana B. Farina)

The First Adventures of Nerma and Blueberry (Kitty Tales) begins a three-book cartoon series featuring black and white tuxedo cat Nerma and her baby 'brother', chocolate point Siamese Blueberry (a special little kitten who has extra toes!) who makes his first appearance in the final chapter of the first book before continuing his adventures with Nerma in books two and three.

Each book consists of three 'chapters', each one featuring a different story about the pair. Fun-filled, the books are perfect for young children learning to read.
Author: Ariana B. Farina
Illustrator: Sunny Duran
Reading age: Early Learners
Available in: Paperback

Additional books in this series:
Moments Musicaux with Marchena and Momo

Something a little different here - a picture book with bass and clarinet accompaniment!
Inspired by her Siamese mix foster cats, Moments Musicaux with Marchena and Momo is a heartwarming tale set in rhyme by Lindsay Donat, with whimsical illustrations by Hoda Mir and engaging compositions recorded by Lindsay Donat and Raphael Zimmerman.
The story takes place in the Upper West Side of New York City and follows two cats with very different personalities and talents. Marchena is a silly, rambunctious cat who loves to show off his ability to jump up high in the air. Momo is posh, cool and collected - but a little jealous of Marchena's talent.

The cats learn the importance of collaboration and teamwork (with a little help from a pair of wise pigeons) when facing off one mean flying cockroach.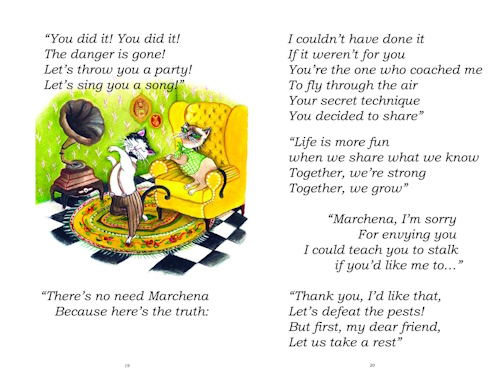 The recordings and sheet music are available for free -  a link inside the book leads to recordings of original compositions performed by Juilliard graduates Raphael Zimmerman (clarinet) and Lindsay Donat (double bass).
This multimedia experience is a great way for young readers and beginner / future musicians to engage with classical music and to understand themes useful for learning an instrument, such as teamwork and confidence.
The book can be purchased through several retailers including Amazon, The Juilliard Store, and Barnes and Noble.
Author: Lindsay Donat
Illustrator: Hoda Mir
Reading age: Early Learners
Available in: Hard Cover

Find out more at: www.marchenaandmomo.com
The Life of Chico (Ruth Bolsonello)

Chronicling the adventures of exotic, mischievous, real-life, eight-year-old Chico, The Life of Chico is a collection of photos and quotes that follow Chico's journey from kitten to adult cat.
Including such Siamese rites-of-passage as emptying the toilet roll, bringing in the mail, playing hide and seek, watching squirrels and raccoons, changing the sheets, exploring the kitchen cupboards and many more adventures and notable moments, The Life of Chico is cute, funny, and sure to bring a smile to any young Siamese cat lover's face.
Author: Ruth Bolsonello
Reading Age: 3-18
Available in: Paperback, Kindle

Additional books in this series:

Hot-Air Henry (Mary Calhoun)

Great for reading aloud, or for children to read for themselves, here's another delightful series of Siamese cat books for kids, featuring a curious, courageous, and very adventurous Siamese cat, Henry.
The first book in the series, Hot-Air Henry details Henry's exploits as he stows away in a hot-air balloon, pilots it himself, has a number of fur-raising mishaps, and eventually lives to tell the tale.
In subsequent books Henry skis, sails, rescues a puppy, and helps to reunite a little girl with her family when she gets lost at a country fair.

Some of the books are out of print but most of them are available, new or used, online. The full list is shown below, with links to Amazon where you can find out more about each of them.
Author: Mary Calhoun
Illustrator: Erick Ingraham
Reading age: 4-7
Available in: Hardcover, Paperback

Additional books in this series:
Sky, the Unwanted Kitten (Holly Webb)

Sky, the Unwanted Kitten is one of a series of children's stories by Holly Webb about kittens and puppies (Pet Rescue Adventures). This is the only one, as far as I can tell, featuring a Siamese kitten.
Lucy's family is moving house. Lucy doesn't want to move, as she'll have to leave her friends behind. Her parents surprise her with a kitten - Sky - hoping that the kitten will help Lucy settle in to her new surroundings.
Lucy loves Sky but is angry and upset with her parents, so she pretends not to want the kitten. Poor Sky is left feeling alone and abandoned. Why doesn't Lucy want her? Will she be sent back? How will it all turn out?

Author: Holly Webb
Illustrator: Sophy Williams
Reading age: 6-8
Available in: Paperback, Kindle, Audiobook
Growing Up in Ecuador (Jonathan Nobel, Loretta Schwartz-Nobel)

Growing Up in Ecuador is the true story of young Jonny (Jonathan) Nobel, and the years he spent with his parents in Ecuador before the family's return to America.
Told in his own words, co-written with his mother, Loretta Schwartz-Nobel, and sprinkled with photos from Jonny's life, the story revolves around Sky, the Siamese kitten Jonny finds for sale in a market and Jonny's relationships with both the kitten and his best friend, Ishmael.
Sky proves to be something of a savior for Jonny, who forms a strong bond with his beautiful Siamese cat.
Author: Jonathan Nobel, Loretta Schwartz-Nobel
Reading age: 6-10
Available in: Paperback (3-Book Series), and Kindle (3 Books Combined)

Bailey Boat Cat (Louise Kennedy)

Bailey is a seal point Siamese who lives on a boat. When not in port, Bailey travels snugly and securely in a special carrier while the humans are busy sailing, but he clearly loves his life afloat.
Being Siamese (and therefore highly intelligent, of course!) he's also written a book. In Bailey Boat Cat, Adventures of a Feline Afloat (written with the assistance of Louise Kennedy) he talks about sailing, navigation, and boat skills, and about how to supervise humans and his dislike of pesky 'dinghy devils' (seagulls).
Illustrated with numerous photos of Bailey's travels, it's not to be missed for lovers of all things Siamese.
Author: Louise Kennedy (and Bailey!)
Reading age: All.
Available in: Hardcover, Kindle

The Incredible Journey (Sheila Burnford)

One of my personal favorite Siamese cat books for kids, The Incredible Journey is a wonderful book featuring a Siamese cat, a young yellow Labrador and an old Bull Terrier.
Left with a friend during a summer vacation, a mishap leads to an unfortunate misunderstanding over the animals' whereabouts. They escape to make their way across 300 miles of Canadian wilderness in an attempt to rejoin their owners.
Faced with a series of challenges involving fast-flowing rivers, porcupines, other wild animals, and humans both helpful and unhelpful, the three animals have to rely on each other's particular skills to keep them alive and moving onward.
The ending is an emotional roller-coaster as the animals near their home and family - will they or won't they all get back safely?
Author: Sheila Burnford
Reading age: 9-11
Available in: Paperback, Kindle
Siamese Cat Books for Kids: Missing Favorites?

I hope you've enjoyed this round-up of the available Siamese cat books for kids, and I hope I haven't missed any out! If I have, and you have a favorite book that isn't listed here, do drop me a line to let me know and I'll be delighted to add it.

Further Reading - You May Also Enjoy:


Some of the articles and newsletters on this site may contain links to products I think you may enjoy. If you purchase through these links I receive a small commission, but there's no extra cost to you. Find out more on the Affiliates Disclosure page.


Have You Discovered Our Newsletter?
If not, why not? Subscribe to our email newsletter, Meezer Musings, to stay in touch, be the first to see new information and pages as they come out, and read the things we only talk about in the newsletter.

Learn more about it on our Newsletter Sign-Up page.