Great Cat Names for Siamese Cats
Great Cat Names for Siamese Cats!
We've had some great cat names for Siamese cats (and the reasons why you chose them) submitted from our visitors over the past few months, so we've put them all together in one page for you.
Fun, creative, kookie and entertaining, with some lovely photos, too. And as usual, our thanks to everyone who sent them in.

Alve - Viking for Elf/Friend

From Renee in Australia
When I bought my kitten I didn't know he was a Siamese (he is apricot/ginger, but you can't really tell from this photo; as he is getting older it is way more noticeable...), I just knew he was frikken adorable.
I wanted to give him a strong but cute name so I looked up Norman and Viking names. Alve stuck. The meaning had nothing to do with the naming but later it seemed to fit. Alve is very affectionate and loves being the centre of attention and is very cheeky!
I wouldn't change him for the world.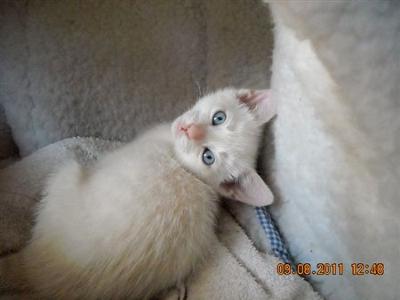 Alve
Banjo
From Charli
Banjo was a name we gave our cat because we were trying to remember a boy named Clancy's name - then we thought about Clancy of the Overflow by Banjo Patterson, and out of the blue, I shouted out 'we'll call him Banjo!'
A few people thought it sounded like a dog's name but my brother and I love it for a cat.

Bear
From Cindy in Houston, Texas, who also owns Purrgo, below
He was the biggest of his litter and just a fat little ball of fuzz. He's got such personality and he's a real talker. From what I've read, I'm guessing he's a lynx point. I love his piercing pale blue eyes. He's about 4-5 months old in this picture.

Bear
Gabriel
From Tonya in Harrisburg, Missouri
When I first brought him home he was a tiny fluff ball that I rescued from a truck engine. My little girl was immediately attached to the cute, furry ball of fluff and wanted to name 'her' Gabriella.
Well long story short after a trip to the vet Gabriella was very much a boy and not a girl. My daughter asked what to name 'him', I suggested Gabriel after the archangel. She loved it and he does too.
Gabriel is now two years old and still loves the sound of me calling his name.

Gary
From Tara in Pennsylvania
My daughter is 21 months old. The day we found Gary, our lilac point, he was laying around the house with us completely settled in after only being with us less than an hour.
He turned and licked my daughter's cheek. She laughed and kept saying 'scary'. She doesn't say many words yet so since it sounded just like 'Gary' and it stuck.

Gel Gel
From Samir in Azerbaijan
Just because ...
Gel Gel
Harley
From Sara in San Antonio, Texas
He mimics a Harley Davidson! He's so awesome and a little crazy. If it blinks, moves, or is sparkly, he'll chase it! Jumps on everything, falls down half the time, but is so curious it's amazing.
He'll tear after the laser pointer or after my husband's belt ... or anything. Loves to sit on top of me, literally. Picky eater but loves Proplan tuna.

Houdini
From Marsha in Fairview Park, Ohio
We found him on the street. The first time we took him to the vet, she said he had to have his ears cleaned. I asked how she was going to do that since cats hated having their ears touched.
She talked about using a cat-safe bag that the cat couldn't get out of. He got out of the bag - twice. Hence the name Houdini!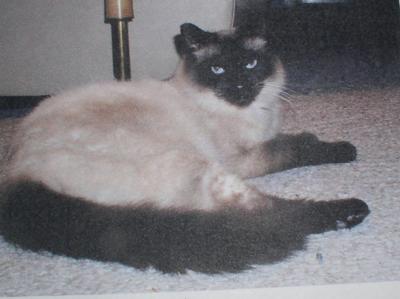 Houdini
Leiningen and Maija
From Jon in London
Leiningen (a red point) is named after 'Leiningen vs. the Ants' a short story about an eccentric plantation owner. Maija (seal point) is named after a friend of mine.
Mr Mew (like the cute Pokemon!)
From Hannah in Liverpool
The way he cries he actually says 'mew' – he's so cute and actually looks like the Pokemon. He's a seal point.

MULU
My husband and I separated for a while when I found a stray kitten. The text messages that we sent to each other ended with ...
MULU ~ Miss U Love U. We reunited and the kitten's name stuck!

Nathan
From Lynne in Newington, Connecticut
He has blue eyes and I wanted to name him after Frank Sinatra.
I did not however want to name him Frankie for a very specific reason. My previous cat that I just lost at age 21 was diabetic for a time and I had to give her insulin injections.
On the website for the insulin was a video where you could watch a lady give her cat an insulin injection. The cat in the video was Frankie and I did not want that association.
So I decided to look up some of the characters Frank Sinatra played in movies. In Guys and Dolls he played Nathan Detroit. I liked the name so I chose it.

Paw Paws

Paws first came to us as a stray and it was going to be a matter of time before we gave her to our town's SPCA, but after two weeks we kind of felt that she needed to stay.
She did not have a name, and then we remembered that whenever she got out of her cage she stuck her paws out to make sure every thing was good for her to come out, and so we named her Paw Paws.

Piaro Ming

From Tracey in Maple Ridge, British Columbia
I named him after another cat I knew that has long since passed named Piaro, who was the same type of cat and resembled the new Piaro Ming.
Piaro Ming is just five months old now and the talk of the town wherever we go with him. He travels to Vancouver in a truck on a regular basis. Great traveller ...
He has a big sister called Twiggy who has warmed to him … kind of … when we aren't looking.

Piaro Ming
Polar
We named our Siamese cat Polar because when he was a little kitten, he looked like a polar bear. Now that he is older, he acts like a bear. He's moody, likes to attack, and he doesn't want attention.
We recently got a new kitten, a Russian Blue, and Polar loves to play/attack it. He has beautiful blue eyes, and we think he's a seal point Siamese. That's Polar and I in the picture. Hope you enjoyed reading about Polar!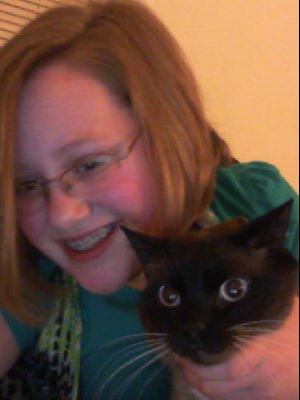 Polar
Purrgo
From Cindy in Houston, Texas
When he was a kitten he liked me to pick him up, but not for long. It always seemed that as soon as he started purring he wanted to go, so that's how he got the name - 'Purrgo'.
As you can see he has beautiful light blue eyes and he is a handsome polydactyl boy!

Polydactyl Purrgo
Rainbow
From Sheri in La Jolla, California
Two months ago, I lost my cat after nine years. He died of cancer, he was the love of my life and it was so hard to accept he was gone forever.
Then I adopted a Siamese kitten and named him Rainbow, because I think sometimes after a big stormy and rainy day there will be a rainbow in the sky. Welcome to your new home, Rainbow!

Rubio
Rubio was named after a soccer player, Abram Rubio. He had a toy soccer ball when he was a baby. Sadly, he has gone before me - he was a very good boy and very friendly.

Rubio
Sophie

From Brittni in Texas
Because we just thought she looked like a Sophie :)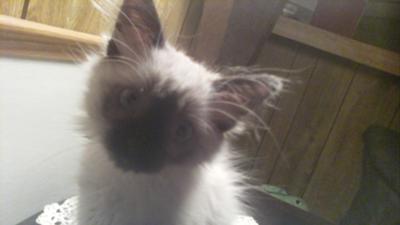 Sophie
Sparky
From Tammy in Warren, Michigan
I have a chocolate lynx point kitten; he is white with very blue eyes; his left ear and tail are chocolate.
He is very spunky and I live in Michigan. We used to have a Detroit Baseball anchor named 'Sparky' Anderson, who had white-gray hair and big blue eyes. Hence my little chocolate lynx point kitten is called 'Sparky'.

Spunky
From Tristan in Marcellus, Michigan
When he was first born he was always getting in trouble and always acted like a monkey, so we thought of monkey for a long time then I said, 'how about Spunky'?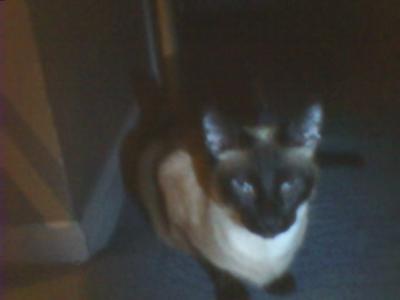 Spunky
Symba
From Josie in Benton City, Washington
It took me weeks to actually stick with a final name! First it was Mocha Bean, then a whole list of others I can't seem to recall. I finally decided on Symba when 'The Lion King' popped into my head at the part where Simba growls at the lizard, and it instantly reminded me of my menace.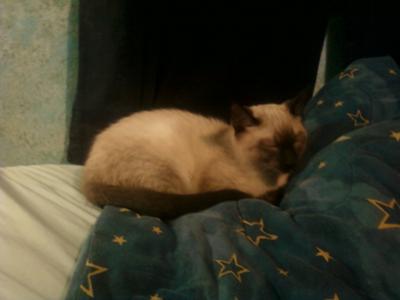 Symba
From the minute I picked him up to the moment I'm writing this he's still as vocal as ever and no matter what it will always catch your attention.
As soon as he got to his new home, after a few minutes of taking in the surroundings he started to explore with tail and head held high as if it were his kingdom and no-one else's.
He keeps me entertained every single day, and is just as gorgeous. He was the only one of his color in the entire litter; all the others were black kittens.

Symba
Taoh (pronounced like cow, but with a T)
From Diana in Calgary, Alberta
In Buddhist philosophy there is a saying that the Taoh (meaning way or path, also spelled Tao or Dao) is silent. If the Taoh is a Siamese cat, however, it is only silent when asleep.
(As I type this, he is SNORING! How Not A Propos!)

Theodor
From Scratchin in Mississippi
My seal point Siamese is a stray. When he first 'found' me I started to feed him outside. He seemed to be the most friendly and personable cat around.
As I live surrounded by woods and not far from a campground, I assumed he was either a lost cat or one that people wanted to get rid of. It wasn't long before he started to come into the house.
When he would jump on my lap and want to be petted, the smell was enough to knock you over, my family thought he smelled like he rolled in a dead opossum!
It was unbearable, but I kept feeding him outside. That is when I named him 'The Odor'. After it was established that he was going to be a permanent figure around here, I decided to take him to the veterinarian. I found out that he had a very severe (yeast) ear infection.
When I picked him up later that day after a staggering $150.00 bill, he still stunk, the doc gave me some meds and ear drops that were to be used every day.
That done and the ear aroma was near perfect, he is now a wonderful addition to this household. Then the smell came back, more eardrops and no guarantees. What have I got myself into?

Timbuktu (Timba)

When I found this beautiful lynx point kitty on the local Humane Society's website, they had given her the name Timbuktu. After I met this sweet little girl I knew that the name did not fit, so I simply shortened it to Timba.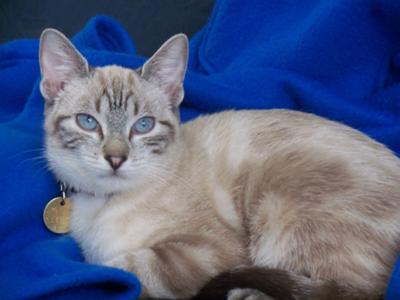 Timba
The Wii Man - Wii for short

From Deanna in Houston, Texas
I got him from a shelter and he was only four weeks old. He cried non-stop unless I held him. A couple of years later, nothing has changed. 'Wii! Wii! Wii!' Day and night. And he's got some lungs!

The Wii Man
| | |
| --- | --- |
| The Wii Man | The Wii Man |
Willow
A litter of kittens was born in our storage shed, near our slightly open window next to our willow tree. When I grabbed the first kitten (which happened to be Willow), I leaned against the window with her and she began staring at the tree outside, as if she wanted to play with it.
Ever since then, she's been Willow! She's still so tiny and fluffy people think she's still a kitten!
Xander
From Demi in Bangkok, Thailand
Xander is derived from Alexander - because there are plenty of Alex's! Alexander comes from my favorite post-hardcore band 'Asking Alexandria' ... because after Xander, music is my first love. And when I brought Xander home, they were the first songs I played that he seemed to like.
Alexandria is a female name, so I just took Xander from its male derivative.

More Ideas for Siamese Cat Names


Some of the articles and newsletters on this site may contain links to products I think you may enjoy. If you purchase through these links I receive a small commission, but there's no extra cost to you. Find out more on the Affiliates Disclosure page.


Have You Discovered Our Newsletter?
If not, why not? Subscribe to our email newsletter, Meezer Musings, to stay in touch, be the first to see new information and pages as they come out, and read the things we only talk about in the newsletter.

Learn more about it on our Newsletter Sign-Up page.