Siamese Cat Breeders Directory
One of the questions I'm most frequently asked is "where can I find Siamese cat breeders with kittens for sale?"

I thought the best way to answer this for everyone was to put together a directory of breeding catteries around the world.
So here it is!

This section of the site is like a Breeders Directory, listing cat breeders from all over the world but especially Australia, Canada, New Zealand, the U.K. and the United States.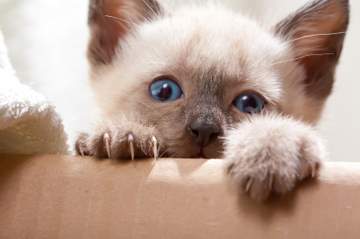 photo: © iStockphoto | TranceDrumer


How to use the directory
If you're looking for Siamese kittens for sale, follow the links to the page listing cat breeders for your own country.

If you're a Siamese or Oriental cat breeder and would like to add your details, or if you are listed but want to change anything, please contact us to let us know.

Alternatively, why not build yourself a whole page on this site? It's free!
Spread the word about your cattery and showcase your cats - your stud, your queens, and of course your kittens, too.

Do tell us anything that's special about you, including the colors you generally breed, what type your kittens are, whether they're used to family life - dogs, vacuum cleaners and so on.
You can include as many details as you like and add up to four of your favorite photos, too.
Please use the submission form below if you'd like to do this.


Find Siamese breeders

Around the world
The links below take you to each country's (or region's) own page and breeding cattery list:
---
---
Calling All Siamese Breeders
Build your own page here on our website and become a Featured Breeder.

You can provide as many details as you like about your cattery. Suitable pages should contain at least five or six paragraphs with photos - you can include up to four pictures of your favorite cats and kittens. (If you're not sure what to include, follow the links at the bottom of this page for some great examples.)

Please note:

The longer your page is, the more likely it is to be accepted
Short pages (under 5 paragraphs) are generally not accepted, but we will add your contact details to our basic listings
We do not accept pages from breeders without their own websites
As a minimum, we recommend that you include:
The name of your cattery
Location (your state, province, or county, plus your nearest town)
Full Address (optional)
Contact name
Email address
Contact telephone number (optional)
Your own website address (essential)
The type and colors of the cats you breed
Membership of appropriate cat registries
Average price of kittens
What you provide with your kittens (insurance, kitten starter pack, food etc.)
Any other information you'd like to include that makes your cats and kittens (and your page) special!
Still not sure what to include?
Take a look at some of the great pages built by other breeders for ideas:
---

While you're researching breeders, you might like to read:

***************

Or go to:

Life with Siamese Cats Home Page


***************


If you like what you've seen, why not
sign up for our newsletter,
Meezer Musings?

An opportunity to share my reflections on life with
Siamese cats, stories in the news, photos, tips, goodies,
and our Meezer of the Month!


***************


Like us? Please share us with
your Siamese cat-loving friends


---
Home  |  Sitemap  |  Resources  |  Privacy Policy  |  Disclaimer  |  About Us  |  Contact Us
Information provided on this website is not intended to replace professional advice. If you have any concerns at all about your cat's health, please consult a veterinarian.
Copyright © 2009-2016 Caroline Haines, Life with Siamese Cats. All rights reserved.
---