A Beautiful New Baby!
by Amanda
(Ontario)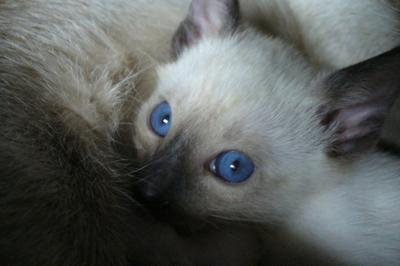 This is my favorite picture of Dakota!
For Father's Day I decided the best gift I could give my boyfriend was a gift he really really really wanted so I posted on Kijiji that I was looking to adopt a female Siamese kitten.

I received a response from a woman who told me of someone who had a litter with one female Siamese kitten left. I got in touch and now we have a beautiful new addition to our home.

Dakota is two months old, she is a pure bred seal point Siamese kitten whose parents are both Blue Ribbon champions. She has such beautiful markings and her personality is absolutely addictive!

Dakota loves it when I'm typing away on my laptop but when I stop, she will try to type for me and will meow at me to continue. I love how she sits in my lap looking up at me from different angles as I type away.

She's very talkative, loves to express herself as much as possible and always has a story to tell. :)

She's also very affectionate, loves to cuddle and her favorite place to sit is on my boyfriend's shoulder but watch out because when you least expect it, her nose ends up in your ear to tell you secrets. Lol!

She's going to be a Blue Ribbon like her parents one day!


Reply from Caroline:
Thanks Amanda for sharing your story and photo of Dakota - it's an absolutely
gorgeous
picture that really shows off Dakota's blue eyes, and what a beautiful kitty. With a great name, too!
Siamese cats are always so curious about everything humans do - my own cat also likes to sit and watch me while I'm working, and he now has his own bed on my desk top for that reason.
Given half a chance he will also nuzzle my ears, like Dakota does.
Good luck showing Dakota, if you decide to do that, and I'm sure she'll end up with that Blue Ribbon if you do. :)
Update: January 2012
Amanda (Mandie) contacted us with more news of Dakota, who is now almost one year old, and shared
a video of her laughing at a bouncing ball
!
It's wonderful, especially if you've never seen a Siamese cat laughing before!
Have You Discovered Our Newsletter?
If not, why not? Subscribe to our email newsletter, Meezer Musings, to stay in touch, be the first to see new information and pages as they come out, and read the things we only talk about in the newsletter.

Learn more about it on our Newsletter Sign-Up page.