Siamese kitten know-how - taking care of kittens
Aaaah … a Siamese kitten! One of the cutest little cats on the planet. Who wouldn't want one? As the saying goes, though, cats are for life, not just for Christmas.
You have to take care of them, and that adorable little bundle of fur will be a grown-up cat quicker than you can say 'mice'.
This part of the site is all about taking care of kittens.

We'll cover purchase and care; growth and development; weaning, feeding and raising your little cat.
We'll suggest games for them to play and toys for them to play with, teach you how to train them and offer some names for your small furry friend.
In short, everything you need to know about Siamese kitten care.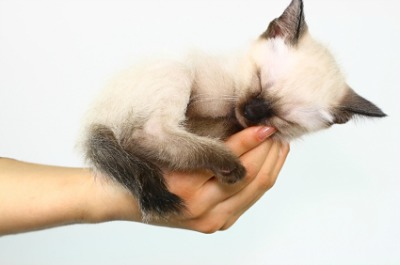 Take good care of my "baby"
photo © iStockphoto | oonal


Buying kittens
The first thing, of course, is to find one. Find out where, when and how to buy a Siamese kitten, and whether it's possible to find Siamese kittens for adoption.


Growth and development
Unless you breed Siamese cats yourself, you may not know much about how they grow in the weeks before they're ready to be sold and move to their 'forever' homes, which they do at around 13 weeks.
In kitten development we take a look at newborn kitten care and growth, and answer questions like 'when do a kitten's eyes open?' and 'can kittens hear when they're born?'
And you can find out how quickly they grow up with our cat and kitten age chart, which shows you all the stages of a cat's life from birth to old age, and its equivalent in human years.


Feeding kittens
One of the first questions new cat-owners always ask themselves is 'what do cats eat?'
So we'll take a look at what to feed kittens, feeding newborn kittens, weaning kittens, and teach you a little about homemade kitten food.
It's a good idea to continue with the same type of food that their breeder has been feeding them, at least for the first few weeks. After that, you can gradually introduce new types of food.
We'll also be looking at what not to feed, because feeding the wrong type of food can result in a bad case of kitten diarrhea.


Siamese fun and games
Of course, looking after kittens isn't all work. These mischievous little critters love nothing better than to play and have fun!
So we'll also investigate training kittens, kitten games and kitten toys.


Siamese names
What's a good name for a Siamese cat?
Finding the right one for your new-found friend can take some thought. So you'll also find a list of Siamese kitty names to help you choose.
And there are also some ideas for tough and macho male kitten names, and pretty, cute kitten names for girls, too.


More about kitten care

Recently I stumbled across a really interesting and fun site called Raising Happy Kittens. Do check it out if you'd like more information about kitten care and development.

"It is impossible to keep a straight face
in the presence of one or more kittens"
Cynthia E. Varnado
---

Related pages you may enjoy:

***************

Or go to:

Top of Siamese Kitten Know-How
Life with Siamese Cats Home Page

---
If you enjoy our work, why not
sign up for our newsletter,
Meezer Musings?

An opportunity to share my reflections on life with
Siamese cats, stories in the news, photos, tips, goodies,
and our Meezer of the Month!

---
Like us? Please share us with
your Siamese cat-loving friends


---

Home  .  Sitemap  .  Privacy Policy  .  Affiliate Disclosure  .  Resources  .  About  .  Contact
Information provided on this website is not intended to replace professional advice. If you have any concerns at all about your cat's health, please consult a vet.
Copyright © 2009-2019 Caroline Haines, Life with Siamese Cats. All rights reserved.


---