Siamese Cat Gifts - Perfect Presents for Siamese Cat Lovers!

A treasure trove of Siamese cat gifts and gift ideas

Our selection of Siamese cat gifts is a must if you're looking for the perfect present for the Siamese cat lover in your life.

Siamese cat owners are a devoted bunch, and I've found through observation and personal experience that we tend to fill our homes and surround ourselves with all kinds of reminders of our Siamese cats; arts, crafts, books, household items and other memorabilia - and that's in addition to all our cats!

If there's a Siamese cat lover in your life, or if you yourself are that Siamese cat person, this page is made for you.


Siamese Calendar by Suzanne Le Good
Image copyright © Suzanne Le Good
Visit our Siamese cat calendars page


There are of course any number of Siamese-related goodies available on the internet; too many to list them all here. Below you'll find a range of items from inexpensive small gifts and stocking fillers to high-end art and collectibles - all totally things I'd buy for myself.
I've also included a few fun gifts for the Siamese cats in your life - because without them, where would we be? 
There are several sections below. To go to a particular section, use these links.
---

I occasionally link to products I think you might enjoy. If you purchase through these links, I receive a small commission. There's no extra cost to you, and I only suggest products that I like or that other cat owners have recommended. You can find out more on our Affiliates Disclosure page.


---

Gifts for children

There's often an extraordinary bond between Siamese cats and the kids in a household, and children who are lucky enough to grow up with them often develop a lifelong love of Siamese cats (I'm one!)
So here are a few small, and not-so-small, suggestions for Siamese cat gifts for younger Meezer lovers.

---

Gifts for adults

From the inexpensive to the very expensive ... a range of gifts for the adult Siamese cat lover.

---

Gifts for cats

My Bandit never played much with toys, but here are three things he did love and always enjoyed, so if you're looking for a gift for the cat in your life, these come with a special 'Bandit Seal of Approval'.

If you're here specifically looking for things to entertain a bored Meezer, you might also like to take a look at a newsletter I wrote, a while back, about toys.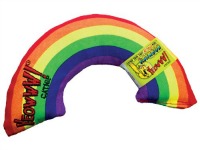 Yeowww! Catnip Rainbow

Bandit's No. 1 choice and his most favorite thing ever! These catnip rainbows are well-made and sturdy, although even they don't last forever - probably why they also come in packs of three. They last a good long time though, and the catnip is very potent.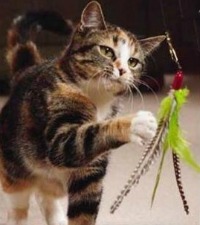 GoCat 'Da Bird' Rod & Feather Toy

These feather 'Da Bird's are great too. Made from guinea feathers on a swivel, at the end of a three foot wand, they have a nice realistic bird effect. Cats love them so much they don't last long, particularly if you've got a 'chewy' cat, so it's worth buying the pack of three refills as well.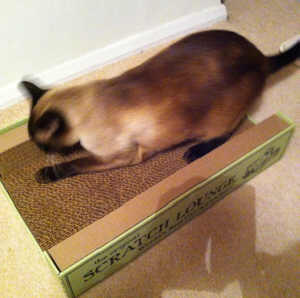 Scratch Lounge - World's Best Cat Scratcher
This Christmas gift was a real hit with Bandit. As soon as we opened it he pounced! (It probably helped that a pack of dried catnip is included.) Well-made and sturdy with reversible surfaces, replacement scratch pads are also available.

---
---
---
Like us? Please share us with
your Siamese cat-loving friends


---

Home  .  Privacy Policy  .  Affiliate Disclosure  .  Sitemap  .  About  .  Contact
Information provided on this website is not intended to replace professional advice. If you have any concerns at all about your cat's health, please consult a vet.
Life with Siamese Cats does not sell any personal information from this website.
For further information please see our Privacy Policy.
Copyright © 2009-2020 Caroline Haines, Life with Siamese Cats. All rights reserved.


---