Siamese cat behavior – more like dogs or cats?

Is Siamese cat behavior more dog-like than cat-like? It's often been said that our Meezers act more like dogs than cats.
I'm not sure this is entirely correct - they're probably more like other cats than dogs - but it is true that they're remarkably affectionate, intelligent, inquisitive, trainable, and fun-loving, all of which are also dog behavior traits.

---
Advertisement

---
Siamese cats are generally good-natured and have a strong need to bond with humans; when raised in a loving household and handled regularly as kittens, they develop powerful attachments to 'their' families.
This extends to the dogs and other cats that live in their homes, and particularly to other members of the breed.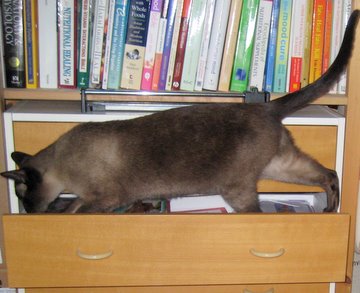 Is this behavior normal? Just sooo inquisitive ...
photo © life-with-siamese-cats.com


Siamese cat behavior around 'their people'

One aspect of Siamese cat behavior typical of the breed, which is in fact a genetic characteristic, is that they love sitting and riding on your shoulders. But whether they use you as a climbing frame or not, they always enjoy being around their humans!
My own cat loves to sit snugly on top of the kitchen boiler while we're making dinner. This gives him a good vantage point where he can keep an eye on us - and coincidentally, on any little titbits that just might happen to fall on the floor. (This is very typical behavior - they do love their food!)
He takes a close interest in whatever we might be doing around the house – the ironing, the gardening, the shopping (oh, the shopping! He loves investigating all those bags), and working on the computer.


Training your cat - learned behavior

Siamese cats are intelligent, energetic and love human interaction. This makes them very trainable.
They're good at learning tricks (especially self-taught ones, like opening fridge doors) and it's quite possible to train them to walk on a harness.
If you want your cat to have an outdoor life this is a good way to start, as you can safely get your cat used to your garden and neighborhood before letting them out on their own.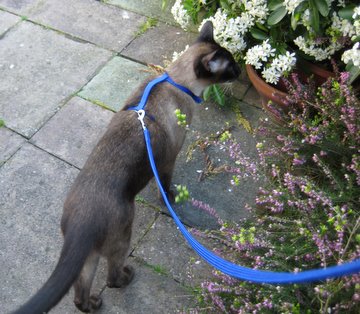 On his best behavior (for the moment!) Cat in training
photo © life-with-siamese-cats.com


A chance remark from my hairdresser also led to us training our cat to answer to a dog whistle. This is particularly useful when you have an outdoor cat, it's getting dark, and you want him to come inside for his supper.
Of course your cat has to love food for this to be successful, and some Meezers can be finicky eaters, but ours would do anything for a treat.


Playtime behavior - games and tricks

Siamese cats enjoy playing games and can be taught to retrieve.
Scrunched up balls of newspaper, tennis or ping pong balls and catnip mice are all good toys for teaching your cat to retrieve. Many cats are fascinated by elastic bands and will chase them all round the room.
They also enjoy hide-and-seek, playing tag - especially when they know you're about to go off to bed - and chasing string, particularly when dragged by a willing (or unwilling!) human.
Warning: Be very careful to pick up all elastic bands and string when you've finished playing, to avoid your cat eating them. This can seriously damage their digestive systems.


One final, very important aspect of Siamese cat behavior

Siamese cats are vocal and communicative (some would even say, manipulative) and will quickly train you to interpret their commands.
Be very, very afraid ...

---
Advertisement

---
Enjoy this page? You might also like:

---
---
More behavior stories - this time from our visitors
Don't miss the funny, clever, and even downright weird Meezer behavior in the articles sent in by our readers, below.
---
If you're enjoying your visit, why not
sign up for our newsletter,
Meezer Musings?

Reflections on all aspects of life with Siamese cats, from stories in the news to cat care tips, books, photos, and other goodies!

---
Like us? Please share us with
your Siamese cat-loving friends


---

Home  .  Privacy Policy  .  Affiliate Disclosure  .  Sitemap  .  About  .  Contact
Information provided on this website is not intended to replace professional advice. If you have any concerns at all about your cat's health, please consult a vet.
Life with Siamese Cats does not sell any personal information from this website.
For further information please see our Privacy Policy.
Copyright © 2009-2020 Caroline Haines, Life with Siamese Cats. All rights reserved.


---