Cat Illnesses and Other Health Problems. Symptoms and Diagnosis
What Happens When Your Cat Gets Sick?
Cat illnesses can be difficult to diagnose – cats are masters at hiding pain and a number of health problems have similar symptoms. Properly looked after, cats are generally pretty healthy creatures, but what do you do when your cat gets sick?
A cat's health can deteriorate rapidly – within 24 hours in some cases – so it's very important not to delay getting professional help.
It's essential to consult a veterinarian whenever you suspect that all is not quite right with your cat, or worse, that your cat may be actually be seriously ill.
It's useful, though, to have a little knowledge of some of the minor and major illnesses and the things that might go wrong with your cat's health.
This section covers some of the common and not-so-common health problems you may come across, although it's very unlikely that you'll encounter more than one or two of them during your cat's life.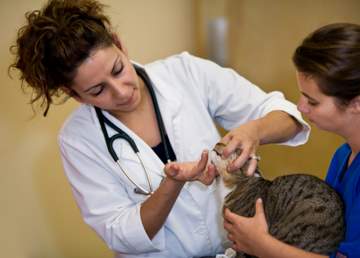 Diagnosing illnesses is best left to a veterinarian
Image © iStockphoto | Dennis Guyitt
What Are Some of the Things That Can Go Wrong?
Let's take a look at some of the more common illnesses and health problems:
Allergies
Ear mites
Eye problems
Fleas
Gum disease
Mange
Ringworm
Urinary tract infections
And Some of the More Serious Cat Illnesses
Anemia
Anorexia
Arthritis
Asthma
Cancer
Diabetes
Distemper
Heart Disease
Hyperthyroidism
Inflammatory / Irritable Bowel Disease
Kidney Disease / Renal Failure
Lyme Disease
Pancreatitis
Cat Illness Diagnosis
Diagnosing feline health problems is definitely best left to a professional. Always consult your veterinarian for advice – don't attempt to diagnose or treat illnesses yourself.

Signs and Symptoms of Cat Illnesses
How do you go about recognizing that your cat is sick? Some of the signs that they're in trouble are listed below.
These may not always mean that your cat is seriously ill, but it's always better to be safe than sorry, so you should get your cat checked out by a veterinarian if they show signs of any of the following:

Difficulty breathing
Persistent coughing
Runny or watery eyes or nose
Bleeding from a wound or anywhere else on the body
Repeated vomiting
Repeated diarrhea
Not eating (especially if longer than 24 hours)
Not drinking
Fitting, seizures or repeated twitching
One or both pupils don't respond to light
Unable to stand upright or walk normally
Walking in circles or bumping into things
Increase in drinking and urinating
Trouble urinating, or peeing outside the litter box
Unexpected weight gain or weight loss
Appearance of any unidentified lumps or bumps
Has loose skin or an 'open' coat
Generally looks unwell, uncomfortable, not responsive
If pregnant, difficulty giving birth

More About Cat Care:


Some of the articles and newsletters on this site may contain links to products I think you may enjoy. If you purchase through these links I receive a small commission, but there's no extra cost to you. Find out more on the Affiliates Disclosure page.


Have You Discovered Our Newsletter?
If not, why not? Subscribe to our email newsletter, Meezer Musings, to stay in touch, be the first to see new information and pages as they come out, and read the things we only talk about in the newsletter.

Learn more about it on our Newsletter Sign-Up page.