House Cat Care
This section on house cat care has been put together to help you (whether you own Siamese, other breeds or moggies - mixed breeds!) to keep all the felines in your house healthy, happy and purring.

New Cats in the House?

You're about to bring home your new addition to the family. If you're a first-time owner, you may be thinking …
"Help! How much do I really know about taking care of cats?"
Don't worry. Help is at hand. We'll have you acting like an expert in no time.
We'll teach you the most important things you need to know about looking after cats, answer your questions and give you our tips on domestic cat care.
It's all about making sure that your new house mate feels safe, loved, well-fed, pampered …
Easy! OK - perhaps not always easy, but it isn't too difficult either. All felines have the same general needs.
Food
Water
Exercise
Litter tray
Toys and fun
Occasional veterinary care
And a whole lot of love!
From working out how much you'll need to spend, through advice on how to look after, feed, groom, and bath your house cats, or give your kitten the best start in life, the answers are here.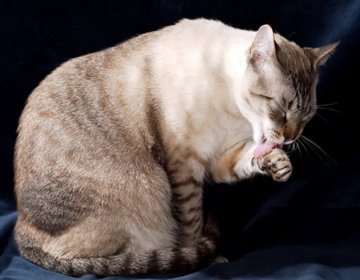 This boy can take care of himself!
Image © iStockphoto | thepropshoppe
House Cat Care Know-How. Check Out ...
The financial side
Cat costs - how much does it cost to keep a cat? One-off and ongoing expenses that you'll need to bear in mind before embarking on life with a new feline friend.

House cat care basics

Thinking of getting a kitten? Just got one? Don't really know what to do? These basic cat care tips will help you take care of your new pet.

Do I need to bath my cat?
Most of them are none too keen on water. But if you really, really, need to - this is all about bathing cats.

Keeping your kitty's paws in good shape
Clipping cats' claws takes patience and skill and is generally done by a vet, but you can learn to do it yourself.

Lose these plants

To find out which plants you need to avoid having around the house, take a look at plants poisonous to cats. Forewarned is forearmed, and a little preparation can save you a lot of heartache.

Growing older
The senior years can bring problems if you're not careful. Older cat care will teach you how to avoid them and look after your best buddy as he moves into the later stages of his life.

Happy cats!
The articles above should have given you some food for thought and ideas for keeping your new furballs safe, loved and happy.
If you'd like to know more, pop over to Our Happy Cat, which has all sorts of great information on house cat care, health and other cat-related things.

Further Cat Care Articles


Some of the articles and newsletters on this site may contain links to products I think you may enjoy. If you purchase through these links I receive a small commission, but there's no extra cost to you. Find out more on the Affiliates Disclosure page.


Have You Discovered Our Newsletter?
If not, why not? Subscribe to our email newsletter, Meezer Musings, to stay in touch, be the first to see new information and pages as they come out, and read the things we only talk about in the newsletter.

Learn more about it on our Newsletter Sign-Up page.