House cat care

This section on house cat care has been put together to help you (whether you own Siamese, other breeds or moggies) to keep all the felines in your house healthy, happy and purring.


New cats in the house?

You're about to bring home your new addition to the family. If you're a first-time owner, you may be thinking …
"Help! How much do I really know about taking care of cats?"

Don't worry. Help is at hand. We'll have you acting like an expert in no time.

We'll teach you the most important things you need to know about looking after cats, answer your questions and give you our tips on domestic cat care.

It's all about making sure that your new house mate feels safe, loved, well-fed, pampered …

Easy! OK - perhaps not always easy, but it isn't too difficult either. All felines have the same general needs.

Food
Water
Exercise
Litter tray
Toys and fun
Occasional veterinary care
And a whole lot of love!
From working out how much you'll need to spend, through advice on how to look after, feed, groom, and bath your house cats, or give your kitten the best start in life, the answers are here.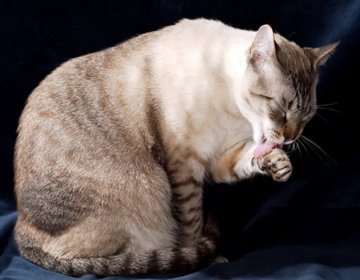 This Lynx Point can take care of himself!
photo: © iStockphoto | thepropshoppe


For some professional house cat care know-how, take a look at:

The financial side

Cat costs - how much does it cost to keep a cat? One-off and ongoing expenses that you'll need to bear in mind before embarking on life with a new feline friend.


House cat care basics

Thinking of getting a kitten? Just got one? Don't really know what to do? These basic cat care tips will help you take care of your new pet.


Do I need to bath my cat?
Most of them are none too keen on water. But if you really, really, need to - this is all about bathing cats.


Keeping your kitty's paws in good shape
Clipping cats' claws takes patience and skill and is generally done by a vet, but you can learn to do it yourself.


Exercise
Anyone who has indoor cats will soon discover how much they enjoy working off their excess energy by leaping all over your furniture!
To stop this happening, a friend of mine, Leyla, did a lot of research into possible solutions and decided to put her findings to good use by turning them into a website, Leaping Cats. You can see the result of Leyla's research into cat trees and other cat furniture here.


Lose these plants

To find out which plants you need to avoid having around the house, take a look at plants poisonous to cats. Forewarned is forearmed, and a little preparation can save you a lot of heartache.


Growing older
The senior years can bring problems if you're not careful. Older cat care will teach you how to avoid them and look after your best buddy as he moves into the later stages of his life.


Happy cats!
The articles above should have given you some food for thought and ideas for keeping your new furballs safe, loved and happy.

If you'd like to know more, pop over to Our Happy Cat, which has all sorts of great information on house cat care, health and other kitty-related things.

---
Advertisement

---
Other articles you may find useful:

---
---
If you're enjoying your visit, why not
sign up for our newsletter,
Meezer Musings?

Reflections on all aspects of life with Siamese cats, from stories in the news to cat care tips, books, photos, and other goodies!

---
Like us? Please share us with
your Siamese cat-loving friends


---

Home  .  Privacy Policy  .  Affiliate Disclosure  .  Sitemap  .  About  .  Contact
Information provided on this website is not intended to replace professional advice. If you have any concerns at all about your cat's health, please consult a vet.
Life with Siamese Cats does not sell any personal information from this website.
For further information please see our Privacy Policy.
Copyright © 2009-2020 Caroline Haines, Life with Siamese Cats. All rights reserved.


---