A Tail of the Street - Buddy, the Blue Point Siamese
A Tail of the Street - Buddy, the Blue Point Siamese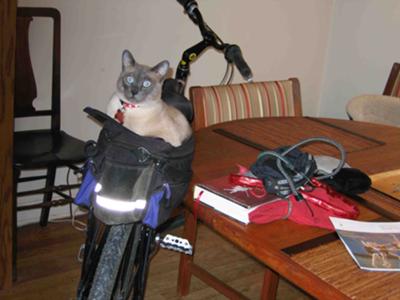 One day, a friend of mine found a beautiful blue point Siamese cat on a city street. He looked as though he'd been out on his own for a while, but he was very friendly and obviously ready to be taken home, which is what my friend did.

She fell in love with him and gave him his name, Buddy, because he was such a good pal. However, he didn't get along with her other two cats.

When I first heard about this, I thought, "Oh, the poor kitty. The other two cats are mean to him."

But the truth was just the opposite. He wanted to be "top cat" in the house and was terrorizing the others. So Buddy came to live with us.

All the wonderful things you read about Siamese cats could have been written about him: friendly, social, vocal, affectionate, smart, curious, adventurous ... I could go on and on.

He gets along with everyone including the neighborhood dogs. I even have a photo of Buddy touching noses with a deer!

From street cat to beloved pet and buddy - that's Buddy's tale.


Reply from Caroline:
What a lovely happy-ever-after-story!
That's a great photo of Buddy in the cycle carrier. The blue point is one of my favorite Siamese cat colors - I adore their smoky blue-gray coloring and they always seem, to me, to have a slight air of surprise about them.
Very interesting that Buddy is friendly with the local dogs and has touched noses with a deer - my own cat, Bandit, seems to be quite pally with the local foxes, although this does scare me sometimes! He's quite capable of holding his own with them though.
Thank you so much for sharing Buddy's 'tail'.
---
---
If you're enjoying your visit, why not
sign up for our newsletter,
Meezer Musings?

Reflections on all aspects of life with Siamese cats, from stories in the news to cat care tips, books, photos, and other goodies!

---
Like us? Please share us with
your Siamese cat-loving friends!


---

Home  .  Privacy Policy  .  Affiliate Disclosure  .  Sitemap  .  About  .  Contact
Information provided on this website is not intended to replace professional advice. If you have any concerns at all about your cat's health, please consult a vet.
Life with Siamese Cats does not sell any personal information from this website.
For further information please see our Privacy Policy.
Copyright © 2009-2021 Caroline Haines, Life with Siamese Cats. All rights reserved.


---