Avalon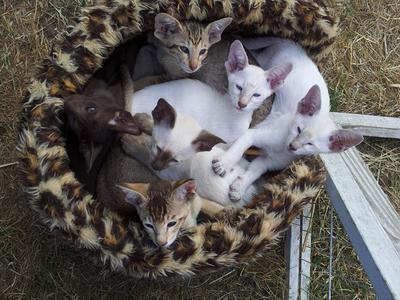 Cats of Avalon is a small hobby breeder in Cambridgeshire, breeding Siamese and Oriental cats about once a year.

We are registered with the GCCF, and our adult cats and kittens live freely with us within the family home, not in pens. They also have safe access to the orchard, and hurtle up and down trees or laze in the sun as they please.

We breed carefully, outcrossing as much as possible to ensure balanced pedigrees and healthy cats. Some of our kittens and cats are show-quality boys and girls.

We test for PRA and other genetic conditions and all our kittens are vaccinated, insured, litter-trained and confident, loving, shouty little characters. They expect loving homes with safe outdoor access and cuddles in a human bed at night.

You can read more about us on our website, and remember ...

"Once a cat or kitten of Avalon, always a cat or kitten of Avalon."


To contact this breeder:
Please use the details below
or visit the breeder's own website or Facebook page using the link provided:
Cats of Avalon
Claire Robson
Cambridgeshire
Facebook Page:
Cats of Avalon

***************

---
---
If you enjoy our work, why not
sign up for our newsletter,
Meezer Musings?

An opportunity to share my reflections on life with
Siamese cats, stories in the news, photos, tips, goodies,
and our Meezer of the Month!

---
Like us? Please share us with
your Siamese cat-loving friends


---

Home  .  Sitemap  .  Privacy Policy  .  Affiliate Disclosure  .  Resources  .  About  .  Contact
Information provided on this website is not intended to replace professional advice. If you have any concerns at all about your cat's health, please consult a vet.
Copyright © 2009-2019 Caroline Haines, Life with Siamese Cats. All rights reserved.


---