Bolshoi Boris
by Harriet
(Houston TX)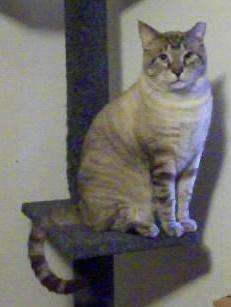 I met Boris when he was being kept on a bite hold at the local pound (a bum rap; he didn't bite anyone). When his quarantine was up, he had nowhere to go, so I agreed to foster him.

He's definitely the big traditional type, round-headed and nearly 14 pounds, but a gentle giant withal; he avoids other adult cats but plays well with foster kittens.

His antecedents are unknown; he was found hanging around a feral cat colony and taken in for neutering by the colony caretaker.

After moving in with us, he was shy and retiring at first, but over several months he blossomed and began reclaiming his Siamese heritage, learning to vocalize and be more outgoing.

He had no name on arrival, but his frosty coloring suggested the Russian steppes, so I chose "Boris" and added "bolshoi", which is Russian for large, great, or grand.

He is definitely all three!
---
---
If you're enjoying your visit, why not
sign up for our newsletter,
Meezer Musings?

Reflections on all aspects of life with Siamese cats, from stories in the news to cat care tips, books, photos, and other goodies!

---
Like us? Please share us with
your Siamese cat-loving friends!


---

Home  .  Privacy Policy  .  Affiliate Disclosure  .  Sitemap  .  About  .  Contact
Information provided on this website is not intended to replace professional advice. If you have any concerns at all about your cat's health, please consult a vet.
Life with Siamese Cats does not sell any personal information from this website.
For further information please see our Privacy Policy.
Copyright © 2009-2021 Caroline Haines, Life with Siamese Cats. All rights reserved.


---