Buster Brown (Buster)
by Karen
(Colorado)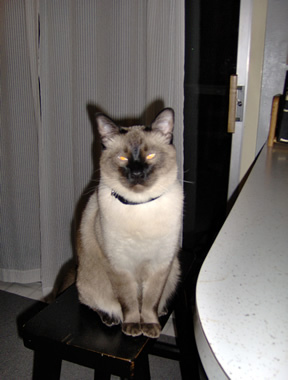 Waiting for dinner
When we got our kitten, we had first seen a few pictures of him at the breeder's house. He had a mischievous look about him. Also, my husband and I are rather down-to-earth people, and an exotic name just wasn't on our radar.

We remembered the very old cartoon about the boy, Buster Brown, who continually got into scrapes. We predicted our kitten would be robust, inquisitive, and happily obnoxious. So, we named him Buster Brown.

He is two years old now, and his personality is exactly as we thought. We love our Buster Brown!
---
---
If you enjoy our work, why not
sign up for our newsletter,
Meezer Musings?

An opportunity to share my reflections on life with
Siamese cats, stories in the news, photos, tips, goodies,
and our Meezer of the Month!

---
Like us? Please share us with
your Siamese cat-loving friends


---

Home  .  Sitemap  .  Privacy Policy  .  Affiliate Disclosure  .  Resources  .  About  .  Contact
Information provided on this website is not intended to replace professional advice. If you have any concerns at all about your cat's health, please consult a vet.
Copyright © 2009-2019 Caroline Haines, Life with Siamese Cats. All rights reserved.


---