Cat Eye Problems - and What Kind of Cat is Neo?
by Haniyya
(Windsor, Ontario, Canada)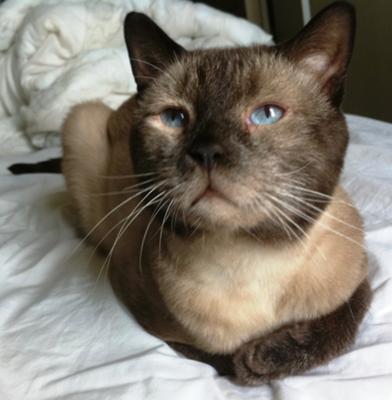 Hello. This is NEO! We rescued our boy just about two months ago now ... he's an amazing cat. We have no history for him other than he was found with a colony of strays.

He is a beautiful cat, so well tempered and he loves attention. We were told that he's approximately two years old.

Everyone who sees him comments that he looks like he could be a Siamese mix (they say his head is quite big for a Siamese). So I thought I'd try to see what other Siamese owners/breeders think.

Also ... Neo has some eye problems. They are constantly leaking (brown-red liquid most times). The vet has given him cortisone drops but it really doesn't seem to help too much.

Could he have allergies? I have to clean his eyes daily.

As you can see in his pic, all around his eyes are pink and somewhat puffy. (Clicking on each of the little images will show them full-size.)

His fur is also very thin around his eyes. Any ideas?


Reply from Caroline:
Hi Haniyya and thank you for sharing Neo's story. Neo's certainly got Siamese coloring; he looks like a Seal Point to me.
Your friends are right, his head is not the true Siamese shape - it's shorter, rounder and larger, not as pointed and triangular as a Siamese cat's, it looks more like that of a Burmese or Shorthair, which makes him totally individual and unique - and ever so cute!
On his eyes - cat eye problems can be caused by lots of different things - bacterial or viral infections, skin damage, chemicals or allergies, any of which could have occurred or been made worse when he was living as a stray.
The best thing to do is to follow your vet's advice and treatment, but be aware that if the problem is long-standing, it may take some time to clear any infection so that the skin can heal and the fur grow back properly again.
Bathing the eyes gently with warm, sterile water or saline solution before you apply any drops or cream may help, but it sounds as if you're already cleaning Neo's eyes regularly.
Good luck! He looks like a healthy cat otherwise, and I'm sure that a regular home life and good feeding and lots of love and attention will help him enormously.
Have You Discovered Our Newsletter?
If not, why not? Subscribe to our email newsletter, Meezer Musings, to stay in touch, be the first to see new information and pages as they come out, and read the things we only talk about in the newsletter.

Learn more about it on our Newsletter Sign-Up page.