Chaos
by Amber
(St. Paul, MN )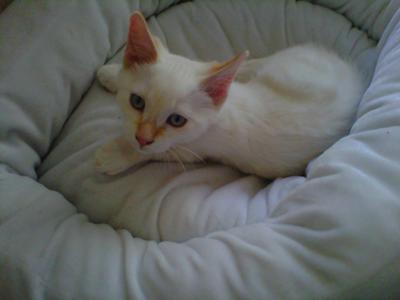 We got Chaos a new bed and he loves it
Our cat is called Chaos because she brought chaos into our lives ... I got her from a friend, she was dirty and so full of flies it was unreal.

I stayed up all night bathing and picking them off of her and when I was done I was surprised to find a cream kitten under all the dirt, the bluest eyes too. She is a red point Siamese she loves to cuddle and eat and has the biggest personality in the world.

My older cat Hotrod is in love with her just as much as we are, she got her name because when we first met it was total chaos but love at first sight.

Chaos has a fascination with our rabbit, I let my 15lbs bunny out and she is all over him trying to bite his ears and get him to run. He never obliges her, she will often climb in his hutch and pass out with him, both curled up together.

He does play with her when he's in the mood he'll chase her around the house. All you see is two white blurs running!
Have You Discovered Our Newsletter?
If not, why not? Subscribe to our email newsletter, Meezer Musings, to stay in touch, be the first to see new information and pages as they come out, and read the things we only talk about in the newsletter.

Learn more about it on our Newsletter Sign-Up page.