Daintipawz - Our Cattery Story
by Sharon Baldwin
(Derbyshire, UK)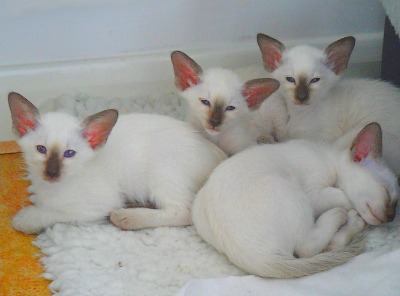 Our 'Jubilee' Litter
After years of wanting to breed Siamese cats, my husband and I cancelled our holiday to Menorca to begin our teenage dream. We knew it was now or never; we knew it would be years of dedication and love versus two weeks under the sun - but it was an easy decision to make ...

Realising how much I knew about the needs and temperament of the Siamese breed (I had owned quite a few of them over the years), and after lots of research, I knew I would be so much more confident breeding Siamese cats than any other breed.

We started by putting a check list together of everything it would take to get up and running - testing, insurances, registration, vet and vaccination fees, etc.

All in all it came to quite a total, but it was never about the money for us; it was something we had both set our hearts on to do together and a programme we were not prepared to cut corners on.

Our cats and kittens would always be our most important concern - not the pounds and pence!

At every opportunity we did more reading and more research on the net. It wasn't until we were sure we had covered everything that we started our search for a suitable Queen, and after many days and hours spent searching in the press and on the computer we finally found what we were looking for.

Fourteen months old and perfect, a stunning chocolate point Siamese with a fantastic pedigree, we decided to call her Mia.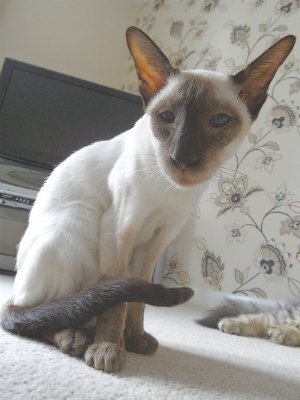 Mia
We spent hours choosing our own prefix name and finally settled on "Daintipawz". It just summed up the Siamese and Oriental breeds for us, and we have now registered our prefix with both the GCCF and TICA.
It must have seemed daunting for her, but from the moment we got Mia home she settled in well with our other cats. At that time, we had Max and Chloe our laid-back Persians, Dave our playful Exotic, Paris our beautiful Maine Coon and Isak, our gentle giant Norwegian Forest Cat.
Since then Bianca, an Odd-Eyed White Persian has joined us, and in the last year we have introduced two kittens - Wispa, an Havana, and Taylor, a White Oriental. They will both become Queens when they reach the right age.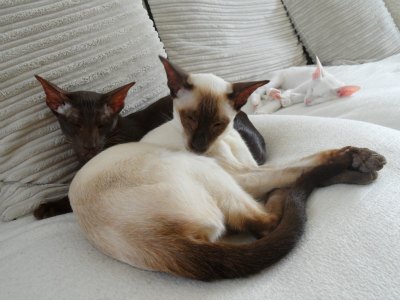 Wispa, Mia and Taylor
Mia has delivered three stunning litters over the past few years and has now retired. Recently we have been in contact with other breeders in the hope that we will be fortunate enough to be able to take on a new Siamese Queen in the New Year.
There are a number of breeders wanting to help us with our search, and all being well, we have been offered a kitten if one of their Queens delivers a Tabby Point Siamese to complete our breeding programme.
We can't wait to hear news! We know she hasn't been born yet but we are keeping everything crossed that all goes well. All our cats and kittens are so important to us both and each and every one of them is truly doted on.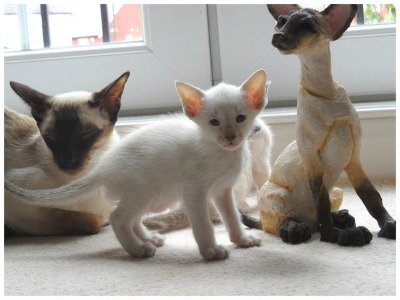 Spot the statue!
We are so pleased with our decision to breed and look forward to many more litters in the future.
Reply from Caroline:
Sharon, thank you so much for telling us the story of how you started Daintipawz and about all your cats. I do hope you get your Tabby Point kitten - I've always loved the look of them.
Your Jubilee litter is adorable (especially the little one curled up asleep while the others are looking intently at the camera!) as are all the others, too!
Have You Discovered Our Newsletter?
If not, why not? Subscribe to our email newsletter, Meezer Musings, to stay in touch, be the first to see new information and pages as they come out, and read the things we only talk about in the newsletter.

Learn more about it on our Newsletter Sign-Up page.