Dongwa
by Glenda
(Austin, TX)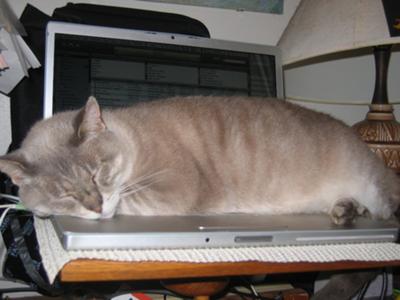 Dongwa napping on my warm MacBook
Dongwa was a lean, mean, lovin' and fightin' machine in our neighborhood. Our next-door-neighbor actually threw rocks at him to scare him away, because Dongwa was beating up on his (the neighbor's) cat.

But we fed him, because we're suckers.

Our daughters were watching Sagwa the Chinese Siamese Cat at the time, so we named the beautiful, belligerent lynx-point Siamese stray with crossed blue eyes Sagwa.

We didn't know what sex Sagwa was, but as she (or he) came to hang out more at our house, we saw that she had an abscess on her chest. Praying to all the cat gods for success, we caught her and carried her to the vet, who fixed the abscess and also the cat, informing us that, actually, we had a boy on our hands.

So we rechristened him Dongwa, which is the name of Sagwa's brother.

We let him go when we got him home and were afraid he'd never come back, but he wasn't in the least upset by his adventure. In fact, he became more and more tame, until one day he strolled into our house. He had already strolled into our hearts.

Dongwa lived happily with us for some years. He was my younger daughter's special cat. But during his wild days outside he had been exposed to feline HIV, and, although it was dormant, we knew that we probably wouldn't have him for long.

Dongwa was only six when he left us. I held him in my arms as he made the crossing. There was never a more beautiful or gentle cat, or one who felt softer or more loving in your arms.


Reply from Caroline:
Ahhh, Dongwa. He looked so happy and contented lying there on your MacBook – I sometimes think that cats who've been strays appreciate their home comforts even more than other cats. They know what it's like to have lived on the streets!
I'm sorry he left you at such a comparatively young age. Thanks, Glenda, for sharing his story with us.
Dongwa's a great name for a Siamese cat – and, like your daughters, I love the stories about
Sagwa, the Chinese Siamese Cat
and her family.
Have You Discovered Our Newsletter?
If not, why not? Subscribe to our email newsletter, Meezer Musings, to stay in touch, be the first to see new information and pages as they come out, and read the things we only talk about in the newsletter.

Learn more about it on our Newsletter Sign-Up page.