Duster!
by Courtney
(Tucson, Arizona)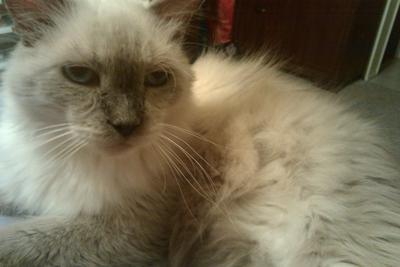 Duster
I adopted Duster from a no kill shelter last August. I am not sure what type of long hair Siamese or relative he is actually, but honestly, I am happy with whatever he may be. Duster is the most affectionate, loving, people-oriented cat I have ever met and I am happy to have him as my roommate.

He recently learned how to open my bedroom door to get into the living room ... or back into my bedroom when I accidentally close the door on him.

Duster is vocal about everything and greets me with conversation every time I see him. One of my favorite things about my little man is that he is excellent with every guest that has ever entered our house. He cuddles, poses for pictures most of the time, purrs and loves each and everyone unconditionally.

He is my cuddle bug, my home movie night date, my bed sharing little eater. At eight years old, Duster may not be as playful as if I had chosen a kitten all those months ago, but I wouldn't trade him and our time together for anything in the world.

I know that people share more inspiring stories of their pets all the time, but Duster has saved me in more ways than I particularly cared to spill on the Internet. I thank him everyday with a brush and a treat that he has touched my life through unconditional love more than I could ever repay him for.

To all those who have cats, Siamese or not, make sure to take time out of your day to brush them, scratch their bellies or ears, or let them cuddle in your lap while you sit on the couch to remind them that their unconditional love doesn't go unnoticed.


Reply from Caroline (Admin):
Thanks so much, Courtney, for sharing your story and photo of Duster (what a wonderful name that is). He's gorgeous, a long-haired blue or lilac point with such lovely eyes, and those amazing whiskers!
It's great that you were able to adopt him from the shelter. I think that 'rescue' cats can sometimes be particularly loving and grateful for their second chance, and it certainly seems that way with Duster.
How lovely that he's been able to help you through some tough times, too - cats can be a real comfort in that way.
---
---
If you're enjoying your visit, why not
sign up for our newsletter,
Meezer Musings?

Reflections on all aspects of life with Siamese cats, from stories in the news to cat care tips, books, photos, and other goodies!

---
Like us? Please share us with
your Siamese cat-loving friends!


---

Home  .  Privacy Policy  .  Affiliate Disclosure  .  Sitemap  .  About  .  Contact
Information provided on this website is not intended to replace professional advice. If you have any concerns at all about your cat's health, please consult a vet.
Life with Siamese Cats does not sell any personal information from this website.
For further information please see our Privacy Policy.
Copyright © 2009-2021 Caroline Haines, Life with Siamese Cats. All rights reserved.


---