Elliotthaus Siamese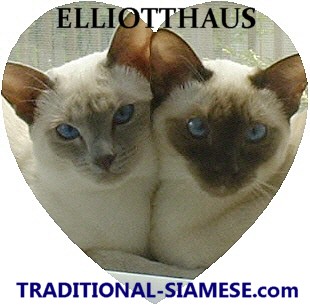 Sad news regarding Jim Elliott, from his family:

Hello everyone,

I regret to inform you that the breeder Jim Elliott passed away in November 2018. All of his breeding stock has found new homes. I have one of his chocolate point females myself.

It is very sad that there will be no more offspring of Jim's incredible Traditional Siamese cats but who could possibly take over for Jim?

Love to all,

Karen (for Jim's brother, William)

Note from Caroline (Admin): Karen, thank you so much for this message, and I'm so very sorry to hear the news about Jim - I know people have been trying to contact him and wondering what happened to Elliotthaus for some time.

In case anyone else is trying to contact Jim, I'll leave your message here for a couple of months and will then probably take the page down at the end of 2019.

Our condolences and best wishes to you and all your family.

***************

Have You Discovered Our Newsletter?
If not, why not? Subscribe to our email newsletter, Meezer Musings, to stay in touch, be the first to see new information and pages as they come out, and read the things we only talk about in the newsletter.

Learn more about it on our Newsletter Sign-Up page.