Elliotthaus Siamese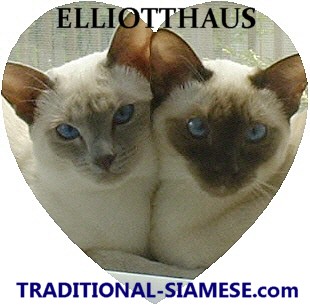 Elliotthaus Siamese is based in Minden, Ontario.

We raise lovely Traditional Siamese kittens in both short and long coats. Healthy, home-raised apple head babies in a variety of colours including the more rare Lynx, Flame, Cream, Torti and Torbi point kittens.

Elliotthaus was the first TCA registered cattery in Canada, offering Championship stock Traditional Siamese kittens. We have years of owners' testimonials on our website.

We sell pet (non-breeding) kittens of any sex or colour for $500.00 each, with a two-year guarantee.

For more information or to contact us, come visit our website - we might just have a kitten for you!


To contact this breeder:
Please use the details below
or visit the breeder's own website using the link provided:
Elliotthaus Siamese
Minden, Ontario
Email: elliotthaus@tiny-pals.com
Website:
www.traditional-siamese.com

***************

---


Book of the Month. Have you read ...
... Rescue Meez, by Siri Zwemke? Siri is the founder of the Siamese Cat Rescue Center of Virginia, Rescue Meez is the account of her twenty years as rescuer-in-chief and the stories of some of the many cats who passed through her hands. It's a wonderful story of heartache and triumph and all the ups and downs that come with running a Rescue.

The book is available in paperback or Kindle format on Amazon - you can find more details and reviews here or use the link below to take you there.

---
If you're enjoying your visit, why not
sign up for our newsletter,
Meezer Musings?

Reflections on all aspects of life with Siamese cats, from stories in the news to cat care tips, books, photos, and other goodies!

---
Like us? Please share us with
your Siamese cat-loving friends


---

Home  .  Privacy Policy  .  Affiliate Disclosure  .  Sitemap  .  About  .  Contact
Information provided on this website is not intended to replace professional advice. If you have any concerns at all about your cat's health, please consult a vet.
Copyright © 2009-2019 Caroline Haines, Life with Siamese Cats. All rights reserved.


---