Fergie Girl
by Patti
(Woodland, CA)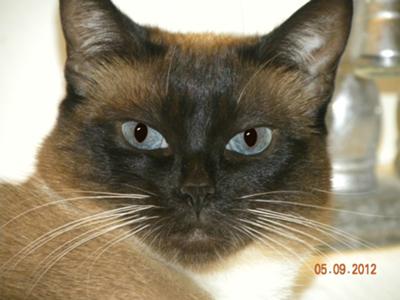 Fergie
Fergie is our baby, not sure whether she is a Birman or a Snowshoe or a Birman with snowshoes. She is Siamese of some sort, but has white feet and white on her belly and bright blue eyes.

Her Dad, 'Moogly', was a Himalayan cat and her Mom 'Momma Girl' is .. . I don't know ... white with brown spots and bright blue eyes.

Now Momma Girl had her litter young, and she had one baby that didn't make it, then one more (Fergie) a week later.

When Fergie was still nursing, my husband and I had to do six months of in-house rehabilitation.

So we had the difficult task of finding temporary homes for these two cats along with one more, and a 100lb black Labrador. Foster families if you will, because we definitely wanted them all back.

We found a lady to take Momma and Fergie, but then she had to get rid of them. We lost contact with who had our girls for months as we could not have contact with anyone outside the rehab (including each other) except by mail.

A few months into the program, once we could make phone calls we found out who had them last, but she told us she had to get rid of them too. She gave them to a lady in our home town who we happen to both know.

Approximately nine months later, we actually got our girls back in our home. We were also working with two other homes for our other pets at the same time.

Can you imagine the stress we were under, not just having to go to separate rehabs ourselves, but also splitting up all our pets to foster homes in various cities?

All we kept thinking was ... with all we lost because of our addiction, we were determined to hang on to our furry responsibilities at whatever the price.

We don't know what we would do without all our pets and we would like to thank our pets' foster mothers; Linda for taking care of Tracker our Lab (for almost a year!), Les for taking in Itty Bitty our black cat, and last but not least Kacy for taking in Momma Girl and Fergie!


Reply from Caroline:
What a wonderful, touching story, Patti!
It's lovely that you eventually managed to track down all your furry friends and get them back again, but also that you were able to get yourselves back to the point where you were able to go looking for them.
I really hope everything continues to improve for you and that you're all able to stay together from here on in.
Fergie sounds gorgeous - she's obviously a Siamese/Snowshoe mix - you didn't say (and it's hard to see from the picture) whether she has long hair or short hair but with a Himalayan cat as a Dad I guess she may have quite long hair.
Whatever she is though, she's beautiful and that's a great photo!
If you enjoyed this story, you might also like:
Have You Discovered Our Newsletter?
If not, why not? Subscribe to our email newsletter, Meezer Musings, to stay in touch, be the first to see new information and pages as they come out, and read the things we only talk about in the newsletter.

Learn more about it on our Newsletter Sign-Up page.