He Was Waiting For Me
by Karen
(Clearwater, Florida)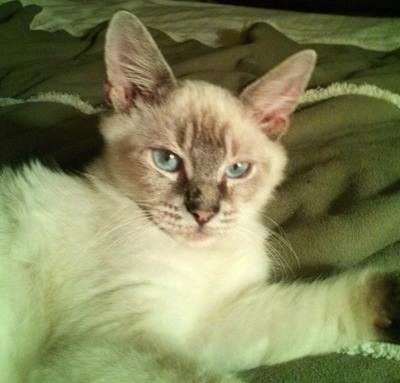 I adopted a chocolate point Snowshoe kitten (I don't know why he's called a Snowshoe because he doesn't have white paws, but that's what the papers say) from a local cat shelter.

So here's the story on how I got Taboo, or should I say, how Taboo got me.

I was searching for a cat online - saw one and immediately called the shelter. The cat I was inquiring about was already taken so I proceeded to ask about other cats while I scrolled through the pictures, only to be shot down with every cat I suggested.

The lady said I was more than welcome to come in and take a look at the other cats that she hadn't gotten up on the site yet, so I agreed. She asked me if I had any other pets and I said yes, two dogs.

As we were talking, I heard this amazing little voice and couldn't help but giggle and ask her about the cat behind it.

Here's the story on Taboo's past; his mother was hit by a car and he has a sister and brother, all bottle-fed. Taboo was hit by a human when they came in to get another kitten, and he has a spot on his little nose that has no fur now.

(Needless to say that human didn't get a cat but a court date.)

I told the lady on the phone that I wanted him and that I was on my way. She said - but you haven't seen him yet - "I don't care" I responded. We hung up and I grabbed my purse and car keys.

My son wanted to come along as I explained what I was doing and where I was going. We showed up to find another couple wanting to adopt him. I was crushed and the look on my face showed it. I asked the lady why she said he would be held for me when she was letting someone else take him.

Taboo heard my voice and let himself be heard also. He struggled to get out of the other people's arms and right into mine burying his face in my armpit. He was letting the other humans know he was forbidden to go with them.

I wanted to shout at the top of my lungs off the tallest building "he's mine", but I contained myself until the lady told the couple that they couldn't adopt him because he had chosen his new mommy.

Tears came to my eyes as Taboo lifted his tiny head and rubbed my nose with his. I signed all the paperwork, paid the lady and took my little bundle of joy home.

Then came the shopping for all his new stuff. Food, potty box, treats and toys. Oh the toys, I couldn't forget those!

Taboo is three months old now and the family feels complete ... for now!


Reply from Caroline:
Thanks so much for your story, Karen, it was lovely to 'meet' Taboo. I agree with you, he doesn't look like a Snowshoe and from his photos he almost looks more like a blue or lilac lynx point than a chocolate point.
But it's always a little difficult to tell color from photos, and he's a darling, whatever his color.
I do think that our cats often choose us, rather than the other way round - it certainly sounds as if Taboo definitely 'chose' you!
If you enjoyed this, you might also like these:
Have You Discovered Our Newsletter?
If not, why not? Subscribe to our email newsletter, Meezer Musings, to stay in touch, be the first to see new information and pages as they come out, and read the things we only talk about in the newsletter.

Learn more about it on our Newsletter Sign-Up page.