Is my cat a chocolate point Siamese?
by David
(Modesto, Ca)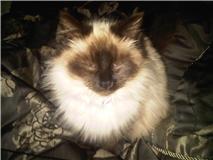 Just bought a house and realized that there were a litter of kittens that were born in a shed in our backyard. I found homes for her brothers and sisters but we just couldn't let her go.

She warmed up to us almost instantly yet her siblings did not. She is very loving and energetic. I'm not exactly sure what breed she is, she looks like a choc point ... but not sure.

Can you help me out?
---
---
If you enjoy our work, why not
sign up for our newsletter,
Meezer Musings?

An opportunity to share my reflections on life with
Siamese cats, stories in the news, photos, tips, goodies,
and our Meezer of the Month!

---
Like us? Please share us with
your Siamese cat-loving friends


---

Home  .  Sitemap  .  Privacy Policy  .  Affiliate Disclosure  .  Resources  .  About  .  Contact
Information provided on this website is not intended to replace professional advice. If you have any concerns at all about your cat's health, please consult a vet.
Copyright © 2009-2019 Caroline Haines, Life with Siamese Cats. All rights reserved.


---