Kaboo's Kitten
by Barbie
(Tennessee)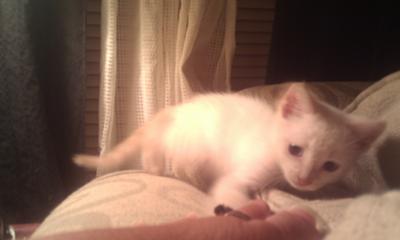 Our little Nikka
We adopted a male red point Siamese who had been abused. He was just a kitten when he was abandoned.

He was very loving and affectionate, but he vanished about twelve weeks ago, and my daughter was devastated.

Two days ago we found out he fathered a litter of kittens at a nearby neighbor's. One sweet little female looks just like her daddy.

After we showed the neighbors Kaboo's picture (which they thought was of the kitten at first), and told them what happened to him, they gave us little Nikka.

She is around six or seven weeks old and amazing! She looks so much like her Daddy - I cried when I first saw her.

She is so curious and we look forward to learning her personality and teaching her all she can learn.

I am sure she will teach us a few things as well. :-)


Reply from Caroline (Admin):

I'm so sorry to hear about the disappearance of Kaboo, Barbie, but pleased that your story has a happy ending.

I wonder what happened to Kaboo? It's always devastating when a much-loved cat goes missing and I feel sad for your daughter.

Nikka looks gorgeous though - a very cute little red point. Siamese cats and kittens are so smart, I'm sure she'll learn lots, and probably get up to all sorts of mischief and tricks as well!

I hope she has a long and happy life with you and that in some way she will make up for the loss of Kaboo.

It was good of him to leave a reminder of himself behind ...

I'm curious to know what the other kittens in the litter looked like, if Nikka was the only one that looked like him. Did they look like their Mom?

***************


If you enjoy our work, why not
sign up for our newsletter,
Meezer Musings?

An opportunity to share my reflections on life with
Siamese cats, stories in the news, photos, tips, goodies,
and our Meezer of the Month!


***************


Like us? Please share us with
your Siamese cat-loving friends


---

Home  |  Sitemap  |  Privacy Policy  |  Affiliates Disclosure  |  Resources  |  About  |  Contact
Information provided on this website is not intended to replace professional advice. If you have any concerns at all about your cat's health, please consult a veterinarian.
Copyright © 2009-2018 Caroline Haines, Life with Siamese Cats. All rights reserved.


---