Kitties of Time
by LizEllen
(Ashland KY)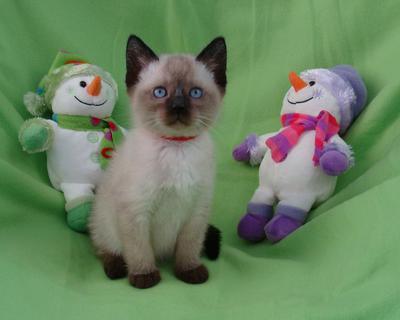 Winger as a kitten
Hyde, my mom's black Siamese became a Hospice Volunteer after I ended up with him after mom's funeral. Hyde had a call for each of us and Dad could not take him calling for Mom.

He visited my neighbors, one of who ended up in Hospice, setting off Hyde's career. He lived with me and mine and if a cat used to medical gear was needed he spent the day with Hospice.

As his collar had his ID I got the nicest letters from folk I never met. His death was traumatic - we loved our 'animated stuffed animal' as a family member.

In 2011 my old Chippercat went out for the last time. As a kitten he famously destroyed a door to join me on the porch and tended to zip out for his constitutional and only go inside in snow and rain. A raccoon, also out, ran into poor old Chippercat. We buried him in tears.

Sunshine, a cat who lived nearby was desperate to find homes for her surviving kittens, Spook and Ghostie so she dropped them on my porch. I wasn't ready so I found them homes - I had other cats dropped off on my road.

I had always wanted a Siamese. I found a breeder in Columbus, put the cash on the barrel and picked up a bundle of fur with blue eyes who since that day runs the house.

Winger (named for Columbus Hockey) wakes me of a morning, uses the treadmill after I am done, shares the yogurt and paper (he likes laying on it) and in the evenings watches TV and curls up to sleep in the bed. He also serves as the interior decorator, moving objects around the house.

Winger helps re-orient the strays from the road and supervises their inside skills, and once firmly carried a kitten (who needed more work) out to the screened porch. His work with Princess, Next, Scruffy and Beater (the kitten) is recognized by my local shelter, as every cat we train gets rehomed.


Reply from Caroline:
Thanks so much for the story of your cats, LizEllen, and for the photos of Winger. He certainly sounds like quite a character and I love the thought of him 'training' the local strays!
---
---
If you enjoy our work, why not
sign up for our newsletter,
Meezer Musings?

An opportunity to share my reflections on life with
Siamese cats, stories in the news, photos, tips, goodies,
and our Meezer of the Month!

---
Like us? Please share us with
your Siamese cat-loving friends


---

Home  .  Sitemap  .  Privacy Policy  .  Affiliate Disclosure  .  Resources  .  About  .  Contact
Information provided on this website is not intended to replace professional advice. If you have any concerns at all about your cat's health, please consult a vet.
Copyright © 2009-2019 Caroline Haines, Life with Siamese Cats. All rights reserved.


---