Lovely Lilac Balinese: Best Mother's Day Gift Ever!
by Amanda
(Utah)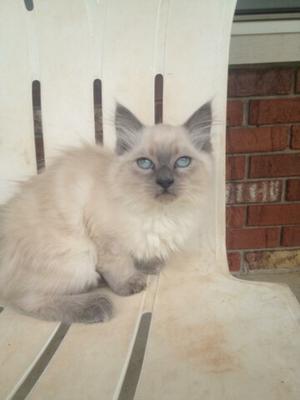 Princess Sofia
Princess Sofia is an amazing little girl. She was given to me by my husband and two youngest children for Mother's Day. I would definitely say it was love at first sight.

The ad read 'Seal Point Siamese kitten' so Sophie (a Lilac Point Balinese) was a pleasant surprise. And more surprising than her looks is her temperament. She is so gentle with my two and four-year-old boys, and she tolerates being carried around the house like a rag doll.

She plays fetch and tag with them, then curls up with them to sleep every night. I know kittens grow up fast and she won't always be as playful and fun. But that's when she will really bond with me, be my lap cat and companion like my late Ms. Kitty.


Reply from Caroline:
Thank you Amanda - what a truly wonderful Mother's Day gift! We don't hear from too many owners of Balinese kittens or cats, and it's lovely to see such a beautiful Lilac Point Balinese, she looks like a real little sweetheart.
Balinese are very special cats, and it's interesting to hear that she has such a gentle nature and gets on so well with your boys. Yes, kittens do grow up fast, and she'll definitely become a lap cat in time - my boy Bandit never used to be a lap cat, but now he's there every time I sit down!
Learn more about:
Have You Discovered Our Newsletter?
If not, why not? Subscribe to our email newsletter, Meezer Musings, to stay in touch, be the first to see new information and pages as they come out, and read the things we only talk about in the newsletter.

Learn more about it on our Newsletter Sign-Up page.