Lucy & Sammy - Our Beautiful Chocolate and Seal Points
by Rosalyn
(Hewitt, NJ)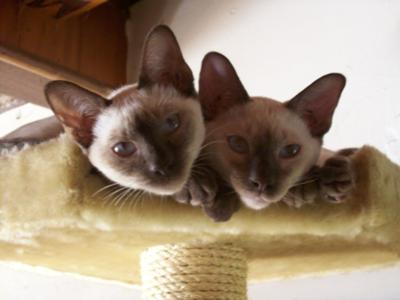 Lucy and Sammy
I've always loved the beauty and personality of Siamese, but my conscience always made me adopt from shelters. I lost one of my kitties to illness in '09 (RIP Pearly) and her sister Boo was all alone. I finally decided to get two Siamese kittens.

Meet Sammy and Lucy (born 3/25/10) - their father was a Chocolate point and their mom was a Seal point. They are so adorable, loving and playful and I can't imagine my life without them!

It took my older cat Boo quite a while to adjust to the energy they have, but they seem to have finally come to an understanding.

My stepdaughter said, "they're so busy it seems like there's six of them!" They are so curious and everywhere you want to be! They also love getting into trouble, but they're so cute I can't get mad at them.

My husband once said to me, "Oh, look - they're being bad. Why don't you give them another hug?" And I did :)


Reply from Caroline:
Thank you so much, Rosalyn, for sharing your pictures of Sammy and Lucy – they're
very
pretty kitties! And particularly cute peeking over the top of that cat tree together.
I agree that adopting older cats from shelters is desirable but there's something so very appealing about kittens that I can quite see why you got these two. I'm glad Boo eventually came to terms with the two new and lively Siamese kittens in her life.
I wonder how their color will change as they get older? Seal point coats generally darken with age, whereas Chocolate points tend to stay paler over the years.
For more information on colors, see:
---
---
If you enjoy our work, why not
sign up for our newsletter,
Meezer Musings?

Sharing my reflections on all aspects of life with Siamese cats,
stories in the news, cat care tips, books, photos, and other goodies!

---
Like us? Please share us with
your Siamese cat-loving friends


---

Home  .  Sitemap  .  Privacy Policy  .  Affiliate Disclosure  .  Resources  .  About  .  Contact
Information provided on this website is not intended to replace professional advice. If you have any concerns at all about your cat's health, please consult a vet.
Copyright © 2009-2019 Caroline Haines, Life with Siamese Cats. All rights reserved.


---